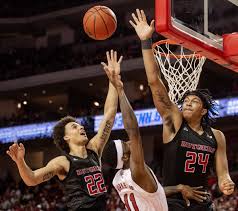 Our Rutgers basketball preview 2020 – 2021 observes that in four years under coach Steve Pikiell the Scarlet Knights have become a legitimate NCAA Tournament team. With the rebuilding effort completed last year, for the first time in 41 years this team made it into the AP top-25. Last year, the Scarlet Knights earned an 11-9 conference mark, which resulted in the Knights finishing in a four-way tie for fifth place with the Ohio State Buckeyes, Iowa Hawkeyes, and Penn State Nittany Lions. In their first 10 games, the Knights went 7-3. Over their next 10, they won eight and lost two. Unfortunately, over their final 11 games, Rutgers was 5-6. Despite that poor showing at the end, there were some highlights during that time, which included wins over #9 Maryland and #22 Illinois.
Stats
If the Scarlet Knights are going to move up in the conference, they must improve in some specific areas. In the conference, the team finished 13th in four categories – three-point field goals with 5.5 PG (315th Nationally), three-point field-goal percentage at 31.0% (289th Nationally), free-throw percentage at 64.4% (330th Nationally), and assists per game at 12.7 PG (211th Nationally). Their 69.9 PPG ranked 211th in the nation and 10th in the Big Ten, while their turnovers per game came to 12.2 PG (92nd Nationally, 11th Big Ten). The Knights ranked second in the Big Ten in scoring defense (62.9 PPG) and field-goal defense (38.3%). In those categories respectively, they were 18th and 8th nationally. Additionally, Rutgers' offensive field goal percentage of 44.7% ranked fourth in the conference and 126th nationally. The team had a healthy rebound margin of 5.9 (27th Nationally, 3rd Big Ten).
Rutgers Basketball Preview 2020 – 2021 – Players
Seven of this team's top-eight scorers return with forward Akwasi Yeboah (9.8 PPG) being the only player from that group not coming back. In the backcourt, senior guards Geo Baker and Jacob Young and junior guards Montez Mathis and Caleb McConnell will be the primary performers. Baker will start at point with Mathis and McConnell at the wing positions. Junior guard/forward Ron Harper Jr. returns as the team's leading scorer. Joining him in the frontcourt at center is Myles Johnson.
Coming off the bench will be senior guard Jacob Young and sophomore guard Paul Mulcahy. Mulcahy is the better shooter and playmaker. In front, 6-11, freshman center Clifford Omoruyi could see action and plenty of it. Freshman forward Oskar Palmquist brings a sweet shot to the paint, but he needs to beef up his skills in order to see meaningful action.
Frontcourt
Harper is tough to defend against. Last season, he averaged 12.8 PPG and 5.6 RPG. He hit 45.2% of his field goals and 34.9% of his threes. Harper is also an uncompromising defender. At center, Johnson led the team in blocks, averaging 1.5 PG. Using his body to maximize position, he shot 60.2% from the floor, averaging 7.8 PPG. He was also good for 7.9 RPG. Omoruyi, who's a physical phenomenon, will be a striking and commanding physical presence in the paint. His shot-blocking talent is extraordinary. Palmquist could be a major help on offense, which is certainly needed. But he could be a hazard on defense. A player who combines his offensive talents with Omoruyi's defense skills would be a perfect match for this frontcourt.
Backcourt
Our Rutgers basketball preview 2020 – 2021 notes that point guard Baker offers sound leadership. Last season, he averaged 10.9 PPG, 3.5 APG, and 3.0 RPG. With Mathis and McConnell on either side of Baker, this is certainly a dynamic backcourt. In 2019 -2020, Mathis averaged 7.4 PPG and 3.5 RPG, while McConnell was good for 6.7 PPG and 3.7 RPG. Each of these three guards are shooting about 40% from the floor. On the other end of the court, this seasoned triumvirate is a sound defensive unit. Together, they averaged 2.9 SPG. The Rutgers' backcourt possesses the skills and focus to succeed at shutting down opponent offenses.
Scarlet Knights – Make or Break for 2020-2021
First and foremost, coach Pikiell demands that his players ably defend. This group should meet his expectations. However, our Rutgers basketball preview 2020 – 2021 finds that in order for this team to excel, they must find their three-point shooting chops and make more out of their free-throw opportunities. The frontcourt should be devasting when it comes to defense, and rebounding looks to be a strength once again.
However, they do have their challenges when it comes to point production. This offensive issue is partly bred from the fact that Pikiell puts so much emphasis on defense. Ball control could be better, and the Scarlet Knights could use more ball movement too. Despite the weaknesses we've outlined, we do expect Rutgers to be quite competitive within and outside of the Big Ten.
Rutgers Basketball Preview 2020- 2021- Final Word
Our Rutgers basketball preview 2020 – 2021 likes what it sees. There are some good recruits, experienced and skilled upperclassmen, and much-needed transfers. The starters in the backcourt form a solid unit, although backups seem a bit thin. Swing man Harper can take apart defenses and score at will. In the paint, this team has some guys who can certainly command the boards. Although, there are questions and uncertainty about some of the new players, including concerns about Omoruyi providing adequate offense and Palmquist defending at a high enough level.
Finally, we have to wonder if the Rutgers Scarlet Knights can improve their offense as much as they need to in order to compete in each and every game? Overall, this is a limited group when it comes to potential offensive output. That may be one piece to the puzzle that coach Pikiell has not provided. Plus, the Illinois Fighting Illini, Wisconsin Badgers, and Iowa Hawkeyes, as well as others in the Big Ten, will have something to say about whether or not the Scarlet Knights can improve their record and standing.
Rutgers Scarlet Knights – 2020-2021 NCAA Projection
Big Ten Finish – Fifth
NCAA Tournament Result – Sweet 16