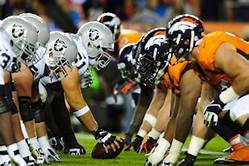 Monday Night Football for Dec. 24, 2018 offers the Denver Broncos (6-8 Overall, 3-4 Away) at the Oakland Raiders (3-11 Overall, 2-5 Home). They are, respectively, the number three and four teams in the AFC West. When these two teams played earlier this year 39 points were scored as Denver won 20-19.
Our Raiders vs Broncos totals pick has the over/under is at 42.5. That's a low mark to hit, but the fact is neither team is noted for their scoring prowess. We expect it to be a low-scoring game. But how low exactly? Here's our analysis for our Raiders vs Broncos totals pick.
Trends
The last time these two teams went over was Nov. 6, 2016. The total on that games was 50. The over/under was 44.5. In the past six-of-seven meetings, these teams have hit the under. The average total over those seven games comes to 33.3 points. In five of Denver's last games, the score has gone under. Also, in four of the Broncos' last five contests on the road, the total has gone under. In eight of Oakland's last home games, the total has gone under. In four-of-five of the Raiders' games, the total has gone over. That's the one trend against the under in our Raiders vs Broncos totals pick.
Edge: Under
Can Either Offense Excel?
Denver QB Casey Keenum has passed for over 3,000 yards. However, he's tossed just 15 TDs, while giving up a dozen picks. Rookie RB Phillip Lindsay has rushed for 991 yards this season and scored nine TDs. But in his last two games, he's total 54 yards and crossed the goal line once. In the first game against Oakland this season, Lindsay gained 107 yards but did not score. Emmanuel Sanders, the team's top pass catcher is on IR.
QB Derek Carr has thrown 18 TDs passes and six picks. He's been good on 68.4% of his passes. He's been fairly consistent in connecting at least once a game on a TD pass. Veteran TE Jared Cook is the team's top receiver and a threat to score. However, he has not caught a touchdown pass since Dec. 2. Still, he has a good connection with Carr. The Raider rush attack is much less potent, especially with Marshawn Lynch out.
Edge: Under
Motivation and Other Factors
Neither team has much motivation tonight. That could affect both offenses and defenses. Coaches may be more inclined to mix things up a bit. The play in this contest could be disjointed. The Denver defense does have 42 sacks, 77 TFL, and 15 INTs. They also have 72 PD, 13 FF, and nine FFR. Oakland's defensive stats are much less impressive, as they have just a dozen sacks, 11 picks, and four FF. They do have 61 PD and 51 TFL. When it comes to kicking, Daniel Carlson has missed just one field goal. For Denver, PK Brandon McManus has made every field goal from 49 yards of less and two-of-six from 50-plus. Might we see more field goals than TDs? That favors the under.
Edge: Under
Raiders vs Broncos Totals Pick
Our Raiders vs Broncos totals pick is going to be under at 42.5. Even though Oakland lacks a strong defense, we don't see Denver as going on a scoring rampage. We think that both offense will be fairly lackluster. Be sure to access our Oakland vs Denver spread pick here.
Summary Denver Broncos at Oakland Raiders Totals Pick: Under 42.5