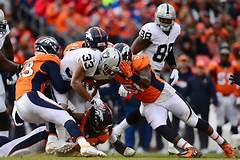 The Denver Broncos (6-8 Overall, 3-4 Away) visit the Oakland Raiders (3-11 Overall, 2-5 Home) for a Monday Night Football game that pits the number three team in the West against the number four. Neither team has much to gain from a win. If the Broncos win, they will have beaten the Raiders twice this season. If Oakland wins, they earn a split. Our Raiders vs Broncos pick has Denver at -1.0. That spread started with the Broncos at -3.0. At some bookmakers, you may find this game even. After reading our Dec. 24 Raiders vs Broncos pick focused on the spread, make sure you also read our totals pick for the same game.
Best Chances of Scoring
This season Denver QB Casey Keenum is completing 62.1% of his passes and has thrown for over 3,300 yards. But, Keenum has had a tough time connecting on TDs. The Denver QB has thrown only 15 TDs. At the same time, he's tossed a dozen picks. That's a dismal TD/INT ratio. The team's best receiver, Emmanuel Sanders, is out with an injury. WR Courtland Sutton is an option. He's averaging 17.5 YPC and has 35 receptions and three TD catches. Rookie RB Phillip Lindsay has amassed 991 yards this season, averaging 5.4 YPA. He's scored nine times. However, he has not crossed the goal line in his last two games. Plus, he's tallied just 54 yards in those two games.
QB Derek Carr can be dangerous. He's hitting on 68.4% of his passes and has 18 TDs passes and six picks. That's a much better TD/INT ratio. Carr has been consistent through most of the season, tossing at least one scoring pass in each of his last five games. With RB Marshawn Lynch out, the Raiders don't have much of a rush attack. RBs Doug Martin and Jalen Richards offer the primary ground thrust. Martin has 130 rushes for 516 yards and is averaging 4.0 YPA. He's scored three times. Richards is averaging 5.4 YPA. Veteran TE Jared Cook leads the team with 63 catches. He's scored six times. Veteran wideout Jordy Nelson, who has 47 catches, has three TD receptions. Cook has not caught a touchdown pass since Dec. 2 and Nelson since Oct. 7.
Edge: Oakland
Defensive Numbers
The Denver defense is not what it used to be, but it's still good. In holding teams to under 22 PPG, the team has recorded 42 sacks, 77 TFL, and 15 INTs. They also have a respectable 72 PD, 13 FF, and nine FFR. Oakland's defensive stats don't hold up against Denver's.
The Raiders are allowing 29.9 PPG. In doing so, they have recorded only a dozen sacks, 11 picks, and four FF. Their 61 PD and 51 TFL are decent. But, overall, Denver is superior to Oakland when it comes to defense. There is really no comparison.
Edge: Denver
Matchup Trends
Denver is 5-2 ATS in the last seven games when playing in Oakland and 6-3 ATS in its last nine games. The Broncos are 11-4 SU when playing on the road against the Raiders. Also, they are 11-3 SU in their last 14 games against the Raiders. In its last 10 games, Oakland is 3-7 against the spread. They are 3-15 SU in their last 18 contests. The Raiders are 3-5-1 ATS in their last nine games at home and 1-4 SU in their last five home games. Denver has the edge here, especially with the spread at -1.0.
Edge: Denver
Our Raiders vs Broncos Pick
Our Raiders vs Broncos pick is going with Denver at -1.0. When the Broncos were at -3.0 and even -2.5, we found this bet unattractive. But we do like the near even spread here. Don't forget to also see our over/under pick for Oakland vs Denver,
Summary Raiders vs Broncos Pick: Denver at -1.0