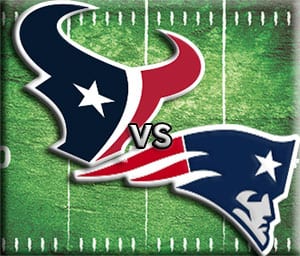 A few weeks ago it looked like the New England Patriots couldn't lose and that the Houston Texans had morphed into one of the better teams in the AFC. Heading into week 14 the Pats no longer can go undefeated and the Texans are just another 6-6 team trying to make the playoffs. This is a massive game for both teams, as Houston still needs wins to get into the playoffs, while New England has their eye on a first round bye. Houston has a mild edge with the game being at home, but the Patriots enter as the favorites.
Matchup History
The Patriots and Texans have very little history to work with, as the two have met just six times. New England has dominated this series with a 5-1 record and have claimed the last three games. They last clashed in 2013, when the Pats took the Texans down in the regular season and later beat them again in the playoffs. New England obviously has the historical and mental edge, but the two haven't faced in two years so their past history shouldn't really come into play. What could come into play, however, is that Houston head coach Bill O'Brien and Texans quarterback Brian Hoyer are both former employers of the Patriots. The edge probably works both ways, but it's definitely interesting to note.
Patriots Preview (-3.5)
The defending champs have been taken down a peg or two the past couple of weeks, but a lot of their issues stem from both Julian Edelman and Rob Gronkowski going down with injuries. It's possible that still plays into this game against a pretty good Houston defense, but the Texans also let the Bills walk all over them last week. I doubt Tom Brady has the much trouble, especially if Gronk (questionable) can make it back in time for Sunday Night Football. The other thing working in New England's favor is the fact that they're facing Brian Hoyer. Bill Belichick obvously knows Hoyer well and will know how to frustrate him, while one huge thing Belichick is known for is taking away the opponent's top weapon on offense. That could mean DeAndre Hopkins makes a minor impact in this game. If that's the case, the Pats can make the Texans one-dimensional and do as they please on defense.
Texans Preview (+3.5)
Houston is still in contention for the AFC South, which both says a lot about how weak the division is, and how strong their will is to not give up after a rough start. The Texans have won four of their last five games and could have easily made it five straight last week. They weren't able to close in a huge game, though, which is one reason why it's tough to trust them against one of the top teams in all of football. Houston needs to either step up on defense and force Brady into mistakes, or find a way to control the clock with Alfred Blue and Chris Polk on the ground. Getting into a fight through the air is not the answer, as Hoyer just can't match Brady's accuracy and consistency. The other key will be to make sure DeAndre Hopkins is heavily involved and not taken out of the game. He's been banged up the past couple of weeks and hasn't topped five receptions in over four games. If that happens again and he can't make an imprint on this game, it could be bad news for the Texans.
The Pick
The Texans have a lot riding on this one and they're at home, but we need to consider that the Pats have lost two straight and that already is very unlike them. It's taken a huge overtime run and three of the flukiest plays you'll ever see to drop them in the past two games, so it's very hard to see them falling flat in Houston and losing a third straight. New England has done well against the spread lately (3-1-1 in last five), while the Texans have also been strong at 4-1 ATS in their last five contests. Something has to break here, as both teams need a win and lost last week.
I see the Texans as a legit threat, but I don't buy them taking the Pats down. I think the game will be close, but not enough for Houston to beat the spread.