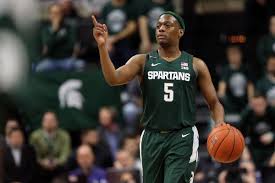 Our Michigan State basketball preview 2020 – 2021 finds that this season coach Tom Izzo has a young but talented team that will certainly be competitive in what is a high-end conference. The Big Ten seems to breed top-25 teams. Seven teams from the conference have been selected to be in the AP's preseason top-25 poll. Of the seven clubs, MSU is in-between those in the top 12 and those in the bottom 12. They are, of course, at number 13, right in the middle of the poll itself. Last season, the Spartans, with a Big Ten record of 14-6, tied the Wisconsin Badgers and Maryland Terrapins for first in the conference. Michigan State's overall mark for the season was 22-9, which was better than Wisconsin by one and Maryland by two wins.
Stats
If there's one area the Spartans need to improve on from last season, it's turnovers. The team was 12th in the Big Ten and 120th in the nation with 12.5 PG. Their scoring offense, which was good for 75.9 PPG, ranked second in the Big Ten and 51st in the nation, while MSU's scoring defense, which allowed opponents 64.7 PPG, was ranked sixth and 51st. The Spartans shot 46.1% from the floor and were good on 34.8% of their threes. Plus, their free-throw percentage, which was 50th nationally and third in the conference, was a hefty 75.0%. The team excelled in rebounding with a margin of 7.5 (12th Nationally, 2nd Big Ten) and in assists with 17.7 PG (2nd Nationally, 1st Big Ten).
Michigan State Basketball Preview 2020 – 2021 – Players
Despite the fact that MSU lost its top two players, guard Cassius Winston (18.6 PPG) and
forward Xavier Tillman Sr (13.7 PPG), they will be deeper this year than they were last year. Fifth-year senior Joshua Langford, who did not play last season due to a nagging foot injury, returns. Lanford offers experience and maturity at shooting guard. Sophomore Rocket Watts looks to start at point. Freshman A.J. Hoggard could certainly rotate in. He's ready to play at a high level. One player, Aaron Henry, could play guard, forward, or a combo role. But one thing is for sure, he will be starting.
In front, the Spartans have a lot of talent to choose from. Certainly, power forward Gabe Brown could start again and junior Marcus Bingham looks like he's ready to put in a lot of minutes. Both were very effective last season. However, Marquette transfer Joey Hauser, a junior, is certainly a starting candidate. Plus, freshman Mady Sissoko has the chops to play more than his share of minutes. Also, up front, sophomore Malik Hall and junior Thomas Kithier offer experience and solid play.
Frontcourt
Brown and Bingham, who last year averaged 6.8 PPG and 3.5 PPG respectively, could start. We do see the 6-11 Bingham, who recorded 1.4 BPG and grabbed 3.6 RPG, slotting into the center spot. However, we don't envision Brown starting, Instead, we project that Hauser, who two seasons ago averaged 9.7 PPG, 5.3 RPG, and 2.4 APG with Marquette, will take on the power forward role. With that, Henry, who last year averaged 10 PPG, 4.6 ROG, and 2.9 APG, plays small forward. Again, he could be a swing and transition between guard and forward.
Although there are plenty of experienced players who can rotate in, top-40 recruit Mady Sissoko, who has strength, athleticism, and a constantly running motor, could be a major component in front. Sissko, who's 6-9, would be a fine player in the paint, guarding the rim, rebounding, and dunking. However, coach Izzo does not like to give freshman huge roles. He prefers to work them in slowly. Thus, we expect to see less of Sissoko than we might like.
Backcourt
Watts will start at point and Langford at shooting guard. For Watts, who averaged 9.0 PPG and 1.7 APG, it's a chance to step up. If he cannot do so at point, then Foster Loyer, who's the team's only true set-up man, could get the nod. If Langford is healthy and can play the power spot, he should offer a lights-out shot. In 2018 – 2019, he averaged 15.0 PPG and 3.6 RPG. Also, there's a freshman, Hoggard, who garnered a lot of buzz. Our Michigan State basketball preview 2020 – 2021 notes that he's strong and capable.
Spartans – Make or Break for 2020-2021
It's interesting to note that coach Izzo has enough versatility that he can go with three or two players in the forward spots or, as noted, have Henry play the guard/forward position. This is a team where players have their roles, and, yet, the team is not dependent on one person setting up plays. Our Michigan State basketball preview 2020 – 2021 believes that Izzo has the makings of a team that can take down the Big Ten and make a run at the championship. MSU has a lot of experience and talent. However, if coach Izzo decides to forego using his freshman talent, he may hamstring his club. Whatever the case may be one place where Michigan State must improve is on turnovers. If they don't do so, then it could be a season of near misses.
Michigan State Basketball Preview 2020 – 2021- Final Word
Our Michigan State basketball preview 2020 – 2021 certainly likes this basketball team. One thing they have going for them is the fact that the major components, for the most part, have played together before. And those who have not done so come to this season with a lot of experience. If Langford is healthy, the backcourt should thrive, while the front court has a huge amount of potential. Watch this team. They are definitely on the upswing.
Michigan State Spartans – 2020 – 2021 NCAA Projection
Big Ten Finish – Tied for Third
NCAA Tournament Result – Sweet 16