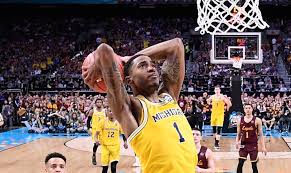 Our Michigan basketball preview 2020 – 2021 notes that last season the Wolverines started out well, winning their first seven games. However, after that, the rest of the season was plagued by inconsistency. Thus, the Wolverines finished the 2019-20 season at 19-12 overall and 10-10 in the Big Ten. Consequently, they finished in eighth place, four games away from the first-place Michigan State Spartans. For new coach Juwan Howard, who replaced longtime Michigan coach John Beilein, it was an uneven ride. At one point, in the midst of Big Ten conference play, the Wolverines went on a five-game winning streak by first beating archrival #16 Michigan State. However, after that streak ended, with four games to go, Michigan was 1-3. If they had been able to push through to the end, this team would have been a contender for the top spot in the Big Ten.
Statistics
There were two areas where this team struggled, and they are related. The first was rebounding and the second was defense. The Wolverines posted a rebound margin of 0.9, which was 11th in the Big Ten and 156th nationally. Thus, they allowed teams second shots, while not getting those second shots themselves when on the other end of the floor. Michigan ranked 11th in the conference in scoring defense, allowing 68.3 PPG, and 12th in field-goal defense as opponents connected on their shots 42.3% of the time. Thus, although the Wolverines were ranked fourth in the Big Ten and 72nd nationally in scoring offense at 75.0 PPG, their PF/PA differential was just +1.7. That margin left very little room for error.
The team ranked first in the conference and 49th in the nation in field-goal percentage, converting 46.2% of their shots. They averaged eight threes per game (100th Nationally, 5th Big Ten) and succeeded in completing 33.9% of their threes (145th Nationally, 5th Big Ten). Their 71.7% free-throw percentage ranked eighth in the conference and 145th in the nation. Finally, when it came to ball handling, they proved to be sound, allowing just 10.7 TPG (14th Nationally, 3rd Big Ten) and in ball movement, recording 14.6 APG (55th Nationally, 4th Big Ten).
Michigan Basketball Preview 2020 – 2021 – Players
Two double-digit scorers, guard Zavier Simpson (12.9 PPG) and center Jon Teske (11.6 PPG), are gone, while three double-digit scorers, senior forward Isaiah Livers, Senior, sophomore forward Franz Wagner, and senior guard Eli Brooks, return. Thus, despite their losses, the Wolverines return a sound core of veteran players.
In the backcourt, Brooks will be joined by Wagner. Wagner, who was named to the Big Ten All-Freshman Team last year, splits between guard and forward. Also of note is grad transfer Mike Smith, a senior guard from Columbia. He brings able scoring chops. Last season, Smith earned All-Ivy League honors. In the paint, we expect Livers will be working with redshirt senior center Austin Davis and junior forward Brandon Johns Jr. A top-15 freshman class, which includes three four-star prospects, center Hunter Dickinson, guard Zeb Jackson and forward Terrance Williams, will certainly be a major asset to this team.
Frontcourt
One of the strong points of forward Isaiah Livers' game is that he can shoot from just about anywhere. Livers, who connected on 44.7% of his field goals and 40.2% of his threes, stretches the floor. Also, when he plays, the Wolverines have a much better chance of running on an even keel and winning. Last season, when he was injured and out of the lineup for 10 games, the Wolverines were 5-5. He's a very important part of this team. In 2019 – 2020, Livers led the team in scoring with 12.9 PPG. He also grabbed 4.0 RPG.
Davis likely gets the start at center. Down the stretch in conference play last season, he proved to be a valuable asset. Plus, he's a very fine pick-and-roll man. Last year, in limited action, while averaging 4.9 PPG, Davis completed 69.3% of his field goals. Brandon Johns, who plays both ends of the court equally well, earned a starting role this season with his fine 2019 -2020 performance. Although he may not be up-to-speed in the skills department, freshman forward Terrance Williams has the physical attributes of a Big Ten player and will get a shot.
Backcourt
Our Michigan basketball preview 2020 – 2021 finds that Smith could become this team's primary man at the point. He's sure-handed and a sound playmaker. Another candidate for that spot is Brooks. In 2019 – 2020, Brooks averaged 10.6 PPG, 2.0 APG, 0.8 SPG, and 3.7 RPG. With Columbia, Smith averaged 22.8 PPG, 4.5 APG, 1.5 SPG, and 5.6 RPG. In the swing spot, Wagner is a fluid player. Last year, he put up 11.6 PPG, 5.6 RPG, and 1.3 SPG. Wagne recorded a 45.2 success percentage from the field and hit 33.1% of his threes. Freshman Zeb Jackson is a bit of an unknown at this point. He could see some minutes.
Wolverines – Make or Break for 2020-2021
Our Michigan basketball preview 2020 – 2021 notes that one thing coach Howard must do is help this team find consistency. They have to come out and play hard every night especially in Big Ten games. Also, the Wolverines must play better defense. They were weak in the paint and porous when defending. Michigan must transition quicker from offense to defense. If they don't, teams will simply blow by them.
They should have a fine starting unit, which we think will score more than they did last season. But the frontcourt is thin once you get past the starters. There's not much coming off the bench. Plus, in the backcourt, although Smith looks like he could have a huge season, he's transitioning from the Ivy League to the Big Ten Conference. The difference between the two when it comes to athleticism, skill, and competition is huge. You have to wonder if Smith will be able to contribute in a meaningful way? Wake Forrest transfer Chaundee Brown, who averaged 12.5 PPG and 6.5 RPG with the Demon Deacons, could be a huge help. But it's doubtful his waiver will be approved by the NCAA.
Michigan Basketball Preview 2020- 2021- Final Word
Our Michigan basketball preview 2020 – 2021 finds that the Wolverines do have a decent shot of moving up the Big Ten ladder. Coach Howard certainly earned this team's respect last year. Plus, key Michigan players have progressed in terms of maturity and experience. The last few weeks of the season will be this basketball team's proving ground. We think, at the very least, they'll be going to the Big Dance.
Michigan Wolverines – 2020-2021 NCAA Projection
Big Ten Finish – Sixth
NCAA Tournament Result – One and Done