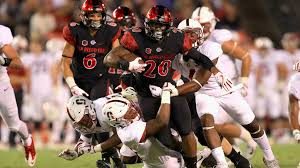 The unranked San Diego State Aztecs start their season off by visiting the #13 Stanford Cardinal. Kickoff is scheduled for 9:00 p.m. E.T. SDS is one of the better teams in the Mountain West. We've ranked them second in the West with the Fresno State Bulldogs being considered the top team. Stanford is one of the better teams in the Pac-12 North. We've rated them second and just below the Washington Huskies. In terms of conference matchups, the Pac-12 is right in the middle of the Power Five, while the MW Conference sits in the middle of the Group of Five. Thus, in terms of conference strength, the Pac-12 sits high above the MW. With that in mind, our 2018 San Diego State plays Stanford pick has the home team favored by 14.0 points with the over/under at 49.0
SDS Offense vs Cardinal Defense
The Aztecs have been competitive, as they've posted three double-digit win seasons straight. Seven starters return to the offensive side of the play. In 2017, the team averaged a healthy 30.8 PPG (4th MW, 45th Nationally). Senior QB Christian Chapman (60.1 COMP%, 13 TDs, 4 INTs) will be without his primary receiver Mikah Holder. Last season, Holder had 43 catches. WR Fred Trevillion and TE Kahale Warring will most likely be on his radar tonight. Trevillion has the potential to break one at any moment. The primary offensive weapon for the Aztecs is the ground attack. Unfortunately, the running back unit loses Rashaad Penny and his 2,248 yards and 23 touchdowns. However, junior Juwan Washington (759 YDs, 6.0 YPA, 7 TDs) appears to be ready to take over. Five starters are back on the O-line. This is one of the best offense fronts in the conference.
The Stanford D-line is a concern tonight in terms of experience and depth. The top two performers on the frontline are gone, including Harrison Phillips who led the team with 100 tackles, seven sacks, and nine TFL. The D-line is young and includes red-shirted freshman Dayln Wade-Perry at DT, sophomore Jovan Swann at DE, and junior Dylan Jackson at DE. They may need some extra help from the linebacking unit, which includes senior ILB Bobby Okereke. Last season, he made 94 tackles. The secondary lost some top talent to the NFL, which means there's a lot riding on athletic senior CB Elijah Holder. This defense is vulnerable.
Stanford Offense vs Aztecs Defense
The Stanford Cardinal come into this season with a potentially explosive offense. QB K.J. Costello, a sophomore, put up some decent numbers in his first season, as he completed 59% of his passes and hot for 14 TDs. He tossed just four picks and showed improvement as the season went on. This could be a breakthrough year for him. His four most productive receivers come back, and each has a minimum of 31 catches. Junior wideout J.J. Arcega-Whiteside ed the team in catches (48) and receiving TDs (9). Senior RB Bryce Love is coming off a 2,000-plus yard season where he scored 19 TDs. The O-line is exceptional and will be a major factor tonight.
The Aztec defense allowed 20.2 PPG (3rd MW, 21st Nationally). The 314.8 YPG they gave up ranked them first in the conference and 11th in the nation. In the secondary, WAR Tariq Thompson had an amazingly productive freshman season, grabbing five picks and breaking up four passes. His sophomore season should be even better. Junior CB Ron Smith is an aggressive defender. LB Ronley Lakalaka returns as the top-tackler (82) and cornerstone for the linebacking unit. The Aztec D-line looks to be, as usual, solid and experienced. It includes NT Noble Hall, who notched (39 TKLs, 3.5 SCKS, and 5 TFL, and DE Chibu Onyeukwu, who has 18 TKLs, 4.5 SCKs, and 4 QBHs.
2018 San Diego State Plays Stanford Pick
Stanford has some question marks on defense, while San Diego State comes to this game without some of its top offensive performers from last season. The matchup between the Cardinal pass attack and Aztec secondary will be prime. San Diego State is a solid team, and they did take Stanford down last season, Our 2018 San Diego State plays Stanford pick is the Aztecs with 14.0 points. We're taking the over at 49.0
Summary SDS at Stanford Picks: Aztecs at +14.0 and over 49.0