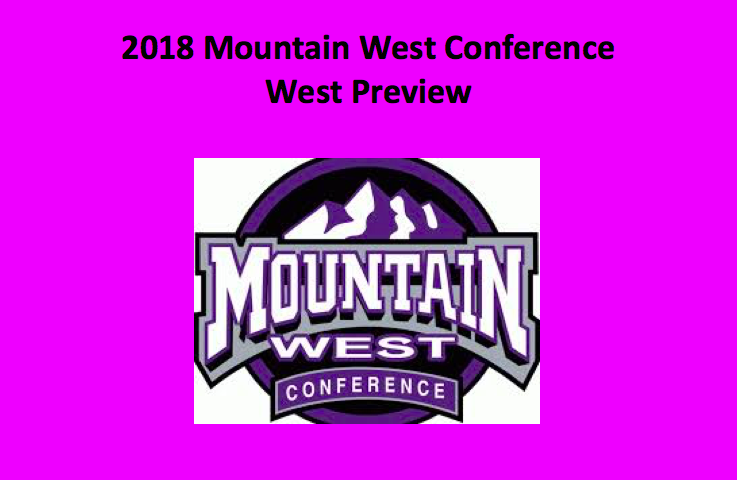 In putting together our 2018 MW West Division college football betting preview, we found a lot of evidence for the Fresno State Bulldogs dominating this division. Although they are definitely the best in the West, they will be challenged by at least one team, the San Diego State Aztecs. For Fresno State, it's really about defense, while the Aztecs are sound on both sides of the ball. UNLV, Nevada, San Jose State, and Hawai'i must all, at a minimum, improve their defenses to move up the food chain in this division. After reviewing our 2018 MW West Division college football betting preview, get the inside story on the entire conference by reading our MW Mountain Division preview.
2018 MW West Division College Football Betting Preview
The Bulldogs could be a major competitor if they can only develop an offense that has a better nose for the goal line. Our 2018 MW West Division college football betting preview has determined that the Aztecs already have the offense needed to excel, as well as a determined defense and some fine special teams. At the same time, our 2018 MW West Division college football betting preview projects a major drop off in the remaining clubs in terms of team-performance. The UNLV Rebels and Nevada Wolfpack will have a tough time being consistent. The San Jose State Spartans and Hawai'i Rainbow Warriors both need major overhauls in order to be in any manner competitive. Here's a closer look at each of these teams.
1. Fresno State Bulldogs
Offense
The Fresno State Bulldogs had an adequate offense, as they averaged 27.1 PPG (8th MW, 77th Nationally). They generated most of their yards via the pass, as they averaged 237.9 YPG (4th MW, 58th Nationally) in the air. Their success was due to Oregon State graduate transfer QB Marcus McMaryion's (62.1 COMP%, 14 TDs, 5 INTs) efforts. And although he was not perfect, he underachieved in third down situations, he was the best signal caller the Bulldogs had seen since Derek Carr graduated in 2013. McMaryion will have four of his top receivers back. That includes the dynamic KeeSean Johnson (77 REC, 13.2 YPC, 8 TDs). Johnson is capable of breaking a big play at any time. Three running backs with at least 100 carries and 450-plus yards each come back. Senior RB Jordan Mims (627 YDs, 4.2 YPA, 7 TDs) will start. Although the O-line lost some quality players, our 2018 MW West Division college football betting preview notes that they are still a formidable group.
Defense & Special Teams
Fresno State certainly turned the corner on defense last season. Their stats were pretty amazing, as they allowed 320.6 YPG (2nd MW, 15th Nationally) and 17.9 PPG (2nd MW, 10th Nationally). A lot of the credit goes to coordinator Orlondo Steinauer and his 4-3 system. The system featured numerous fronts and different coverages that were disguised to confuse QBs. The LB group includes All-MW MLB Jeffrey Allison (128 TKLs, 2 SCKs, 3.5 TFL, 3 PBU), and junior, and senior OLBs George Helmuth (89 TKL, 4 SCKs, 4 TFL, 1 PBU, 4 QBHs) and James Bailey (71 TKLs, 4.5 TFL, 2 PBU). This is the best group of linebackers in the conference, capable of putting pressure on QBs, stuffing the run, and harassing receivers. The secondary is also top-notch. Junior CB Jaron Bryant (67 TKLs, 7 PBU, 4 INTs) thrived under the new system. He brought back two INTs for TDs. In the safety spots, Mike Bell (77 TKLs, 3 TFL, 3 PBU, 1 INT) and Juju Hughes (71 TKLs, 6 TFL, 7 PBU, 1 INT) were both stellar. Corner Anthoula "Tank" Kelly, who posted three TFL, eight PBU, and one pick, rounds out the group.
The biggest question mark for this team on either side of the ball if the D-line. They have decent experience but lack depth. The other note on defense is that Steinauer, who came to the Bulldogs last year, is gone. Coordinator Bert Watts is designated to keep this group on it toes and performing at a premium level. Overall, the specialists are solid and include junior punter Blake Cusick, who pinned 19 within the 20 and averaged 42.5 YPP. PK Jimmy Camacho, who was 25-32 on FG and 41-42 XP, must be replaced.
2. San Diego State Aztecs
Offense
Our 2018 MW West Division college football betting preview projects that the San Diego State Aztecs will once again finish second, as they did last season. The Aztecs have posted three double-digit win years straight, and should do the same again in 2018. Seven players return to an offense that in 2017 averaged a healthy 30.8 PPG (4th MW, 45th Nationally). Senior QB Christian Chapman (60.1 COMP%, 13 TDs, 4 INTs) will be without his primary receiver Mikah Holder, who grabbed 43 passes last season. WR Fred Trevillion (12 REC, 27.2 YPC, 2 TDs) and TE Kahale Warring (18 REC, 13.8 YPC, 3 TDs) will be his go-to guys. Trevillion has the potential to break one at any moment. The rush attack, which is the primary offensive weapon for the Aztecs, loses Rashaad Penny and his 2,248 yards and 23 touchdowns, but junior Juwan Washington (759 YDs, 6.0 YPA, 7 TDs) is ready to take over. Five starters are back to play on what is one of the finest offensive lines in the Mountain West.
Defense & Special Teams
The Aztec defense gave up 20.2 PPG (3rd MW, 21st Nationally). The 314.8 YPG they allowed ranked them first in the conference and 11th in the nation. In the secondary, WAR Tariq Thompson had an amazingly productive freshman season, grabbing five picks and breaking up four passes. His sophomore season should be even better. Junior CB Ron Smith (62 TKLs, 2 TFL, 16 PBU, 2 INTs) is an aggressive defender. LB Ronley Lakalaka (82 TKLs, 3 SCKs, 2.5 TFL, 5 QBHs) returns as the top-tackler and lynchpin for the linebacking unit. The D-line looks to be, as usual, solid and experienced. It includes NT Noble Hall (39 TKLs, 3.5 SCKS, 5 TFL, 4 QBHs) and DE Chibu Onyeukwu (18 TKLs, 4.5 SCKs, 4 QBHs). Our 2018 MW West Division college football betting preview finds that this should be, once again, the best D in the conference.
Special teams include senior PK John Baron II, who booted 33 touchbacks, 52-of-52 PATs, and 12-of-15 FGs. He's a major asset. Punter Brandon Heicklen, who averaged merely 38.3 YPP, did a good job by having 27 of his 59 punts result in free catches and placing 18 within the 20. Washington takes over as the primary return man. He brought back two for scores last season.
3. UNLV Rebels
Offense
The Rebels should find stability on the offensive side of the ball, as sophomore QB Armani Rogers (52.4 COMP%, 6 TDs, 5 INTs) comes back after a first season that earned him Mountain West Freshman of the Year honors. Rogers, who rushed for 780 yards and eight scores while averaging 5.3 YPA, comes back to a team that has seen 11 different starting signal callers in the past 14 seasons. With three of his top performing receivers and a sound frontline, this could be a better-than-average season for this offense. Junior WR Brandon Presley (34 REC, 16.2 YPC, 3 TDs) is back as the top pass catcher, while Lexington Thomas, a senior, returns as the leading rusher. In 2017, Thomas accumulated 1,336 yards, averaging 6.3 YPA and scoring 17 touchdowns. In 2018, UNLV could up their 28.8 PPG from last season and record a winning record, something they have not done since 2013.
Defense & Special Teams
The problem for UNLV last season had to do with the 31.8 PPG (7th MW, 93rd Nationally) they allowed on defense. They also gave up 239.3 YPG (11th MW, 123rd Nationally) on the ground and 458.7 YPG (9th MW, 114th Nationally) in total. The frontline will probably be better than it was in 2017, but it will still have its deficiencies. The same may be said of the linebacking group, which does have more experience but not enough depth. New defensive coordinator Tim Skipper, who spent the last three years at Florida, will try to improve the Rebel D. Senior FS Dalton Baker (99 TKLs, 1 TFL, 2 PBU) and junior WLB Gabe McCoy (81 TKLs, 3 TFL, 1 INT) return as the number one and two tacklers. Junior corner Jericho Flowers (60 TKLs, 5 TFL, 3 PBU, 2 INTs) was a top performer in 2017. The secondary is the best unit on this side of the ball. The special teams need to generate more opportunities on kick and punt returns. Utah transfer Hayes Hicken will punt and may challenge PK Evan Pantels (28-28 XP, 17-22 FG), who nailed one from the 53-yard line last season.
4. Nevada Wolfpack
Offense
The Nevada Wolfpack last had winning seasons in 2014 and 2015 when they went 7-6 each year. In 2016, they were 5-7 and last year their record was 3-9. Coach Jay Norvell is back for his second season with Nevada, as well as his second year as a college football head coach. QB Ty Gangi (61.0 COMP%, 25 TDs, 11 INTs), who in 2017 led an offense that averaged 28.2 PPG (7th MW, 66th Nationally), will be helped if he can stay away from tossing picks. Two of his top three pass catchers come back, including McLane Mannix (57 REC, 13.6 YPC, 6 TDs). Junior RB Kelton Moore (855 YDs, 5.2 YPA, 4 TDs) had a decent second-half, and if the O-line can stay healthy, may be able to up his yardage and scores.
Defense & Special Teams
To secure more wins, our 2018 MW West Division college football betting preview
notes that the Wolfpack needs to do better on defense, as they allowed 33.9 PPG (10th MW, 106th Nationally) last season. Their 3-3-5 scheme required bigger and more physical players, and that's what they went for in their recruiting this past year. The question is will the new players be able to contribute in a meaningful way? Nevada moves two-time All-MW defensive end Malik Reed (49 TKLs, 8 SCKs, 2 TFL), a senior, to linebacker. Senior safety Dameon Baber (94 TKLs, 2 PBU, 3 INTs) is the glue in a secondary that needs additional help after some major losses. The defensive, which is bulkier, bigger, and stronger, should do a better job at stuffing the run. On special teams, the punt and kick return units are powerful and have the potential to be explosive. Junior PK Spencer Pettit (40-41 XP, 8-11 FG) had trouble hitting from beyond the 40-yard line. Punter Quinton Conaway (39.6 YPP, 5 w/in20) needs to improve on placement.
5. San Jose State Spartans
Offense
In the past five years, the Spartans' best mark was in 2013 when they were 6-6. In 2017, San Jose State recorded two wins and 11 losses. Our 2018 MW West Division college football betting preview sees them doing about the same this year. The Spartans scored just 15.8 PPG (12th MW, 126th Nationally). As a result, they've brought in offensive coordinator Kevin McGiven. Either Josh Love (54.1 COMP%, 5 TDs, 7 INTs) or Montel Aaron (56.0 COMP%, 8 TDs, 10 INTs) will be at the QB spot. Both are expected to improve in their second year of play. There are six returning to the receiving group, with each having a minimum of 22 receptions. Sophomore RB Tyler Nevins (670 YDs, 4.1 YPA, 1 TD) showed promise in his freshman year. However, his frontline looks thin and weak.
Defense & Special Teams
The defense allowed 41.7 PPG (12th MW, 127th Nationally). They had an impossible time stopping the run, as they gave up 285.4 YPG (12th MW, 129th Nationally). The D-line has experience, as three starters come back. Plus, OLB Jamal Scott, who had 70 tackles, including seven TFL, enters his senior year ready to excel. The secondary includes CB Dakari Monroe, who grabbed three picks and defended three passes in 2017. This unit is problematic, as it lost its three top players from last season. Our 2018 MW West Division college football betting preview
notes that special teams come off as a mixed bag. PK Bryce Crawford, who nailed a 53-yard attempt last season, was 14-17 on FG and 20-24 on PATs. Freshman Brian Papazian will compete with Crawford for the punting spot. Kick returns are in a good place, but punt returns need work.
6. Hawai'i Rainbow Warriors
Offense
In the past five years, Hawai'i's best season was 2016 when they reached a 7-7 mark. Last season, they were 3-9. We expect them to have fewer wins than three in 2018. In 2017, they averaged 22.8 PPG (10th MW, 106th Nationally) on offense, while the defense allowed 33.9 PPG (10th MW, 106th Nationally). The Rainbow Warriors have not had a winning season since 2011. They are changing their game plan for 2018 and going with a run-and-shoot offense. Two-year QB Dru Brown left and is at Oklahoma State as a graduate-transfer. Sophomore QB Cole McDonald, who tossed nine passes, may replace him. However, there are others in line for the job. WR John Ursua (47 REC, 14.2 YPC, 5 TDs), a senior, returns. He was the team's leading pass catcher last season. Ursua is a go-to player. The rest of the offense, including the line and running backs, are inexperienced and lack depth. It's time to rebuild this side of the ball.
Defense & Special Teams
On defense, ILB Jahlani Tavai (124 TKLs, 5.5 SCKs, 5.5 TFL, 5 QBHS) returns as the top tackler. His sacks, tackles for a loss, and quarterback hurries were also the most for any Rainbow Warrior last season. OLB Solomon Matautia (85 TKLs, 1 PBU, 3 INTs) is a quick, athletic player. He notched 3.5 TFL in 2017, along with three picks. Junior CB Rojesterman Farris (43 TKLs, 4 PBU, 1 INT) offers the secondary a good amount of experienced play. Overall, the Rainbow Warrior defense will be taxed as the D-line is dealing with major losses. Of the three units, the LB group is the strongest.
The punt and kick returners need to be replaced, while sophomore punter Stan Gaudion (42.1 YPP, 19 w/in20) is back after a sound freshman season. The placekicking game, which saw two players trying to hit field goals, was just four-for-nine. Our 2018 MW West Division college football betting preview definitely projects the Hawai'i Rainbow Warriors as finishing last.
2018 MW West Division Preview
Bowl Projections
Las Vegas Bowl: Fresno State vs Colorado
Hawai'i Bowl: San Diego State vs BYU
2018 MW West Division College Football Betting Preview
Projected Best Bets
Aug 30: UC Davis @ San Jose State – Take Spartans at -20 or fewer.
Aug 31: Portland State @ Nevada – Wager on the home team.
Sep 22: Duquesne @ Hawai'i – Bet on the Rainbow Warriors.
Sep 29: Toledo @ Fresno State – FS at around -7.
Oct 6: Fresno State @ Nevada – Bulldogs at -17 or fewer.
Oct 20: Nevada @ Hawai'i – Visitors go the paradise and win. Wolfpack at -10.
Oct 20: San Jose State @ San Diego State – SDS Aztecs by two TDs.
Nov 10: UNLV @ San Diego State – Rebels at -10.
Nov 17: UNLV @ Hawai'i – We do like UNLV on the road. Take Rebels again by 10 points.
Nov 24: San Jose State @ Fresno State – Bulldogs by 17.
Get the rest of the story on the conference by reading our Mountain West Mountain Division football betting preview. For information on other FBS conferences, go to our 2018 college football hub. Be sure to use the information in our 2018 MW West Division college football betting preview to give you that extra edge.