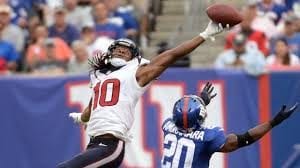 The Houston Texans (10-6) have won the AFC South two years running and three of the past five years. Two of those titles have come under coach Bill O'Brien. But Houston has been plagued by inconsistent play, and last year they had major quarterback problems, as free-agent Brock Osweiler, now with the Cleveland Browns, proved to be a bust. Tom Savage replaced Osweiler partway through the season and performed adequately. But the Texans felt they needed a premium quarterback and drafted Deshaun Watson (Clemson) in round one as the 12th overall pick. But he won't play right away. That means this is Savage's team for the 2017 season. Although some prognosticators see this club as once again winning the division, our Houston Texans 2017 NFL preview begs to differ. Here's our take.
Offense: 7.0
The Houston offense averaged just 17.4 PPG (29th). They were eighth in rushing yards but 29th in passing and 29th in total offense. Chances are not much of that will change in 2017. In fact, they might do worse. The offensive line is a huge problem. The line includes one premium player, Pro Bowl alternate LT Duane Brown who had a fine comeback year from a torn quad injury. It will be interesting to see if fifth-round draft-pick Julien Davenport gets a chance to break into the mix at tackle. RB Lamar Miller had 268 carries last season for 1,073 yards. He averaged a healthy 4.0 YPA and scored five times. But an ankle problem kept him out of the final two games. He was a workhorse and needs to be utilized more judiciously.
The receivers include wideout DeAndre Hopkins, a top route runner with great hands, and TE C.J. Fiedorowicz, a solid pass-catcher and run-blocker. Hopkins had 78 receptions and average 12.2 YPC while scoring four touchdowns. Fiedorowicz, who also scored four times, caught 54 passes, averaging 10.4 YPC. TE Ryan Griffin also performed well, making 50 catches, averaging 8.8 YPC and scoring two TDs. Another quality receiver across from Hopkins is needed. Braxton Miller, former Ohio State QB, may be a viable candidate. At QB Tom Savage will most likely try to do no harm. Short routes, some longer passes and a lot a safety value tosses will most likely be in order. He is a good leader, is tough and resilient, and can toss the ball a distance, but he's also tends to hold onto the ball too long and is has poor pocket movement.
Defense: 8.5
The Houston D-line should be stellar. That is as long as their top player, DE J.J. Watt, can stay healthy. Watt missed most of the 2016 season due to a herniated disc. He had two surgeries to repair the problem and as long as all goes as planned he'll be a major force especially when it comes to leveling sacks. The Texans had 31 sacks last season, finishing tied for 24th. Watt could boost that number considerably. On the other end is Pro Bowler Jadevon Clowney. Clowney had six sacks last season and is both a fine pass rusher and run stopper. D.J. Reader looks to take over at NT. He's big but fairly mobile.
The LB unit is also strong. Whitney Mercilus led the team with 7.5 sacks. That was down from prior seasons, but the return of Watt should take the double teams off of Mercilus, allowing him to open up his game more. Benardick McKinney proved to be a major force on the field, leading the team in tackles with 129. Brian Cushing, 65 tackles, is tough, strong and a fine leader. There's also decent depth on this unit. The Texans were ranked 12th against the run and first versus the pass. A lot of the credit goes to the secondary, which included corner A.J. Bouye. Bouye, a free agent, signed with the Jags and that means that corner Jonathan Joseph will have to step up. Safety Quintin Demps (6 INTs) is also gone.
Special Teams: 7.5
In terms of kickers, the Texans are in great shape. Nick Novak proved to be one of the most productive placekickers in the league. This was partly due to Houston's inability to convert in the red zone. Punter Shane Lechler offers great distance and long hang times. He's a future Hall of Fame inductee. Long snapper Jon Weeks is consistent and one of the finest in the NFL. The Texans were seventh in punt returns but tied for 28th in kick bring backs. Returner Tyler Ervin has speed and power, but he has ball-handling issues and needs to develop those skills. Kick and return coverage needs to be upgraded.
Coaching and Management: 8.0
Bill O'Brien (28-23 Overall) starts his fourth season as the head coach of the Texans. Houston's offensive coordinator, George Godsey, is gone and O'Brien has decided to take over those duties. Mike Vrabel, who played for the New England Patriots, has been promoted from linebackers coach to defensive coordinator. Romeo Crennel, who cut his teeth as a Patriot coach and coordinator, serves as assistant head coach. The group is talented, and O'Brien, a passionate and focused leader, would like to recreate the Patriot system with his Texans, His big problem is he does not have the type of players he needs to do so.
Houston Texans 2017 NFL Preview: Last Word
With the quarterback situation being what it is and the offensive line challenges this team faces, we do not feel that the Texans will make the postseason in 2017. Our Houston Texans 2017 NFL preview sees this team having a very inconsistent season as they wait for Watson to lead them in a few years.
Houston Texans 2017 NFL Preview Prediction: 3rd AFC South; Record: 9-7
GO BACK TO: