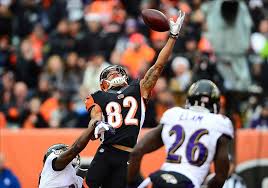 Our AFC North Cincinnati Bengals Preview 2019 sees this team continuing its three-year slump. This Cincinnati Bengals Preview 2019 notes that in 2014 and 2015, this team posted double-digit wins and made the postseason. Since then, from 2016-2018, they've gone 19-25-1. Head coach Zac Taylor starts his first season as a NFL coach. He's brought in Brian Callahan as OC and Lou Anarumo as DC. Although they have 10 and eight years respectively in the NFL, both are in their initial seasons as coordinators. That means there's a whole lot of inexperience in the top coaching spots.
Cincinnati Bengals Preview 2019 – Team
Our Cincinnati Bengals Preview 2019 notes that this team possesses offensive potential. But Andy Dalton must come through big for the Bengals to succeed. Plus, Cincy's inadequate defense needs to perform much better than it did last season.
Cincinnati – Offense
Cincinnati averaged 23.0 PPG (17th) and 310.8 YPG in overall yards (26th). They were 24th in passing yards (205.6 YPG) and 21st on the rush (105.1 YPG). They tied for 12 in sacks allowed (37) and tied for 19th in third-down conversions (37%).
In 2018, QB Andy Dalton (365 ATT, 226 COMP, 21 TDs, 11 INTs) got off to a solid start, but in week 12 suffered a thumb injury that took him out for the rest of the season. As he approaches his contract year 2020, Dalton needs to stay healthy and lead this team this year. The receiving group is deep and includes John Ross III (21 REC, 210 YDs, 10.0 AVG, 7 TDs), Tyler Boyd (75 REC, 1028 YDs, 13/5 AVG. 7 TDs), and A.J. Green (46 REC, 694 YDs, 15.1 AVG, 6 TDs). TE C.J. Uzomah (43 REC, 439 YDs, 10.2 AVG, 3 TDs) is also a threat. RB Joe Mixon (237 ATT, 1168 YDs, 4.9 AVG, 8 TDs) is solid. The O-line is work-in-progress, especially with first-round pick Jonah Williams out.
Bengals – Defense
Our Cincinnati Bengals Preview 2019 observes that this team struggled mightily on defense. They ranked 32nd in total yards allowed (413.6 PG) and in passing yards given up (275.9 PG). Plus, the Bengals were 29th in defensive rushing yards (137.8 PG) and 30th in point allowed (28.4 PG). Their 34 sacks ranked 28th while Cincy tied for 18th in picks (12) and tied for 15th in turnover differential (+1).
The D-line should perform better this season, as third-down specialist Carl Lawson returns from an ACL tear. Chris Dunlop (8 SCKs) and Geno Atkins (10 SCKs), who both signed new contracts, add a whole lot of stability. The LB unit is certainly problematic. Over the years, it's been inconsistent, and it's thin. This was the weakest link last season and looks to be the weakest link in 2019. In the secondary, safeties Jessie Bates (111 TKLs, 3 INTs) and Shawn Williams (108 TKLs, 5 INTs) offer dependable coverage. William Jackson III is solid at corner, while CB Dre Kirkpatrick offers veteran smarts.
Special Teams
Despite poor blocking, our Cincinnati Bengals Preview 2019 notes that punt and kick returner Alex Erickson put up solid numbers. The team also enjoys a fine putting game, as veteran Kevin Huber averaged 43.9 YPP and placed 40.85% within the 20-yard line. Randy Bullock (39-41 XP, 19-23) proved to be consistent. He lifetime field goal success rate is 82.8%. Long snapper Clark Harris is efficient and dependable.
Cincinnati Bengals Preview 2019 – Prediction
There's a total of 16 coaches, coordinators, and assistants in their first year with the Bengals. Of those 16, a total of 12 have five or fewer years in the NFL coaching ranks. Our Cincinnati Bengals Preview 2019 notes that this team needs to see QB Andy Dalton step up. If he doesn't, rookie Ryan Finley (North Carolina), who's been compared to Jared Goff, may end up starting. The defense really needs to find its way. We expect they will struggle again.
Our Ratings
Quarterbacks – 7.7
Running Backs – 7.7
Receivers – 8.2
Offensive Linemen – 6.1
Defensive Linemen – 7.9
Linebackers – 6.3
Secondary – 7.4
Special Teams – 7.4
Coaching – 5.9
AFC North Cincinnati Bengals Preview 2019 – Projection
Cincinnati Bengals Third in AFC North
LINKS