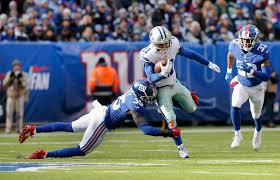 Our AFC East Buffalo Bills Preview 2019 observes that in 2017 the Bills earned a wildcard berth. Also, this Buffalo Bills Preview 2019 notes that since 2000 that was the only postseason appearance by this team. They lost that one playoff game to the Jacksonville Jaguars 3-10. The 21st century has not been kind to this team. Last season, Buffalo went 6-10. Head coach Sean McDermott (15-18 Overall & 0-1 Postseason) starts his third season with the team. McDermott has added a new quarterbacks coach, offensive line coach, offensive assistant, and special teams coach. Plus, they have signed a slew of free agents with a majority of them being offensive players. But can we expect this team to show much improvement?
Buffalo Bills Preview 2019 – Team
Our Buffalo Bills Preview 2019 notes that this team may have added new talent, but the jury is out on their ability to utilize that talent on a cohesive manner. For years, this organization has failed to take full advantage of its top players' skills. In the course of two years, McDermott has done a good job getting this team to play more disciplined football. But with a slew of new coaches and new players, it may be tough to get everyone on the same page in one season.
Buffalo – Offense
The Bills rush attack averaged 124.0 YPG (9th). This was, by far, the best part of their offense. On the other end of the spectrum, Buffalo scored 16.8 PPG (30th), accumulated 174.6 passing yards per game (31st), and posted 298.6 total yards per contest (30th). They also tied for 29th in third-down conversions (32%). Finally, the O-line allowed 41 sacks (T-17th).
Josh Allen (320 ATT, 169 COMP, 2074 YDs, 0 TDs, 12 INTs) needs to be more accurate and careful when passing. At the same time, Allen should run less. In his rookie season, he posted 89 carries for 631 yards, averaging 7.0 YPA and scoring eight TDs. RB LeSean McCoy is gone and Frank Gore (156 ATT, 722 YDs, 4.6 AVG, 0 TDs), a 14-year vet, joins the Bills from Miami as a free agent to replace him. Gore, like McCoy, is in decline. WR Zay Jones (56 REC, 652 YDs, 11.6 AVG, 7 TDs) topped the team in catches last season. WR Cole Beasley (65 REC, 672 YDS, 10.3 AVG, 3 TDS) comes from Dallas as a free agent. The O-line was especially bad last season. Center Mitch Morse, from Kansas City, is a major improvement.
Bills – Defense
Our Buffalo Bills Preview 2019 notes that last season this team did out a good defense on the field. They ranked 16th in rushing defense allowing 114.9 YPG and were first in defending the pass, giving up 179.2 YPG. Their total defense, which ranked second in the NFL, allowed 294.1 YPG. And although they were a respectable 18th in points allowed (23.4), the team's PF/PA differential came in at -6.6. Their 16 picks tied them for seventh. Two areas this side of the ball needed to improve on were sacks, as they posted 36 (26th) and turnover differential, as they came in at -5 (T-23rd).
The Buffalo D-line includes Jerry Hughes (7 SCKs), who topped the team in sacks. He's the anchor of this unit. The linebacking group includes WLB Lorenzo Alexander (6.5 SCKs) and MLB Tremaine Edmunds (121 TKLs). Both are solid. SLB Matt Milano (78 TKLs, 3 INTs) is a top-notch playmaker. The secondary is the strongest part of this D. SS Jordan Poyer (4 INTs) is a premium defender, while corner Tre'Davious White (54 TKLs, 2 INTs) offers fine coverage skills. FS Micah Hyde (58 TKLs, 2 INTs) and second-year corner Levi Wallace round out the D-backs.
Special Teams
Upgrades include Andre Roberts on run backs. He's a solid game-changer. The Bills went through three punters last season and finally decided on Corey Bojorquez (45 Punts, 45.1 YPP, 48.89% In20). Bojorquez brings distance and accuracy. Reliable veteran PK Stephen Hauschka (25-26 XP, 22-28 FG) struggled last season, partly due to the number of holders her had to adapt to. Look for him to hit 85% or better of his field goals this season. The reliable Reid Ferguson returns for his third season as long snapper.
Buffalo Bills Preview 2019 – Prediction
Our Buffalo Bills Preview 2019 notes that there is talent here. At the same time, the New York Jets have made some major upgrades and the Miami Dolphins should not be taken lightly. Of course, there's always the New England Patriots. If this team can get it together quickly, they'll surprise us. But we don't think that will happen. In 2019, the Bills occupy last in the AFC East.
Our Ratings
Quarterbacks – 6.3
Running Backs – 7.0
Receivers – 5.9
Offensive Linemen – 5.9
Defensive Linemen – 6.1
Linebackers – 7.2
Secondary – 7.8
Special Teams – 6.0
Coaching – 7.7
AFC East Buffalo Bills Preview 2019 – Projection
Buffalo Bills Fourth in AFC East
LINKS