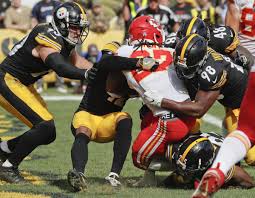 Welcome to our 2018 AFC North preview hub where you'll find links to our full team profiles of the Pittsburgh Steelers, Baltimore Ravens, Cincinnati Bengals, and Cleveland Browns. Also on this page you'll be able to review a quick snapshot of each team, offering you insights into their potential. Our 2018 AFC North preview examines every team in detail, covering both sides of the ball, as well as special teams, coaching, and recent performance. Use these profiles throughout the season, as a foundation for your analysis.
AFC North- 2017 Season
It was the Pittsburgh Steelers (13-3) easily winning the division, as the Baltimore Ravens (9-7) put up winning numbers, but did not quite have what they needed to make the playoffs. Although the Cincinnati Bengals (7-9) showed promise at times, but were inconsistent. Finally, the Cleveland Browns (0-16) hit rock-bottom last season, as they could not eek our one victory. Five of their losses were by three or fewer points.
2018 AFC North Preview: Teams
Our previews are designed to give you a view of each team from different angles. Included are important stats, possible starters, essential backups, and a rating of each group. A quick summary of each team's strengths and weaknesses is below. Follow each team link to their full preview.
QB Joe Flacco needs a Matt Ryan-like comeback season
Might rookie QB Lamar Jackson see action?
O-line and RBs are solid
Frontline is best part of defense
LB unit a bit thin this season
Special teams are some of the best in the NFL
Coach John Harbaugh's aggressive style will make or break this team
QB Andy Dalton has to get his game back to a higher level
Rush attack with Joe Mixon is the best part of offense
O-line is weaker than you'd like
This team needs to score some points
D-line best unit on that side of the ball
LBs are worrisome
HC Marvin Lewis under pressure to win
Good moves adding QB Tyrod Taylor and drafting QB Baker Mayfield
New O-C Haley allows Jackson to focus on being head coach
Ground attack has been upgraded
Can offensive line come through?
Defense will give up too many points again
Special teams return units need a jolt
0-16 last season means they can only go up (right?)
QB Ben Roethlisberger still has it.
WR Antonio Brown can bring it
RB Le'Veon Bell, the best in the NFL, sitting out season
O-line one of the best in the league
Defense sound on line and in secondary
Pro Bowl LB Shazier out for season and maybe career
HC Mike Tomlin is a risk-taker willing to put the game on the line
Projected Order of Finish
Our 2018 AFC North Preview sees the following order of finish:
Final Thoughts- 2018 AFC North Preview
Make sure you take advantage of our 2018 AFC North Preview as the season begins and progresses throughout the year. All of our previews and projections are created with the NFL sports bettor in mind. Also, as the season progresses, check in with Betting Brain regularly for NFL news, picks, and more. We have everything NFL bettors want and need to be successful.
Other Links