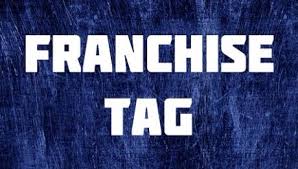 There are three NFL franchise players who do not have deals. Washington Redskins quarterback Kirk Cousins, Pittsburgh Steelers running back Le'Veon Bell, and Los Angeles cornerback Trumaine Johnson were tagged as franchise players but none were able to come to terms by the deadline, which was 4 p.m. E.T. today. Still, the players will be compensated well this season. However, they have no long-term deal with their team. Here's how it breaks down to each of the three NFL franchise players who could not strike a deal with their team.
Kirk Cousins
The Washington Redskins worked hard to forge a deal with franchise quarterback Kirk Cousins. They made their best offer in May but they could not sign the 28-year-old signal caller who has grown into his role as team leader and quality passer.
Without a deal for 2017-18, Cousins will play under the franchise tag for $23.9 million. Last season under the tag, he was paid $19.9 million. It's a sizable amount. After the season, the team and Cousins can negotiate again. But that will come with a major price for the Redskins. It would cost Washington $35 million.
The door would be open for other teams to perhaps strike a deal with Cousins especially if the Redskins used the transition tag, which would pay Cousins just $28.7 million. If that did occur, other teams could probably easily offer their QB a much more lucrative, multi-year deal.
Le'Veon Bell
The Steelers tried until the final hour to reach a deal with star running back Le'Veon Bell. But they could not seal the deal.
Steelers general manager Kevin Colbert issued a statement saying, "Unfortunately, we were unable to agree to terms on a long-term contract with Le'Veon Bell prior to today's deadline. Le'Veon is scheduled to play this year under the exclusive franchise tag designation. We will resume our efforts to address his contract situation following the 2017 season."
His pay this season under the franchise tag will be $12.1 million. Next season, Bell will be a free agent. That is unless the Steelers tag him as their franchise player. One important note regarding Bell, he has not yet signed his franchise offer. Until he does so, he is not obligated to be in training camp, which will commence July 27. He did undergo surgery during the off-season and appears to be ready to go.
Although Bell will be compensated well this season as a running back, one of his bargaining points is that he is a massive dual threat as both a runner and a receiver. He is one of the best dual threats in the NFL. In addition, he's 25 years old and is at the top of his game.
Trumaine Johnson
The Rams really did not negotiate with Johnson, who is 27 years old. Their problem seems to be that they are unsure if the talented corner is a good fit with defensive coordinator Wade Phillips' system. The Rams spent the off-season trying to move Johnson to another teams.
Unable to do so, Los Angeles will end up paying him $16.7 million this season. In 2016, he was paid $13.9 million under the franchise tag. Both 2017 and 2018 are major paydays for a player whose team wants to move him.
Final Word: Three NFL Franchise Players
Each of the three NFL franchise players has very different situations. One problem that could plague each team is the discontent generated by the lack of a multi-year deal. Players can start to feel underappreciated and play can suffer. It's too early to see if that will occur. If anything, Cousins, Bell, and Johnson should be in a good place next year to either negotiate or find another team.