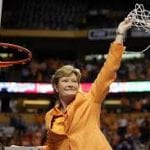 Very sad news today, as it was announced that the Division I college coach with the most wins, Pat Summit, has died. Summit got a bad break, as in 2011 she was diagnosed with early onset dementia, which eventually developed in Alzheimer's. Summit, who started coaching the Lady Vols basketball team in 1974, would go on to win 1,098 games, 8 NCAA Division I titles, and 16 each of SEC titles and SEC Tournament championships. When she started at Tennessee she was paid $250 a one of her duties was doing the team laundry. She coached her last season at Tennessee in 2012, winning her 16th SEC Tournament Championship.
Trailblazer Summit
In 2000, Summit was inducted into the Basketball Hall of Fame and in 2012 she received the highest civilian honor the US can bestow, the Presidential Medal of Freedom. She certainly deserved these and every single award she received.
Summit became a coach when the NCAA has not yet sanctioned women's sports. When she started at Tennessee she was a grad assistant and she got the job as head coach become the woman coaching the team suddenly quite just prior to the start of the season. She drove the team van to games.
In a 2009 interview, Summit remembered, "One time, for a road game, we actually slept in the other team's gym the night before. We had mats, we had our little sleeping bags. When I was a player at the University of Tennessee–Martin, we played at Tennessee Tech for three straight games, and we didn't wash our uniforms. We only had one set. We played because we loved the game. We didn't think anything about it."
In her first year of coaching, Summit, who was 22, had four players on her team who were 21. In 39 years, she lost a total of 208 games. That's an average of 5.3 games per season. He winning mark was an incredible .841.
Eyes, Passion, Inspiration
Summit had a great basketball mind. But she had much more. She was passionate about the game and winning. And Summit was downright inspiring. Known for be able to rally a team to new heights with one of her signature speeches. Her oratory challenged, pushed, and embraced her players, as she used logic, emotion, and sense to get her team focused and ready to play and win.
Of course, it was those Summit eyes, piercing and hot, eyes that could shoot right through a person, for which she was famous. Those eyes said everything, and, at the same time as they were telling you exactly what she thought, those eyes were taking in more information and channeling that information into a brain that was an amazing analytical machine.
In the End
After her diagnosis, Pat Summit has to grapple with a lot. She admitted that at first the fact that she had early onset dementia brought out many emotions and that it was daunting. But then she did what she had done for her entire life. She fought the disease with everything she had. It won in the end, proving that the college coach who seamed to have supernatural powers was indeed human. It's as if she had done so much, had won so much, and had inspired and mentored so many, that she was used up early.
But Summit leaves an amazing legacy for female athletes, women who have any dream, and all of humanity. All of those women she coached, all of those fans she inspired, and anyone who had the opportunity to meet her received a gift. Those who encountered her saw what passion, hard work, caring, and the desire to constantly improve can do. At a time when so much in sports and the world is negative, all of us were given a gift that radiated positive energy; it was the life of Pat Summit.