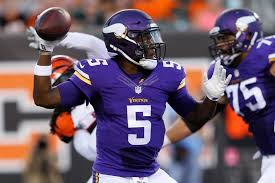 Our NFL previews, which were published about a month ago, looked at various aspects of each NFL team, including their starting quarterback and the possible need for a strong NFL backup quarterback. At times, we noted when we felt that a starter could see limited time due to injury. Tony Romo was one that we were concerned about, as was Andrew Luck. Romo is down and out for much of the season while Luck is presently healthy. When the starting quarterback goes down in pro football it's time for the NFL backup quarterback to step up. That can be dicey at best. Then again, sometimes the effect is negligible.
Bridgewater Down
One QB we were not concerned about in our previews 2016 was Minnesota's Teddy Bridgewater. Of course, anyone can be injured, no matter how young or old they may be. Still, Bridgewater has been relatively healthy.
The news out of the Viking training camp is that Viking starting QB Teddy Bridgewater suffered a season-ending torn ACL and dislocated knee on Tuesday. This latest injury to a starter, along with Tom Brady's suspension, and injuries to QBs last season, such a Peyton Manning, point to the fact that a team's backup QB can be essential to their success.
What Are Their Options?
Basically, a team that sees its starting quarterback suffer an injury or a suspension usually has to go to its number two or three starter. They may also trade or sign a free agent in order to upgrade. Last season the Cowboys used Matt Cassel, Kellen Moore, and Brandon Weeden. There was a major drop off in talent from Romo to those three.
Romo won the first two games and was then injured. Cassel and Wheeden replaced him and they, guided Dallas to seven straight loses. Romo played in game 11 and won that contest and was then injured in the next game, which was against the Carolina Panthers. He never returned to the lineup and under Moore and Cassel the Cowboys struggled, finishing 4-12.
In 2015 another team saw their starting QB injured for half of the season. That was the Denver Broncos. Consider that last season the Broncos lost Peyton Manning for eight games. In his place was Brock Osweiler. He went 5-3 and helped the Broncos get to the postseason. Of course, they won it all with Manning guiding the team through the playoffs and to their ultimate victory in the Super Bowl.
Those are two very different scenarios. Why is that?
Three Major Differences
There are three reasons as to why some teams are fine when their starter is knocked out for some length of time and why others are not. The first thing to consider is what is the drop off in talent from the starter to the NFL backup quarterback? Manning was not playing great football in 2015, but he was playing good enough to win. Osweiler did much the same. In fact, at times he was more reliable than Manning.
Defense makes a big difference too. The Bronco defense was massive last season. They won games. The Dallas D did not. The Pro Bowl defense for the Broncos was a considerable force managing to force turnovers, sack QBs, and take player down for a loss.
The running game can also make a difference. Last season, the Bronco rush attack was average. It was nothing to write home about but good enough to keep them in the game. It's interesting to note that the Cowboy rush attack was much better than Denver's, placing fourth in average yards per carry and ninth in average yards per game. The Broncos were 17th and 13th in those respective categories. Thus, a rush attack cannot make up to poor quarterbacking, but it can underpin a good QB.
NFL Backup Quarterback: Shaun Hill
The good news for NFL backup quarterback Shaun Hill is he has one of the best running games in the league and a very fine defense. Hill is a sound QB. But is he close enough in talent and skill to be able to provide Minnesota with what they need to succeed? That will be seen over the course of 16 regular season games. But chances are he'll do better than the trio that guided the Cowboys last season. Checkout club backups now, especially if betting futures.