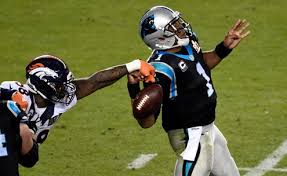 Bronco linebacker and Super Bowl MVP Von Miller is emphatic about sitting out the season if a deal cannot be struck with Denver by Friday, July 15. Some close to Miller say that they are sure that the deal will get done. But Miller is cautioning everyone, noting that he may sit out the 2016-17 NFL season if he cannot strike a solid deal with the Broncos.
MVP Von Miller- Franchise Player
Miller, who was designated by Denver as their franchise player and whose defensive efforts were key in the Broncos' 24-10 of the Carolina Panthers in this past Super Bowl, has been unhappy thus far with what his team has offered. Miller has been offered a one-year deal for $14.1 million. That sounds great in terms of pay, but the downside is there is no security.
In the NFL, a team may designate one player per year with the franchise tag. In order for this to occur, the player must be able to become an unrestricted free agent. In tagging the player, the team is able to strike a one-year deal with him. That one-year deal can often lead to a player being frustrated due to their lack of mobility and, at the same time, their inability to get a multi-year deal. The player loses a lot of bargaining power.
What's the Deal
As noted MVP Von Miller has been offered $14.1 million for the 2016-17 NFL season. Miller had a great year last season, as he notched 35 tackles total, four forced fumbles, and 11 sacks. In the postseason, Miller had 13 tackles, 5 sacks, 2 forced fumbles, 1 interception, and 2 passes defended. As Super Bowl MVP Von Miller had 6 tackles, 2.5 sacks, 2 FF and 1 PD. He's well worth the cash, but Miller and Denver have not been able to agree upon how much cash he is worth.
Miller insists that he is willing to not play for the entire upcoming season. Still, those who know Miller and/or are close to the situation believe that a contract will be agreed to by the Friday deadline.
Clubhouse Chemistry and Karma
Denver Broncos cornerback Chris Harris Jr. commented on the situation publically on Tuesday during an appearance on NFL Network's "Total Access."
I believe him," Harris said. "You've got to take his word for it. It would be hard for me to sit out, missing out on $14 million, but I think Von is serious in what he's saying. I think he truly, this whole time just talking to him, he hates the franchise tag. I definitely think he won't sign it." Harris added, "I expect Von to be signed Thursday night, Friday morning at the latest." The cornerback observed, "I think everybody in the Broncos' organization knows how crucial he is to our defense and the type of player that he is, even the person that he's become. "
If Denver is unable to sign their star linebacker, then it's believed that there would be various negative consequences. Team morale would be low, locker room and team chemistry would get a big hot, and the Denver D, which was to integral to the team's success last season, would be a lot weaker.
It is hard to imagine Super Bowl MVP Von Miller not inking a deal by July 15.