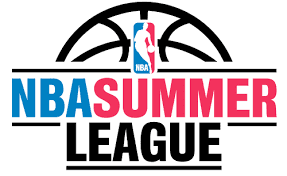 The 2017 Las Vegas Summer League is just about over and a few players have looked very good as of late. The professional basketball summer league is a place where various younger players get to show their stuff. Some are rookies, others have played NBA ball and are up for a spot on a specific team, and others are on a specific team under a multi-year contract. This year three players have made an impression, making sports bettors, fans, and pundits wonder if they may be difference-makers. Here's a quick look at three players from the 2017 Las Vegas Summer League who could have an impact on the 2017-18 NBA Season.
Jarnell Stokes, Portland Trail Blazers
Jarnell Stokes, who has spent time playing for the Memphis Grizzlies, showed what he could do as a Portland Trail Blazer, as Portland battled the Memphis in one of two semifinal matchups yesterday. At halftime, Memphis was ahead 45-38. In the second-half, Jarnell Stokes took command and led a comeback. In the end, he scored a total of 22 points, which was the game-high, and he grabbed 15 rebounds. Portland head coach Terry Stotts, who was sitting courtside, gave Stokes a supportive pat on the head after his performance.
Dillon Brooks, Memphis Grizzlies
The Grizzlies had some good play earlier in the 2017 Las Vegas Summer League from shooting guard Wayne Selden. Selden has played sparingly for the New Orleans Pelicans and then signed a multi-year contract with Memphis.
Yesterday in the semis, the Grizzlies got fine play from swingman Dillon Brooks. Brooks was a second-round pick out of Oregon in the 2017 NBA Draft. In 21 minutes, he scored 16 points, grabbed four rebounds and made four assists. He looked very good.
Lonzo Ball, Los Angeles Lakers
The overall second pick in the 2017 NBA Draft, Lonzo Ball has lived up to expectations throughout the 2017 Las Vegas Summer League. In his matchup with Dallas point guard Dennis Smith, Jr., which was thought to be a major test, he performed well. Ball, as he has throughout the 10-day summer league, proved to be an able playmaker. He possesses refined passing abilities, ably making both long outlet passes and short passes on quick plays. He's also got refined defensive skills, smart decision-making capabilities, and impressive off-ball perception.
In the first half, he had 14 points, 10 assists and four rebounds. Ball sustained a third quarter calf injury, which limited his play to 21 minutes. He will not play in tonight's final against Portland.
2017 Las Vegas Summer League Ends Tonight
The 2017 Las Vegas Summer League ends tonight with the Portland Trail Blazers plays the Las Angeles Lakers for the championship. Tip-off is 10 p.m. E.T. on ESPN. The 2017-18 NBA season commences on Friday, October 20.