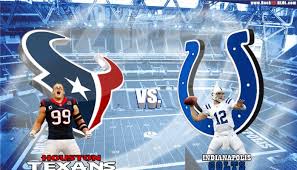 This is the time in the 2016 NFL season when one game looks like an entire season. That's because for some teams one game in week 14 can be the difference between getting into the playoffs and lining up an early tee time once the regular season is done. Here are our nominations for 2016 week 14 NFL games. If you're betting these, do so carefully. We expect to have a free pick for each one.
Houston at Indianapolis
This 1 p.m. ET game is huge for both teams as they are in a virtual three-way tie with the Titans for first place in the AFC South. The Texans are in the midst of the three-game losing streak. The Colts have won three of their last four. Indy lost their first meeting of the 2016 with the Texans 26-23. The Colts at home are -6.5. It's doubtful a wild card will come out of this division. That makes this game even bigger.
Pittsburgh at Buffalo
This is another 1 p.m. ET start. The Bills, who are 2-4 for their last six games, have a slim chance to land a wild card. But that is very slim. If they lose, it's over. The Steelers, after enduring a tough losing streak, have now won three straight. Pittsburgh, with a 7-5 record, is tied with Baltimore for first in the AFC North. The Steelers are at -2.5.
Seattle at Green Bay
This games means a lot to both teams. For Seattle, which is at 8-3 and in sole ownership of first in the NFC West, it's about consistency as they head into the playoffs. Seahawks' QB Russell Wilson has looked great as of late and needs to keep that winning edge he's developed. At 6-6, Green Bay suffered through s four-game losing streak, and now they bring a two-game winning streak to this contest. They are tied for second with the slumping Vikings. Detroit leads the NFC North by two games. Seattle is favored by 2.5. Kickoff is 4:25 p.m. ET.
Dallas at NY Giants
Of all 2016 week 14 NFL games, the Sunday night contest between Dallas (11-1) and the Giants (8-4) is one of the biggest. Dallas, the only team to have secured a spot in the playoffs, lost their first game of the season to NY 20-19. The Cowboys want to secure home field for the entire postseason, while the Giants, who are in good stead for a wild card spot, would really like this win. Dallas is at -2.5.
Baltimore at New England
Monday Night Football also offers one of the biggest 2016 week 14 NFL games. Baltimore (7-5), which has won two-in-a-row, is tied with the Steelers for first in the AFC North. New England (10-2) is in command of first in the AFC East and has a chance to hold home field for the playoffs. The Pats, who have won three straight, are at -7.0.
2016 Week 14 NFL Games: Final Thoughts
There's a full slate of 2016 week 14 NFL games on which you can bet. Two that have little meaning in terms of the playoffs but are worth considering by sports bettors are San Diego at Carolina with the Panthers at -1.5 and Cincinnati at Cleveland with the Bengals at -5.0. Check out our free NFL picks, which will be posted Saturday and Sunday.