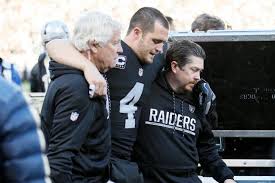 One more week to go in the 2016 NFL season and we've got our 2016 NFL week 16 review. A lot was decided in week 16. All of the AFC playoff teams are set. However, not all positions are set and not all byes have been determined. The NFC still has two spots to be decided. Here's a look at the AFC and NFC takeaways from week 16.
AFC Takeaways from Week 16
The New England Patriots are in and they have taken the AFC East and clinched a bye. In week 16, the Miami Dolphins secured a wild card berth. The Steelers are the winners of the AFC North and the Houston Texans took the AFC South. The AFC West is to be determined, but we know that the Kansas City Chiefs and Oakland Raiders will be in the postseason.
Pittsburgh Steelers (10-5) take down the Ravens to win the North and knock Baltimore out of the postseason.
Baltimore Ravens (8-7) are going, going, gone after they allowed the season to go slip, sliding away.
Indianapolis Colts (7-8) lose to the Raiders 33-25 in Oakland.
Cincinnati Bengals (5-9-1) lose 12-10 to Houston.
Cleveland Browns (1-14) beat San Diego 20-17 for their first win of 2016.
Buffalo Bills (7-8) loses in OT to Miami 34-31 and the Ryan brothers are fired.
Kansas City Chiefs (11-4) beat Denver to stay in the hunt to the AFC West.
Denver Broncos (8-7) are a former shell of themselves and lose to the Chiefs 33-10.
Jacksonville Jaguars (3-12) get third win and beat Tennessee week after they fire head coach Gus Bradley.
Miami Dolphins (10-5) secure playoff spot by beating the Bills in OT.
New England Patriots (13-2) 41 and NY Jets 3, and there's nothing more to say.
New York Jets (4-11) are focused on next year.
San Diego Chargers (5-10) are so bad they lose to the Browns.
Houston Texans (9-6) with Savage at helm and Osweiler on bench secure the division title.
Oakland Raiders (12-3) are in playoffs but lose starting QB Carr.
Tennessee Titans (8-7) basically take themselves out of the postseason with a loss to the hapless Jags.
NFC Takeaways from Week 16
Dallas has secured the NFC East, a bye, and hone field. The New York Giants are one of the wild card teams. The Atlanta Falcons are winners of the NFC South and the Seattle Seahawks have taken the NFC West. The NFC North and one wild card still need to ne determined.
Dallas Cowboys (13-2) beat Lions, pinning all of Detroit's playoff hopes on their final games with the Pack.
Minnesota Vikings (7-8) lose to Green Bay, as Pack keeps playoff hopes alive.
Chicago Bears (3-12) obliterated by Washington 41-21.
Tampa Bay Buccaneers (8-7) lose to the Saints and see their playoff hopes grow thin.
Atlanta Falcons (10-5) stay on track , beating Carolina 33-16.
Carolina Panthers (6-9), like Broncos, are a mere shell of what they were last season.
Detroit Lions (9-6) could be sitting pretty but instead lose ugly to the Cowboys.
Philadelphia Eagles (6-9) take down Giants 24-19, making one wonder if New York has enough gas to get through the playoffs.
Los Angeles Rams (4-11) lose 22-21 to San Francisco equals the blind beating the blind.
New Orleans Saints (7-8) beat the Bucs by a TD.
San Francisco 49ers (2-13) gets there second win while handing the Rams their 11th loss.
Arizona Cardinals (6-8-1) manages a win against the Seahawks 34-31.
Seattle Seahawks (9-5-1) can't beat the Cardinals.
New York Giants (10-5) lose to Eagles on Thursday Night Football, scoring only 19.
Washington Redskins (8-6-1) keep hope alive with win over Bears.
Green Bay Packers (9-6) win fifth straight, beating Minnesota 38-25
2016 NFL Week 16 Review: Final Thoughts
Our 2016 NFL week 16 review ends with consideration of the important upcoming games in week 17. In the final week, all games will be played on Sunday. The Packers and Detroit meet to determine which team can claim the NFC North title. That game will be played on Sunday night. Tampa Bay and Washington, as well as the Pack and Lions have a shot at wild card. The outcomes of Oakland and Denver and Kansas City and San Diego will decide where the Raiders and Chiefs finish within the AFC West. For a list of football games we recommend betting on please check out this blog. That's if for our 2016 NFL week 16 review.