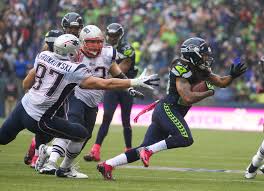 Our 2016 NFL week 10 review observes that of the 14 games played this week there were seven contests that were decided by six or fewer points. It's true that there were some runaway wins, which included Baltimore hammering Cleveland 28-7, Tennessee humiliating Green Bay 47-25, and Tampa Bay taking down Chicago 36-10. Still, at this point in the season, there's still quite a bit of parity in the league.
AFC Takeaways from Week 10
Three teams in the AFC did not play, Buffalo, Indianapolis, Oakland. Of the teams that had a lot on the line the losers were Pittsburgh and the Pats. The Steelers loss was especially important, as it made their late December meeting with the Ravens especially significant. The Pats' loss revealed just how much the Seahawks have improved over the course of this season, as well displaying inadequacies in the New England defense.
Cleveland Browns (0-10) scored one TD and lost #10 as they go for a perfect record.
Baltimore Ravens (5-4) scored 28 against the Browns and took over first place in the AFC North.
Tennessee Titans (5-5) even their record and hold tight to second in AFC South by scoring 47 points against GB.
Kansas City Chiefs (7-2) steal one from Panthers and tie Raiders for first in AFC West.
New York Jets (3-7) lose to Rams 9-6, as both teams offer close to no offense.
Denver Broncos (7-3) back in contention and manages a last second, 2-point win versus Saints.
Houston Texans (6-3) needed win to stay in AFC South, beat Bortles and Jags by three.
Jacksonville Jaguars (2-7) seem to always just miss their chance this season.
Miami Dolphins (5-4) surprise again, this time by beating Chargers 31-24.
San Diego Chargers (4-6) nestle a little deeper into last in AFC West.
Pittsburgh Steelers (4-5) suffer fourth straight loss as Dallas shows them who's boss.
New England Patriots (7-2) fizzle at end with victory less than two yards away.
Cincinnati Bengals (3-5-1) lose to Giants by one point, 21-20
NFC Takeaways from Week 10
Detroit enjoyed a bye this week. Some revelations in week 10 include the Packers have become a train wreck and Minnesota is slowly fading into the background. At this point we can say that the Cowboys and Seahawks are for real.
Green Bay Packers (4-5) score 25 and still lose by 22 to the Titans.
Minnesota Vikings (5-4) are on skids, as they lose fourth straight to rested Redskins and relinquish first to Lions.
Washington Redskins (5-3-1) come off bye-week to take down Vikings.
Chicago Bears (2-7) back to old ways- no defense and no offense.
Tampa Bay Buccaneers (3-6) reap benefits of playing the Bears and win 36-10.
Carolina Panthers (3-6) had game won, until the Chiefs took it away from them.
Atlanta Falcons (6-4) stay comfortably in first in NFC South despite loss to Eagles.
Philadelphia Eagles (5-4) win battle of the birds but are still cellar dwellers.
Los Angeles Rams (4-5) score nine points and win!
New Orleans Saints (4-5) give up game to Denver.
Dallas Cowboys (8-1) offense line is awesome as Boys beat Pitt.
San Francisco 49ers (1-8), the Browns of the NFC, lose eighth straight.
Arizona Cardinals (4-4-1) get a win after their bye-week.
Seattle Seahawks (6-2) make Pete Carroll's return to New England a good one with surprise win.
New York Giants (6-3) played Bengals in game where odds were even, and prove they were as NY wins by one point.
2016 NFL Week 10 Review: Final Thoughts
It's becoming pretty clear who the have and have not's are in the league. Might we see another Super Bowl featuring the Seahawks and Patriots? Or what about the Cowboys and Pats? It could be the Ravens and Dallas or even, perhaps the Falcons and Chiefs. Right now, our money is on Dallas and New England. That's our 2016 week 10 review.