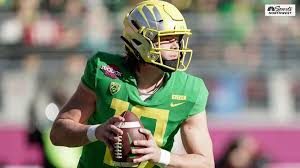 Our 2019 Pac-12 North football preview sees Oregon as being the top team in the conference. This Pac-12 North football preview also likes Washington. Both the Oregon Ducks and Washington Huskies should be bowl bound. In addition, we project that the Stanford Cardinal and Washington State Cougars will make it into the postseason. All four of those college football teams made it to bowl games last season with the Washington Huskies appearing in the Rose Bowl where they lost to Ohio State 23-28. One team that earned a bowl berth last season will probably be left out this year. That's the California Golden Bears. The other Pac-12 North football team that will be out of the running, as they have been for the past five years, is the Oregon State Beavers. They last appeared in the Hawaii Bowl where they lost to Boise State 23-38.
Our 2019 Pac-12 North Football Preview
In our Pac-12 North football preview, we like the Oregon Ducks. The Ducks have the best all-around team in the division and probably in the entire Pac-12. The Washington Huskies are right behind them. The Huskies are a bit weaker and have less depth than Oregon on offense and defense. Third are the Stanford Cardinal who have a fine veteran QB and a good D. We like the Washington State Cougars offense a lot, especially when it comes to the air attack. They also have top-notch special teams. However, their defense is lacking. They'll finish fourth in the Pac-12 North. Fifth will be the California Golden Bears. This team brings an improved offense to the field and one of the better defenses in the conference. Finally, the Oregon State Beavers will finish sixth in the division. Their defense is exceptionally weak, while the Beaver offense offers a decent rush attack.
1. Pac-12 North Football – Oregon Ducks (9-4)
Offense
The Oregon Ducks, who averaged 34.8 PPG last season, should pick up where they left off. All but one starter returns. Those returning include senior QB Justin Herbert, the top two running backs, and three of four top receivers. Missing will be extraordinary receiver Dillon Mitchell who had 75 receptions for 1,184 yards and 10 TDs. WR Jaylon Redd has to step up. Help comes from Penn State graduate transfer Juwan Johnson and red-shirted freshman Bryan Addison. Last year at QB, Herbert completed 59.4% of his passes for 3,151 yards and 29 TDs. He tossed eight interceptions. The frontline returns, which is a huge benefit. Two sophomores will rush, as they did last season as freshman. C.J. Verdell averaged 5.0 YPA on 202 carries. He gained 1,018 yards and scored 10 TDs. Next in line is Travis Dye, who posted 170 carries for 739 yards and four scores.
Defense and Special Teams
The Ducks may not have the best defense in the Pac-12 North, but they do have one of the better ones. In 2018, they allowed 25.4 PPG (48th). The defensive line has lost some starters, but they return plenty of experienced players. Plus, at DE they add the number two high school recruit in the nation, true freshman Kayvon Thibodeaux. WLB Troy Dye returns as a senior after leading the team in tackles (115). He also posted two sacks, six TFL, four QBHs, and seven PBU, as well as a pick. The linebackers are a quality group. Anchoring the D-backs is junior Thomas Graham. Graham intercepted three passes while defending 18 and making 3.5 TFL. As a frosh last season, free safety Javon Holland had five interceptions. He's back to create more havoc. Also, corner Deommodore Lenoir, a junior, posted three picks and nine PBU in 2018.
The Ducks had terrible special teams last year. They should improve this season, as there's really only one way to go. The runback game was not bad, but the kicking and punting were terrible. Freshman Camden Lewis could very well overtake junior Adam Stack as the Ducks' placekicker. Meanwhile, senior punter Blake Maimone will likely lose his job to sophomore Tom Snee.
2. Pac-12 North Preview – Washington Huskies (10-4)
Offense
Our Pac-12 North football preview sees Washington improving on its 26.4 PPG of last season. One reason is QB Jacob Eason. Formerly with Georgia in 2016 as a true freshman, Eason was injured. He's returned home to Washington where the strong-armed QB will battle sophomore Jake Haener to start. Eason is expected to win that battle. He has a loaded receiving group that includes the top three pass catchers from last season, plus a healthy Hunter Bryant at TE. WRs Aaron Fuller and Ty Jones, who had four and six TD catches respectively, are skilled. The Washington O-line is solidly experienced. They're expected to be more effective than they were last season. And although the Huskies lose starting RB Myles Gaskin, who accumulated 1,268 yards and 12 TDS, they return an experienced trio. Leading that group is junior Salvon Ahmed who averaged 5.8 YPA last season.
Defense and Special Teams
Only two starters return to a defense that held opponents to 16.4 PPG (5th) and just 176.3 YPG rushing (15th). This team lost five key players to the NFL draft with three being taken from the secondary, one from the LB unit, and another from the frontline. The line does see junior DE Levi Onwuzurike, who posted three sacks, 3.5 TFL, and two QBHs, return. Also returning is senior DL Benning Potoa'e who compiled 41 tackles and 5.5 TFL. The Washington linebacking group has many question marks. However, they do return senior NB Myles Bryant. Bryant, who notched 61 tackles, 3.5 sacks, and six PBU, is a premium player. Of the three defensive units, it's the Huskie B-backs that lost the most. Junior safety Elijah Molden defended five passes last season and is the most productive player on this unit. Not one returning player had a pick in 2018.
Our Pac-12 North football preview notes that all of the major cogs from last season's special teams come back, including senior punter Joel Whitford, who averaged 41.3 YPP while pinning 10-of-33 within the 20-yard line. As a freshman last year, Peyton Henry hit 43-of-44 extra points. On field goals, he was 16-of-22 with his longest being just 41 yards. The return teams could do better, as Fuller averaged 5.5 yards per punt return and Sean McGrew 16.2 per kick bring back.
See our comprehensive preview of NCAAF #13 Washington in our College Football Top 25 Guide for 2019.
3. Pac-12 North Football – Stanford Cardinal (9-4)
Offense
In 2018, QB K.J. Costello completed 65.1% of his passes for 3,540 yards, and 29 TDs. He tossed 11 picks. Costello's three top receivers leave. They totaled 2,379 receiving yards and 18 TDs. Still, Costello has some solid receivers, including junior TE Colby Parkinson. In 2018, Parkinson grabbed 29 passes and scored seven TDs, averaging 16.7 YPC. Sophomore Osiris St. Brown, who last year had eight catches, averaging 25.5 YPC, will break out. Red-shirted freshman Simi Fehoko possesses great potential. The frontline is less experienced than last year's group, but they do have some fine talent. We expect they'll perform better and be a major asset. Senior Cameron Scarlett and junior Trevor Speights, who last season averaged 4.2 YPA and 3.7 YPA respectively, replace Bryce Love. Scarlett, who posted eight scores in 2018, two more than Love, will have no problem doing so. Speights will step up too.
Defense and Special Teams
In 2018, the Cardinal defense tied for 37th in points allowed (22.9). Although there have been some losses, there's a lot of talent on D. Sophomore Thomas Booker played well in his frosh season. The DE notched 28 tackles, 3.5 sacks, and two PBU. Also on the D-line are junior NG Michael Williams and junior DT Jovan Swann. Williams accumulated 42 tackles and four QBHs, while Swann notched 4.5 sacks, 2.5 TFL, two PBU, and 28 tackles. This could be a formidable unit in 2019. The LB group, which includes OLB Jordan Fox, is strong. Fox posted 61 tackles, as well as 4.5 sacks, six QBHs, and five TFL. He can be everywhere and anywhere. Junior corner Paulson Adebo returns after having a massive season in 2018. Adebo broke up 20 passes, grabbed four picks, had 3.5 TFL, and made 68 tackles.
Punter Jake Bailey, who averaged 44.1 YPP and placed 24-of-68 within the 20, will be replaced by freshman Ryan Sanborn. Junior PK Jet Toner is back after making all 34 of his extra-point attempts and 14-of-15 field goals. Scarlett, who averaged 25.6 yards per kick return, anchors that group, while Michael Wilson, who has 8.1 yards per punt return last season and made eight returns, will most likely take on the job replacing Trenton Irwin, who was good for a solid 11.6 YPR.
4. Pac-12 North Preview – Washington State Cougars (11-2)
Offense
Last year, WSU finished second to their arch rivals, the Washington Huskies, and earned a trip to the Alamo Bowl where they defeated ISU 28-26. This year, we don't expect quite as much from them, as the team that averaged 37.5 PPG (15th) and had the top-ranked pass attack (373.8 YPG), loses its QB and top-rusher. There will be a battle for QB between three candidates. Eastern Washington transfer Gage Gubrud, a senior, will most likely start. Grubrud, twice a Walter Peyton finalist, missed 2018 with a foot injury. The receiving unit, which includes Tay Martin, who caught eight TD passes and totaled 69 receptions, is deep. Much of the superior O-line returns. The rush attack will be effective despite losing James Williams, who scored 12 TDs. Sophomore RB Max Borghi, who averaged 5.1 YPA and scored eight times as a frosh, looks ready to go. There's depth here too.
Defense and Special Teams
Our Pac-12 North football preview finds that six players return to a defense that allowed 23.3 PPG (42nd) and a total of 359.5 YPG (42nd). The Cougars lose top-LB Peyton Pelluer. He led Washington State in tackles with 98. But they have Jahad Woods, who was second in tackles to Pelluer with 82. NB Skyler Thomas, a junior, is a major asset having notched 78 tackles, two INTs, and three PBU. In front, the D-line loses two-of-three starters. But enough players with solid experience return to ensure this group is sound. Senior right corner Marcus Strong and senior strong safety Jalen Thompson bring some great skills and experience to the field. Strong took in three picks and broke up six passes last season, while Thompson made 67 tackles, picked two passes, broke up eight more, and recorded three TFL.
Special teams include punter Oscar Draguicevich, who averaged 45.7 YPP, and Blake Mazza, who last year as a freshman hit 60-of-62 extra points and 10-of-15 field goals including a 50-yarder. Travell Harris is back on kicks. He returned one for a score and averaged 27.6 YPR. Kyle Sweet has to be replaced on punt returns.
See our comprehensive preview of NCAAF #10 Washington State in our College Football Top 25 Guide for 2019.
5. Pac-12 North Football – California Golden Bears (7-6)
Offense
Most of the issues for California are on offensive. Last season, the team was ranked 115th PPG (21.5) and 114th in total YPG (343.5). Plus, they were 101st in passing (186.2 YPG). The O-line looks to be about as effective as they were last season. That does not bode well. Sophomore QB Chase Garbers, who completed 61.2% of his passes as a freshman, will start. Garbers tossed 14 TD passes and 10 picks, averaging 4.3 YP rush and scoring two running TDs. The top four receivers from last year are gone, leaving senior Jordan Duncan as they guy with the most experience. Duncan caught 20 passes in 2018, averaging 13.4 YPC and scoring four times. He'll be a major asset. RB Patrick Laird, who gained 961 yards and scored five times, will be replaced by sophomore Christopher Brown. Brown averaged 4.0 YPA and scored once.
Defense and Special Teams
Our Pac-12 North football preview likes the Golden Bear linebacking and secondary units. Plus, they bring a fairly sound D-line to the game. In 2018, California allowed 20.4 PPG (22nd) and 317.2 total yards per game (15th). They were ranked ninth versus the pass and 40th against the rush. Senior MLB and top-tackler with 159, Evan Weaver, returns. Weaver recorded 4.5 sacks, five TFL, six PBU, and two INTs. Upfront, senior DE Luc Bequette is a powerful force. Bequette notched five sacks, two QBHs, and 48 tackles. Safety Jaylinn Hawkins snagged six picks in 2018, while Camryn Bynum took two INTs and broke up 10 passes. The secondary is exceptionally deep.
According to this Pac-12 North football preview, the Golden Bears have an extraordinary talent in senior punter Steven Coutts. Coutts nailed 37-of-72 punts within the 20-yard line and averaged 41.5 YPP. Senior PK Greg Thomas is back after going 32-of-32 on extra points but just 12-of-17 on field goals. Ashytn Davis takes kickoffs again after averaging 26.2 YPR and scoring a TD. Nikko Remiglo is back on punt bring backs. He averaged 6.9 YPR last season.
6. Pac-12 North Analysis – Oregon State Beavers (2-10)
Offense
In our Pac-12 North football preview, we look for the struggle to continue for the Oregon State Beavers. Senior QB Jake Luton returns after completing 140-of-220 passes (62.5%) for a total of just 1,660 yards. He threw 10 TD passes and four picks. Two of his three top receivers, Isaiah Hodgins and Trevon Bradford, are back. Hodgins had 59 receptions for five TDs and 14.8 YPR, while Bradford had 56 catches for six scores while averaging 11.6 YPC. As a freshman last season, RB Jemar Jefferson averaged 5.8 YPA for a total of 1,380 yards and 12 TDs. He's also got solid backup. This is a very fine unit. Plus, the O-line looks improved, which should help the passing and running games.
Defense and Special Teams
In 2018, the defense allowed 45.7 PPG (128th). They were 128th in rushing yards allowed, 101st in passing yards allowed, and 128th in total yards allowed. We don't see much of that changing in 2019. Highlight players include senior safety Jalen Moore. Last season he led the team with 102 tackles. The Beavers also saw quality play from OLB Hamilcar Rashad. Rashad, now a junior, notched 52 tackles, nine TFL, three PBU, and 2.5 sacks. As a freshman in 2018, corner Kaleb Hayes broke up eight passes and recorded 44 tackles.
Senior PK Jordan Choukair was 35-of-38 on extra points and 12-of-20 on field goals. Neither stats are very good. Punter Daniel Rodriguez is back after averaging 41.9 YPP last season. Of 55 punts, he only placed 13 within the 20. Trevon Bradford brought back five punts in 2018, averaging a healthy 9.4 YPR. Champ Flemings was good for 21.0 YPR on kickoffs.
2019 Pac-12 North Football Preview
Bowl Projections
Holiday Bowl, Dec. 27 – Iowa Hawkeyes and Washington Huskies
Redbox Bowl, Dec. 30 – Minnesota Golden Gophers and Stanford Cardinal
Sun Bowl, Dec. 31 – Virginia Cavaliers and Washington State Cougars
Alamo Bowl, Dec. 31- TCU Horned Frogs and Oregon Ducks
2019 Pac-12 North Football Preview
Projected Best Bets
Aug. 31 – UC Davis @ California – The Golden Bears by about 10 points.
Sep. 7 – Northern Colorado @ Washington State – We like the Cougars by about 12.
Sep. 14 – Cal Poly @ Oregon State – Bet the Beavers in this one.
Sep. 28 – Stanford @ Oregon State – The Cardinal by about 9 points.
Oct. 5 – California @ Oregon – Take the home team by 10.
Oct. 17 – UCLA @ Stanford – Stanford by about 18.
Nov. 2 – Oregon @ USC – It's the Ducks.
Nov. 8 – Washington @ Oregon State – Huskies by 15 points.
Nov. 23 – California @ Stanford – Take the team represented by a pine tree.
Nov 30 – Washington State @ Washington – We're betting on the Huskies this time.
Utilize this 2019 Pac-12 North preview to give yourself an added edge this NCAA football season. For more information on the Pac-12, go to our Pac-12 South preview. You can access other conferences through our hub page.