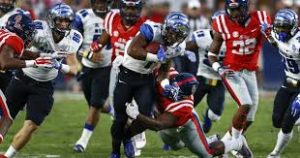 Our 2019 AAC West football preview envisions Memphis taking the division. But our AAC West football preview also projects Houston as having a shot at being number one. In some ways, the Cougars have a better team than the Tigers. But the one thing that Memphis has over Houston is a much kinder schedule. In either case, after the 2019 regular season, both the Memphis Tigers and the Houston Cougars will be playing in a bowl. Who else has a shot at the postseason? We think that the up and coming Tulane Green Wave will arrive and claim a bowl berth. If not Tulane, then it will likely be the SMU Mustangs who play in college football's second season. Neither the Navy Midshipmen nor the Tulsa Golden Hurricane will see December/January action.
Our 2019 AAC West Football Preview
We anticipate in our AAC West football preview that the Memphis Tigers, who have the best-balanced team in terms of offense and defense, will top the division. Still, the Houston Cougars will have something to say about that. The November 16 game between these two teams is huge. We see the Tulane Green Wave as finishing third. They have the best D-line in the AAC and should put a strong rush attack on the field.
After that, we anticipate the SMU Mustangs using their pass attack to put points on the scoreboard. The big question is can this team stop opponent passing games. The Mustangs come in fourth. According to this AAC West football preview, the fifth spot goes to the Navy Midshipmen. They'll use their improved O-line to establish a punishing rush attack. However, the Midshipmen will be challenged to stop opponent pass attacks. Coming in sixth, last, will be the Tulsa Golden Hurricane. Their offense is weak, but Tulsa does have a fine pass defense.
1. AAC West Football – Memphis Tigers (8-6)
Offense
Last season, the dynamic Tiger offense averaged 42.9 PPG (7th). Their rush attach was fourth in the nation and passing game was 56th. Overall, this offense, which was led by QB Brady White, was ranked fourth in yardage. White, who tossed 26 TD passes and nine interceptions last season, is back, as are two of his three top receivers. Junior WR and second team All-AAC selection Damonte Coxie returns having led the team in catches (72) and receiving TDs (7). The rush attack loses one 1,000-yard rusher, the NFL's Darrell Henderson, but the other, Patrick Taylor, is back having rushed for 1,122 yards and 16 scores. He averaged 5.4 YPA. This O-line has less experience than last season's, but they are still one of the top three fronts in the AAC.
Defense and Special Teams
Our 2019 AAC West football preview finds that the Memphis frontline is the best unit on this side of the ball. Last season, the Tigers allowed 31.9 PPG. They were 76th versus the rush. With three-of-four starters returning, including senior DE Bryce Huff, we expect better O-line numbers. In 2018, Huff led the Tigers with 9.5 sacks and 9.5 TFL. Senior SLB Austin Hall, who produced 7.5 TFL, six PBU, and three QBH's leads an improved linebacking squad. The D-backs include First-Team All-AAC corner T.J. Carter, who grabbed two picks and accumulated a dozen PBU, and Auburn transfer John Broussard. On special teams, kick returner Tony Pollard, who averaged 24.7 YPR and brought one back for a score, must be replaced. John Williams is back on punt returns after averaging 10.8 YPR and bringing one back for a TD. Punting looks good with Adam Williams returning, while Riley Patterson, who hit 15-of-20 field goals, also returns.
2. AAC West Preview– Houston Cougars (8-5)
Offense
As noted above, our AAC West football preview finds that Houston will be highly competitive. Last season, the Cougars averaged 43.9 PPG and were seventh in the nation in overall offensive yards. Senior QB D'Erig King creates offense. In 2018, he rushed for 14 TDs and passed for 36 while amassing over 3,800 total yards.
His three top receivers return, including Marquez Stevenson, who captured 75 passes for 1,019 yards and nine scores. At running back, senior Patrick Carr could post a 1,000-plus yard season. Plus, the Cougars have one of the better and more experienced O-lines in the AAC. This group will score a lot of points.
Defense and Special Teams
Although Houston had one of the top scoring offenses in the country, they struggled on defense. They allowed 37.2 PPG (118th) and 496.4 YPG (126th). Although things should be better upfront, we find this team is still suspect at linebacker and defensive back. With a new 4-2-5 scheme, it's hoped things will improve. The frontline is young but experienced. The LB group is worrisome as no top performers return. The secondary looks like the best unit with starting safeties Deontay Anderson, who accumulated 72 tackles, one pick, and five PBU, and Gleson Sprewell, who posted 81 tackles, three INTs, and six PBU, returning, The Tigers' special teams' runback group has the dangerous Stevenson, who averaged 22.4 YPR. Punter Dane Roy returns after averaging 42.1 YPP, while PK Dalton Witherspoon, who hit all 72 extra-point attempts and seven-of-nine field goals, needs to find more distance.
3. AAC West Football – Tulane Green Wave (7-6)
Offense
The Tulane Green Wave had the 23rd-ranked rushing game. The good news is that they see just about every rusher come back, while a grad-transfer reinforced offensive line offers the ground game extra support. RBs Darius Bradwell and Corey Dauphine, who rushed for 1,134 and 785 yards respectively, are an awesome tandem. Also returning is QB Justin McMillan who passed for 1,304 yards and 10 scores. Last season, he hit 51.3% of his attempts while putting up four picks. Three-of-four of the team's receivers are gone, but top pass catcher Darnell Mooney does come back. Mooney caught 48 passes for eight TDs while averaging 20.7 YPC. Senior WR and Oklahoma transfer Jalen McClesky joins the team after putting up some fine numbers with his former club. This should be a productive unit. The Green Wave averaged 26.8 PPG (81st) last season. We expect that number to rise.
Defense and Special Teams
This is a defense that last year gave up 27.5 PPG (73rd) and 147.3 YPG rushing (46th). This season, they could be even better versus the rush, as they offer the AAC's premiere D-line. Three starters return, as does former D-line player and now JOKER, Patrick Johnson. In 2018, Johnson recorded 10.5 sacks and 5.5 TFL. The LB unit has the two top returning tacklers from last season, Marvin Moody (72) and Lawrence Graham (61). This group is solid. The deep backs are the weakest unit. Two All-AAC defenders are gone, but five experienced players return. Safety P.J. Hall is back. He had nine PBU. Corner Thakarius Keyes returns after nailing 11 TFL. Special teams include Amare Jones returning punts (7.5 YPR) and kickoffs (27.9 YPR). Last season, punter Ryan Wright averaged 44.0 YPP. Merek Glover is an accurate kicker, but his longest last season was just 40 yards.
4. AAC West – SMU Mustangs (5-7)
Offense
The Mustangs hope to get more productivity from an offense that averaged 30.4 PPG (53rd). QB Shane Buechele, a Texas transfer who completed 62% of his throws with the Longhorns, looks to start. He'll have a solid group of receivers that includes six-of-seven top pass catchers from 2018.
WRs James Proche and Reggie Roberson return with Proche topping all Pony receivers with 93 catches, 1,119 yards, and 12 TD receptions. SMU had the 118th-ranked rush attack in the nation. The line, despite losing three starters, looks poised to be more productive in 2019, as five front-men return with starting experience.
Defense and Special Teams
SMU really needs their D to step up; they allowed 35.3 PPG (110th) last season and were 98th against the rush. We expect improvements, but how much? We do project that the D-line, which includes Rice transfer Zach Abercrumbia at NT, will do better versus the run. Senior DE Delontae Scott, who recorded 4.5 sacks, six TFL, and two QBHs, anchors this unit. MLB Richard Moore, who topped the team in tackles last season with 92, leads the linebackers. Moore was also tops with five sacks, 8.5 TFL, and five QBHs. They are the weakest unit on the field. Senior FS Rodney Clemons, who made 72 tackles, broke up four passes and manufactured a pick, provides leadership. The SMU return game is healthy with Roberson heading kick returns and, last season, averaging 41.2 YPR while recording one TD. Punter Jamie Sackville needs more distance, as does kicker Kevin Rebledo.
5. AAC West Preview – Navy Midshipmen (3-10)
Offense
Last year, the Midshipmen averaged 276.1 ground years, scoring just 25.0 PPG (95th). Navy's rush attack will be their principle weapon with QB Malcolm Perry and FB Nelson Smith sharing the duties. In 2018, Perry ran for 1,087 yards and seven scores. He threw for just 222 yards and two TDs.
They'll need the offensive line to do much better than they did last season. We do anticipate them being more cohesive, as three starters return. Taylor Jackson, who is gone, topped all Navy receivers with 13 catches. He scored once. WR C.J. Williams is back after making nine catchers and averaging 20.8 YPC. The Midshipmen, once again, will rarely pass and primarily run.
Defense and Special Teams
Our AAC West football preview observes that the Midshipmen put the 103rd scoring defense (33.5 PPG) on the field last season. They were 90th against the rush and 75th versus the pass. The D-line includes two stalwart starters, NT Jackson Pittman, who posted 35 tackles and three TFL, and RAID Nizaire Cromartie, who recorded 58 tackles, 3.5 sacks, and two TFL. The LB unit features three new starters. It's a talented group that includes Jacob Springer. Springer notched two picks last season. The defensive backs will be improved some, as five come back with starts. But they're still problematic. Special teams include Springer ably returning punts and Perry kickoffs. Punter Owen White averaged a healthy 41.6 YPP in 2018. Accurate PK Bennett Moehring must be replaced.
6. AAC West – Tulsa Golden Hurricane (3-9)
Offense
In our AAC West football preview, we note that last season Tulsa struggled to score, as they put just 24.1 PPG (102nd) on the scoreboard. They were 35th in rushing but just 109th in passing. Tulsa has the weakest offense in the AAC West. Baylor transfer Zach Smith, who has a powerful arm, will start at QB. That should help some. Three-of-four of the top receivers from 2018 return, including Keenen Johnson. Johnson had 41 catches for four TDs while averaging 12.9 YPC. Keylon Stokes, who averaged 6.9 YPA, also caught 41 passes, averaging 14.0 YPC. Top RB Shamari Brooks, who gained 967 yards and scored seven TDs, returns for his junior year. The biggest issue is the inexperience on the O-line.
Defense and Special Teams
The Golden Hurricane allowed 24.1 PPG (80th). They were tough against the pass, giving up 174.6 YPG (8th), but could not stop the rush. Teams averaged 233.1 ground YPG (118th). Eight starters return on D, including the team's top three tacklers. The frontline is more experienced. NG Tyarise Stevenson, who notched three TFL, anchors that unit. The LBs and DBs are the top units on defense. LBs include Cooper Edmiston, who recorded 113 tackles, seven TFL, and four INTs, and Zaven Collins, who earned 85 tackles, eight TFL, and three PBU. In the backfield, SS Manny Bunch broke up five passes and made 80 tackles. New placekicker, transfer Danny Donely from Drake, was First-Team All-Conference last year. Punter Thomas Bennett crushed it, averaging 46.6 YPP. The return game is healthy with Jarion Anderson averaging 12.6 yards per punt return and Stokes averaging 23.5 YPR on kicks.
2019 AAC West Football Preview
Bowl Projections
Frisco Bowl, Dec. 20 – Tulane Green Wave and Arizona Wildcats
Cure Bowl, Dec. 21 – Houston Cougars and Georgia Southern Eagles
Cotton Bowl, Dec. 28 – Memphis Tigers and Texas Longhorns
2019 AAC West Football Preview
Projected Best Bets
Aug. 31 – Holy Cross @ Navy – We like the Midshipmen.
Sep. 7 – Southern @ Memphis – The Tigers at about -23.
Sep. 19 – Houston @ Tulane – Wager with Cougars at -18 or fewer.
Oct. 5 – Tulane @ Army – We're taking the Green Wave.
Oct. 12 – Connecticut @ Tulane – Green Wave swamps Huskies by about 14 points.
Oct. 12 – Navy @ Tulsa – Bet the Golden Hurricane probably at plus-points.
Oct. 19 – Houston @ Connecticut – Bet on the Cougars at around -20.
Nov. 2 – SMU @ Memphis – Tigers prevail by around 10 points.
Nov. 9 – East Carolina @ SMU – Wager on the Mustangs.
Nov 30 – Navy @ Houston – Take the Cougars at approximately -10.
Utilize this 2019 AAC West preview to give yourself an added edge this NCAA football season. For more information on the AAC, go to our AAC East preview. You can access other conferences through our hub page.