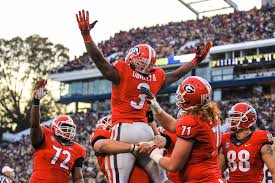 The Georgia Bulldogs come into the new season ranked number four in the nation. They are the only nationally ranked team in the SEC East. Coach Kirby Smart (21-7 SEC and Overall, 2-1 Bowls) is in his third year as Bulldog's and as a college football coach. Last season, he took the team to a 13-2 mark. Our 2018 Georgia Bulldogs college football preview sees his team dominating the SEC East and meeting Alabama for the conference title. A bowl bid is just about guaranteed. The major question is will they be in the playoffs or attending one of the prestigious bowls not associated with the national championship?
Offense
The Bulldogs averaged 35.4 PPG (3rd SEC, 20th Nationally) in 2017. The put the ninth-ranked in the nation rush attack on the field, while their pass attack was ranked 106th. Look for more running once again this season, while sophomore QB Jake Fromm (62.2 COMP%, 24 TDs, 7 INTs) will continue to be a threat with his accurate arm. He's got some fine playmaking receivers to toss to, including Terry Goodwin (38 REC, 16.8 AVG, 6 TDs) and Mecole Hardman (25 REC, 16.7 AVG, 4 TDs).
Two 1,000-plus-yard running backs, Nick Chubb and Sony Michel, are gone. They had 15 and 16 rushing touchdowns respectively. Expect sophomore D'Andre Swift (618 YDs, 7.6 AVG, 3 TDs) and junior Elijah Holyfield (293 YDs, 5.9 AVG, 2 TDs) to take over the running back spot and to perform exceptionally well.
The center spot and left side of the O-line are composed of seasoned seniors. The RG and RT spots will be manned by less-experienced players. Still, we expect them to perform well. This was one of the finest offensive lines in the nation last year. We expect more of the same in 2018.
Defense
The defense proved to be exceptional last season, as the Bulldogs held opponents to 16.4 PPG (2nd SEC, 6th Nationally) and 294.9 YPG (2nd SEC, 6th Nationally). They held opponent rushers to 126.0 YPG (2nd SEC, 20th Nationally) and quarterbacks to 168.9 YPG (3rd SEC, 8 Nationally). You can expect more of the same this year. The LB unit includes senior D'Andrea Walker (40 TKLs, 5.5 SCKs, 8 TFL). He had a dozen QBHs in 2017.
Senior corner Deandre Baker (44 TKLs, 1 TFL, 9 PBU) notched three picks and should be primed for more. Junior DT Tyler Clark (41 TKLs, 2.5 SCKs, 3.5 TFL, 6 QBHs) and senior DE Jonathan Ledbetter (38 TKLs, 2.5 SCKs, 3 TFL, 9 QBHs) are sound on the frontline. Junior SS J.R. Reed (79 TKLs, 5 PBU, 6 QBHs) made two interceptions in 2017.
Special Teams
This is an exceptional group that includes the premium kicker Rodrigo Blankenship (63-63 XP, 20-23 FG) and Mecole Hardman on kick and punt returns. Blankenship had two 50-plus yard postseason field goals. Hardman averaged 11.8 yards per punt return and 25.3 on kickoffs. Punter Cameron Nizialek, who netted 41.6 YPP and placed 26 within the 20, will be hard to replace.
2018 Georgia Bulldogs College Football Preview: Final Word
Our 2018 Georgia Bulldogs college football preview envisions this team as being a major force on the football field. They open at South Carolina (Sep 8), which certainly could have ramifications for the SEC East title. The Bulldog D will have a major challenge when they travel to play Missouri (Sep 22). Georgia then travels to LSU (Oct 13) and has a huge game versus Florida (Oct 27), which could be a conference-changer. Auburn at Georgia (Nov 10) should be a tough defensive battle. Their final game is against rival Georgia Tech (Nov 24), and their very tricky triple-option offense, will be yet one more big challenge.
Top Three Takeaways
Solid on both sides of the ball
Very fine special team units
Top-notch O-line
2018 Georgia Bulldogs College Football Preview Projection: 13-1 Record Overall/ 8-0 SEC; Finish: 1st SEC East
For Easy Navigation Follow the Links Below
This team's Conference Preview Page
Top 25 Hub
All College Football Conferences Hub
College Football Preview Main Page