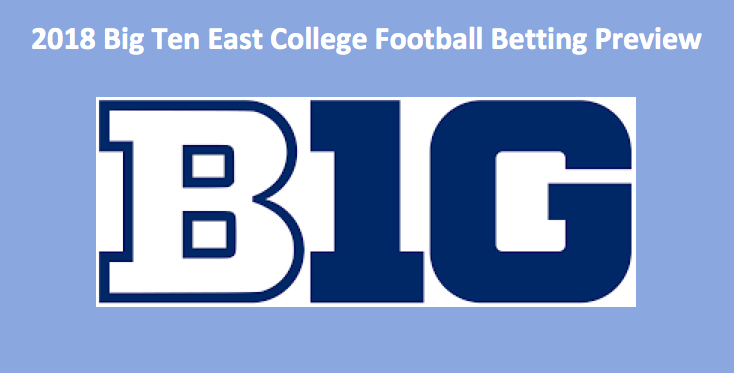 The Big Ten is a major force in college football. Considered to be one rung below the SEC, the last team from the conference to be national champs were the Ohio State Buckeyes. They captured the crown in 2014. Since then, it's been Alabama (SEC) twice and Clemson (ACC) once. Our 2018 Big Ten East college football betting preview ranks the East Division in this conference as being more powerful than the West. Three nationally ranked teams from the East are in the AP Top 25. After reading our 2018 Big Ten East college football betting preview, be sure to check out our Big Ten West preview.
2018 Big Ten East College Football Betting Preview
The Ohio State Buckeyes will have plenty of competition from the Michigan Wolverines, as well as the Penn State Nittany Lions. The Buckeyes benefit by having a comparatively easy schedule when you consider that of the Lions and especially the Wolverines. Michigan has one of the toughest schedules in the nation. Plus, each of the other four teams in the division, especially the Michigan State Spartans, can be exceptionally unpredictable and tough. Here's how our 2018 Big Ten East College Football Betting Preview sees these teams performing.
1. Ohio State Buckeyes
Offense
The Buckeyes come into this season with the top receiving and running units in the conference and one of the best frontlines. However, in developing this 2018 Big Ten East follege football betting preview we found the quarterback situation, although not in any way disastrous, is a little dicey. QB J.T. Barrett, who passed for more than 3,000 yards, hitting for 35 TDs and tossing just nine interceptions, is gone. Sophomore Dwayne Haskins (70.2 COMP%, 4 TDs, 1 INT) threw 57 passes last season, connecting on 40. Haskins will be throwing to a deep receiving group. Freshman J.K. Dobbins had a fine season last year, leading the Buckeyes in rushing yards with more than 1,400. Expect more of the same this season.
Defense & Special Teams
Ohio State's defense includes the top frontline in the conference as well as a premium secondary. The linebacking group does have talent but they are young and inexperienced. For this team to contend, they will have to show improvement throughout the season. Special teams are stellar. For more information on this team see our top-25 preview of the Ohio State Buckeyes.
2. Michigan Wolverines
Offense
Although not presently in the top 25, our 2018 Big Ten East college football betting preview sees the Michigan Wolverines to be a team that not only will be highly competitive, but that will also have the talent and experience to end up in the national rankings. The possibility is there. Last season they went 8-5 overall and 5-4 in the Big Ten. Much of that related to their inability to score, as they averaged 25.2 PPG (8th Big Ten, 91st Overall). They were 105th in overall offense. But their squad of what was primarily freshman and sophomores have matured. Plus, the addition of Ole Miss transfer Shea Patterson, who in seven QB starts for the Rebels tossed 17 TDs as he covered 2,259 air-yards, could certainly help. The team is deep at wideout and senior RB Karan Higdon (164 ATT, 994 YDs, 6.1 AVG), who ran for 11 TDs, is back and primed for a big season. But the question for this offense is the O-line. With two returning starters and a lot of freshmen and sophomores, they could be problematic.
Defense & Special Teams
The defense, which allowed just 18.8 PPG (3rd Big Ten, 13th Nationally), welcomes back nine starters. That includes the entire secondary, which was ranked first in the nation in 2017. Senior FS Tyree Kinnel and junior CB Lavert Hill, who last season each had seven passes broken up and two picks, are formidable defenders. The LB unit is stellar, and includes junior MLB Devin Bush, who led the team with 100 tackles, and junior SLB Khaleke Hudson, who accumulated eight sacks, 9.5 TFL, and nine PBU. The two DEs, junior Rashan Gary (6 SCKs, 6 TFL, 7 QBHs and senior Chase Winovich (8 SCKs, 10 TFL, 6 QBHs), are seasoned stoppers. Special teams were anchored by freshman last season who performed unevenly but showed promise. Look for improvement this season. One final note, this team has a tough schedule that includes an away opener versus Notre Dame, a home game against Wisconsin, and a season-closer at Ohio State. See our Michigan top 25 preview for a more in-depth look at this team.
3. Penn State Nittany Lions
Offense
Penn State comes into the 2018 season with the top QB in the division, senior Trace McSorely. McSorely led the seventh-ranked offense in the nation, throwing for 3,570 yards and 28 TDs, while giving up 10 picks. His top pass catchers are gone but the Lions do see two starters return to the receiving ranks, senior DeAndre Thompkins (28 REC, 15.8 YPC, 3 TDs) and junior Juwan Johnson (54 REC, 13.0 YPC, 1 TD). Penn State will miss running back Saquon Barkley, who rushed for 18 scores and over 1,200 yards last year. McSorely will, once again, provide ground yardage and scoring, as he rushed for 11 TDs, but the team will still need junior Miles Sanders, who averaged 6.2 YPA last year, to step up into the starter role. Overall, the O-line is better than average, and this should help the running game.
Defense & Special Teams
The Nittany Lions had the seventh-ranked scoring defense in the nation, as they allowed 16.5 PPG. They were 14th in rushing yards allowed and 47th in passing yards while being ranked 17th in total defensive yards. This season could be a bit challenging, as the Lions have to rebuild their linebacking unit, and they see just one starter return to the line and one to the secondary. Senior OLB Koa Farmer (48 TKLs, 1 SCK, 4.5 TFL, 3 QBHs) is back as the top tackler and junior DE Shareef Miller (37 TKLs, 5 SCKs, 6 TFL, 9 QBHs) returns as the club's leading sacker and run-stopper. For more information on this team see our top-25 preview of the Penn State Nittany Lions.
4. Michigan State Spartans
Offense
In a group of the four top teams from our 2018 Big Ten East college football betting preview, the Michigan State Spartans round off the list. There's good news on offense and defense as ten starters return on the attack unit and nine on the D-squad. The ground game looks sound, and this team will be able to put pressure on defenses when going through the air. But a major issue could be the O-line, which is one of the weaker ones in the division. Last year, the Spartans averaged a mere 24.5 PPG, placing them 96th nationally and 10th in the conference. If the line can do its job, junior QB Brian Lewerke (2,793 YDs, 20 TDs, 7 INTs) should be able to find top receiver Felton Davis (55 REC, 14.1 AVG, 9 TDs) often. L.J. Scott, a senior, is back as the leading rusher having run for 898 yards and eight scores last season.
Defense & Special Teams
The defense in 2017 held teams to 20.0 PPG (6th Big Ten, 19th Nationally). The Spartans put the second-best rush D on the field, as they held opponents to 95.3 YPG. DE Kenney Willekes (73 TKLs, 7 SCKS, 7.5 TFL) and MLB Joe Bachie (100 TKLS, 3.5 SCKs, 5 TFL) are avid run-stoppers. The secondary sees all four starters come back, including FS David Dowell who grabbed five picks. After reading through the 2018 Big Ten East college football betting preview, you can find more information on this team see our top-25 preview of the Michigan State Spartans.
5. Maryland Terrapins
Offense
Maryland has a few things working against them this season, including a tough schedule that includes a home-opener versus Texas, a depleted defense that was already weak last season, and a passing game that needs a huge amount of improvement. Plus, they have an overall very difficult schedule. On the plus side, junior QB Kasin Hill, who tossed 21 passes last season completing 18, looks like the right candidate to run the team's new pro-style offense. In addition, senior RB Ty Johnson (875 YDs, 6.4 AVG, 5 TDs) should do well under the new system. The O-line is peppered with a good group of vets and some of the best recruits in the country. They look to certainly be an improvement over last year's unit. In order to compete, this team needs to score more than last year's average of 24.1 PPG.
Defense & Special Teams
The defense was ranked 14th in the conference and 120th nationally, as they gave up 37.1 PPG. They were vulnerable to both the run and pass. Senior Jesse Aniebonam broke his foot in last season's opener. The year before he had 14 TFL and nine sacks. He's back at BUCK and could be a major factor in bringing this defense back into alignment. Senior FS Darnell Savage (59 TKLs, 8 PBU, 3 INTs) is an accomplished defender, while junior NB Antoine Brooks (77 TKLs, 8.5 TFL, 2 INTs) is exceptionally versatile. Still, our 2018 Big Ten East college football betting preview finds this team's D to be inadequate. The Terrapin special teams are uneven with the kicking game being especially vulnerable. Ty Johnson is solid on kick returns.
6. Indiana Hoosiers
Offense
The Indiana passing game was the highlight of their offense last season, as it averaged 265.7 YPG, ranking them third in the conference and 35th nationally. The rush attacked earned a ranking of 12th in the Big Ten and 106th in the nation. Offense is an issue for 2018, as the Hoosiers try to solidify the QB spot. Former Arizona starter Brandon Dawkins, who was added to the team late this year, could be the go-to guy. He's a grad-transfer who had 14 career starts at Arizona where he completed 65% of his passes. At the same time, sophomore Peyton Ramsey returns after a decent freshman year where he completed 65% of his passes, tossing 10 TDs and five INTs. According to our research for this 2018 Big Ten East college football betting preview, the receiving group is thin. Sophomore RB Morgan Ellison (704 YDs, 4.9 AVG, 6 TDs) could have a breakout season. The offensive line looks to be competent.
Defense & Special Teams
The Hoosier defense gave up an average of 25.3 PPG. This group improved in 2017, earning a ranking of sixth in the Big Ten and 27th nationally. Senior DT Jacob Robinson (26 TKLs, 4 SCKs, 3 TFL) is the cornerstone for the line, while senior SS Jonathan Crawford (62 TKLs, 3 TFL, 8 PBU) anchors the secondary. The LB group has to replace every starter. Sophomore HB Marcello Ball (20 TKLs, 0.5 TFL, 1 QBH) will be asked to step up into a leadership role. PK Charles Campbell, ranked the ninth-best kicker nationally in the 2018 recruiting class, joins the team. J-Shun Harris, who had two punt returns for scores last year and averaged 19.0 YPR, is a threat to break one at any time.
7. Rutgers Scarlet Knights
Offense
How bad was the Rutgers offense last season? Their 262.7 YPG got them a national ranking of 129th and their 18.0 PPG was 121st. Three Rutgers QBs tossed a total of seven TD passes and 11 INTs. True freshman QB Artur Sitkowski comes to the team with fine arm and sound skill set. The Scarlet Knights, who are looking to open up their offense, may have the right quarterback to make that happen. The receiving group is very young. Senior TE Jerome Washington (28 REC, 10.1 AVG, 1 TD) was the top pass catcher last season and is back. RB Jonathan Hillman, a transfer from Boston College, should upgrade the rush attack, and sophomore RB Raheem Blackshear (238 ATT, 6.1 AVG, 3 TDs) returns after a decent frosh season.
Defense & Special Teams
On defense, our 2018 Big East college football betting preview sees the front line for the Scarlet Knights is the biggest question mark. They had a tough time last year putting any pressure on QBs. The linebacking squad and secondary are both decent. OLB Trevor Morris (118 TKLs, 3 TFL, 1 PBU) and MLB Deonte Roberts (104 TKLs, 5 TFL, 2 PBU) return as the number one and two tacklers. There's quality in the corner back area with two seniors getting the start. On special teams, the kicking game look pretty good, while the return squads, which once were a strength, underwent a major decline last season. The conclusion of our 2018 Big Ten East college football betting preview is they need to improve.
2018 Big Ten East Preview
Bowl Projections
Cotton Bowl (CFP): Clemson vs Ohio State
Peach Bowl: Miami, FL vs Michigan
Citrus Bowl: Penn State vs Auburn
Outback Bowl: Michigan State vs Mississippi State
Quick Lane Bowl: Miami, OH vs Maryland
Heart of Dallas Bowl: Indiana vs North Texas
2018 Big Ten East College Football Betting Preview
Projected Best Bets
Sep 1: Oregon State @ Ohio State – Buckeyes at -21 or less.
Sep 15: Kent State @ Penn State – Nittany Lions win by at least three TDs. They should roll over the Golden Flashes.
Sep 22: Rutgers @ Buffalo – Scarlet Knights if at a minimum of +13.
Sep 29: Central Michigan @ Michigan State – Spartans favored by 18 or fewer.
Oct 6: Nebraska @ Wisconsin – Bet Badgers at -13 or less. This could be closer than you might think!
Oct 20: Michigan @ Michigan State – Michigan State at +10 or better.
Oct 27: Illinois @ Maryland – Take Terrapins if favored by around 16.
Nov 10: Michigan @ Rutgers – We like Wolverines at around -20.
Nov 17: Ohio State @ Maryland – OSU at -36 or less. It should be an easy win for the Buckeyes.
Nov 24: Purdue @ Indiana – Indiana wins by less than a TD.
We hope you found our 2018 Big Ten East College Football Betting Preview helpful. Get the complete picture of the Big Ten by reading our West Division preview. To read about another conference, click back to our hub.