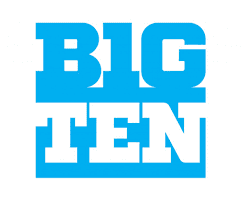 Our 2016 Big Ten college football preview can attest that, once again, this conference will field a lot of contenders. How many? Of the 14 teams in the Big Ten, you can expect four to be in the nation's Top 20 and two or three more will be in the next tier of 20. However, like so many NCAA Football conferences that feature divisions, one division is arguably stronger and more competitive that the other. In the Big Ten, it's the East that rules. At least that's the way it looks for now.
Rundown Big Ten East
The Big Ten East includes three massive teams, Ohio State, Michigan, and Michigan State. Buckeye coach Urban Meyer is 31-1 in Big Ten play, and Ohio State brings one of the best all-around teams to the field. QB JT Barrett is tops in the conference. But there will be competition for who's number one. The Wolverines return 14 starters and have the finest offensive and defensive lines in the league. Plus, there's Michigan State, which may lack experience but offers a tough D.
The Penn State Nittany Lions, who have one of the best WRs, Chris Godwin, need to get back in the hunt after going 14-12 over the past two seasons. The Indiana Hoosiers are not the strongest team in the Big Ten, but they are one of the most resilient and unpredictable. Finally, the Maryland Terrapins will attempt to control their turnovers (-18 last year), and the Scarlet Knights of Rutgers look to improve after making their debut in the conference last season and positing a record of 3-5.
Big Ten East Predicted Finish
Michigan
Ohio State
Michigan State
Penn State
Indiana
Rutgers
Maryland
Rundown Big Ten West
The Big Ten West offers two big teams, the Iowa Hawkeyes and the Nebraska Cornhuskers. Both teams are blessed to have fairly kind schedules. Iowa, which had an amazing season last year, going 12-2, will struggle to repeat that performance this season. Our 2016 Big 10 college football preview notes that last year's 6-7 Cornhuskers could have done much better by simply eliminating one mistake a year. With 13 returning starters, they should do that.
Wisconsin has two fine lines and Corey Clement at RB, but the Badgers also have to play one of the toughest schedules in NCAA football. Northwestern will run a lot, but they need a better frontline to be productive, while Minnesota lacks the depth to sustain a winning season. Illinois would love to get back to a bowl game after a two-year absence, and they may, but they won't have a winning season in Big Ten play. Finally, the Purdue Boilermakers will struggle to win a conference game.
Big Ten West Predicted Finish
Nebraska
Iowa
Wisconsin
Northwestern
Minnesota
Illinois
Purdue
2016 Big Ten College Football Preview Final Word
In developing our 2016 Big Ten college football preview, we can see that Ohio State will be severely tested as on November 19th they play away at Michigan State and then return home to play Michigan on November 26th. Those two games could determine how these three team's finish. We think Michigan State will take the Big Ten in 2016.