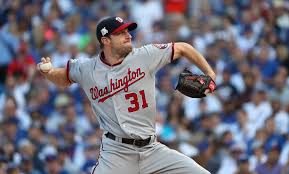 Last season, the Washington Nationals (82-80) won 15 fewer games than they had the previous season. In 2018, the Nats finished second in the NL east, eight games behind the first-place Atlanta Braves and out of the postseason picture. In three of the previous four seasons, Washington had made the playoffs, topping the division each time. Our 2019 Washington Nationals preview sees this team rebounding a bit. But with Bryce Harper now playing right field for the Philadelphia Phillies and a pitching staff that appears to be fearsome, but was mediocre statistically last season, we do not envision a first-place finish for the Nationals.
Pitching
The Nationals sure have a great sounding rotation with names like Scherzer, Strasburg, and Corbin, but overall, their stats were average at best. When it came to pitching, one category this unit was not average in was homeruns allowed. The NL average was 177. The Washington pitching staff allowed 196. In other areas, the team ERA of 4.04 ranked them 15th in MLB, while their 82 wins tied them for 14th. Also, the Nats totaled 40 saves (tied 16th). Their best statistic was opponent batting average where they ranked a respectable 11th (.242).
Starters
As we've already noted in our Washington Nationals preview, this team has some impressive names and achievers in their rotation. Ace Max Scherzer (18-7 W/L, 2.53 ERA, 0.91 WHIP) is certainly one of the best starters in baseball. Now in his mid-30s, the righty added a new pitch to his repertoire, a nasty and effective cutter. Since hitting the age of 29, Sherzer has won three Cy Youngs, posted an ERA of 2.77, averaged 11.2 K/9, and has a record of 93-39. After him, there's another tough righty as Stephen Strasburg (10-7 W/L, 3.74 ERA, 1.20 WHIP) takes the mound. Strasburg, who only once has pitched 200-plus innings, is 94-52 (.644) over his career. That winning percentage is fourth-best amongst active starters.
Lefty Patrick Corbin (11-7 W/L, 3.15 ERA, 1.05 WHIP) comes from Arizona after signing a six-year, $140-million deal. He brings a 91-mph fastball and a 72-mph curveball with him. Along with offering quality, Corbin will give innings. Righty Anibal Sanchez (7-6 W/L, 2.83 ERA, 1.08 WHIP) is also new to the Nationals. Last with Atlanta, Sanchez posted a 2.83 ERA last season over 25 games. Righty Joe Ross (0-2 W/L, 5.06 ERA, 1.31 WHIP) gets a chance, as he attempts to come back from 2017 Tommy John surgery. Ross brings a fastball/curve combo and changeup to the mound.
Relievers
Middle relief will be covered, at least partly, by righty Kyle Barraclough (1-6 W/L, 4.20 ERA, 1.33 WHIP). In four years in the bigs, he's averaged 11.5 K/9. However, he's also averaged 5.5 W/9. Better control will make him a solid reliever. Righty Trevor Rosenthal could be this team's setup man. His fastball clocks in at 99 mph. But after undergoing Tommy John surgery in April 2017, it's unknown if he can still whip it in at that speed. Last season, lefty Sean Doolittle (2-3 W/L, 1.60 ERA, 0.60WHIP) had a 60-to-6 strikeout/walk ratio. He can be dominant. However, he missed much of the second half last season due to stress on his left foot. When he's healthy, he rarely loses. Over the past two seasons, Doolittle has converted 49 of 52 save opportunities. Last season, before being injured, he earned 25 saves.
Everyday Players
The Nationals did well at the plate and on overall offense last season. They finished second in on-base percentage (.335) and fifth in stolen bases (119). Our Washington Nationals preview observes that this club was eighth in a slew of categories, including batting average (.254), OPS (.753), runs (771), and RBI (737). Washington ranked 10th in slugging percentage (.419), 11th in total bases (2309), and 13th in four baggers (191).
Hitting
Leading off for the Nats is Adam Eaton (.301 BA, 33 RBI, 5 HRs). Eaton, who plays right field, has been injured a lot, which has drastically reduced any impact he might have. Shortstop Tre Turner (.271 BA, 73 RBI, 19 HRs), who played all 162 games last season, led the league in steals with 43 and the majors in at-bats with 664. Batting third is Anthony Rendon (.308 BA, 92 RBI, 24 HRs), the Nationals' third baseman. Over the past two seasons, Rendon has a .923 OPS and is considered to be one of the best hitters in MLB. Left fielder Juan Soto (.292 BA, 70 RBI, 22 HRs), who was a rookie last season, turned 20 in October. He led all NL rookies with a .292 BA, .406 OBP, 70 RBI, and 79 walks.
The second half of the order features first baseman Ryan Zimmerman (.261 BA, 51 RBI, 13 HRs) in the fifth spot. His 52.8-percent hard-hit rate was second only to Aaron Judge. Howie Kendrick (.303 BA, 12 RBI, 4 HRs) will try to be a full-time player this season. He has not been able to do so since undergoing surgery in 2016 on his Achilles. He bats sixth, while seventh and eight will be handed by center fielder Victor Robles (.288 BA, 10 RBI, 3 HRs) and catcher Yan Gomes (.266 BA, 48 RBI, 16 HRs). Robles is a prospect who's expected to excel at the plate. Gomes comes from Cleveland to platoon the backstop spot with Kurt Suzuki (.271 BA, 50 RBI, 12 HRs). Gomes adds more slugging power to the bottom of the order. Suzuki can also swing the bat with power.
Defense
Washington was solid in the field, as they ranked second in the majors in fielding percentage (.989). However, their 115 double plays put them 27th. The catching tandem of Gomes and Suzuki should help to keep the pitching staff and the entire team in balance. Both are veteran pros, and will work together to ensure quality work is being done behind the plate. The left side of the infield looks solid, as Turner plays a sweet short and Rendon is solid at third. On the opposite side of the infield there are questions. First baseman Zimmerman missed 76 games last season, while second baseman Kendrick will attempt to come back from an Achilles. There's backup ready to go.
There's a good chance that Robles, a rookie, will be in center this season. He's got a great glove and arm. Eaton, who appears to be healthy, is solid in right. Not only did Soto prove he could hit in his rookie season, but he also showed his ability with the glove in left. He seems to be great at everything he does.
Management and Front Office
Manager Dave Martinez will once again try to get this team on track. In 2018, his first season as the replacement for Dusty Baker, things didn't go so well. He showed confidence in his starters, had the team run a lot, and made some decent decisions. But at various times the ball club was in disarray, and it was rumored that he had lost the clubhouse. Our Washington Nationals preview notes that this team has had five managers in 10 years. Some might start pointing to GM Mike Rizzo as the issue. Rizzo is noted for being a hard worker, defending his players when he feels they are being unjustly attacked, and ensuring team discipline. One issue for the Nats may be his decision to rely primarily on scouting reports and to eschew analytics. Maybe coming into the 21st century would benefit the Nationals?
2019 Washington Nationals Preview: Final Word
Our Washington Nationals preview concludes that the rotation is solid in the first three spots, there are some exceptional young ballplayers ready to contribute, and the bullpen looks ready to go. That is if everyone can come back and stay healthy. Often a mix of youth and experience is good. But some of the players on the Nationals with experience have health issues that could sideline them for an extended time. Plus, our 2019 Washington Nationals preview finds that there's been some worrisome trends when it comes to the retention of managers and use of modern analytical tools. We think the Nationals finish out of the running this season and GM Rizzo is gone.
Projected Finish: 3rd NL East, Record: 84-78
LINKS