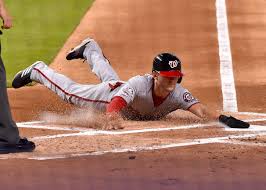 This Washington Nationals Preview 2020 looks at how last year's World Series Champions will fare after winning it all. The Nats snuck into the playoffs with a wildcard bid and went on to defeat the Houston Astros to win the Commissioner's Trophy. In that series, neither team won a home game. Our 2020 Washington Nationals preview looks at how the defending champs will fare despite losing some big pieces in the offseason. After all, they still have a quality group of players. However, they do have to face an improved Mets squad as well as a top-notch Atlanta club.
Washington Nationals Preview 2020 – Starters
The Nationals could make a case for having the best rotation in the National League. They have three bonafide aces in Stephen Strasburg, Max Scherzer, and Patrick Corbin. Strasburg finished the regular season with a 3.32 ERA and a 1.038 WHIP. He led the Nats in wins with 18. Strasburg also won the World Series MVP award en route to helping his ball club take down their first title. Despite entering his 13th year in the MLB, Scherzer has continued to dominate. The three-time Cy Young winner finished third in National League voting in 2019, after compiling a 2.92 ERA. He went 3-0 during Washington's World Series run.
And while owning the contracts of Strasburg and Scherzer alone would give the Nats a formidable rotation, their addition of Patrick Corbin last offseason paid instant dividends. The southpaw went 14-7 over his 33 starts while racking up a 3.25 ERA. Impressively, Strasburg, Scherzer, and Corbin all finished in the top-10 in the MLB in strikeouts. They have the ability and skill to frustrate any teams' lineup.
Bottom of the Rotation
Apart from the Nationals' three aces, the club will rely on 36-year-old Anibal Sanchez to put together another solid season. He was very serviceable in 2019. The Venezuela native finished the year with a 3.85 ERA through 30 starts. While not likely to dominate, Sanchez can still be counted on to perform consistently in the bottom half of Washington's rotation. Joe Ross, who came back from Tommy John surgery last season as a reliever, could get the nod as the fifth man in. Last season, his velocity looked good, but he struggled with his location. All in all, the National's rotation is sound.
Washington Nationals Preview 2020 – Bullpen
Washington also looks to have a solid bullpen as they enter the 2020 season. While their closer, Sean Doolittle, had a rough 2019 season, he remains a very sound option in close games. After finishing 2018 with a 1.60 ERA, Doolittle saw his earned runs jump up to 4.05 per game in 2019. Will Harris was signed to a three year 24-million-dollar contract over the offseason. The right-throwing reliever has been a mainstay in the Houston Astros bullpen over the last five seasons. Harris is coming off of arguably his most productive year to date. In 2019, he pitched a total of 60.0 innings while registering a 1.50 ERA. He had an impressive 0.933 WHIP as well. The addition of Harris brings a very stable presence who can get his club out of jams late in ballgames.
The Nats' will also rely on Daniel Hudson and Wander Seuro to eat innings. Hudson will enter his first full season with Washington after being acquired from the Blue Jays last year. While he was solid with Toronto, he was even better with the Nationals. In his 24 games with the latter, Hudson had a 0.880 WHIP and a 1.44 ERA. In 2020, Seuro will enter his third major league season. While his stat-line hasn't been the most impressive, in 2019, he saw the most action out of any Nationals' reliever. The Dominican Republic Native pitched a total of 71.1 innings but finished the season with a 4.54 ERA. At the age of 27, Suero will likely continue to develop and see plenty of action once the 2020 season gets started.
Nationals – Everyday Players
The Nationals suffered a big loss in the offseason as they saw their best player leave. Anthony Rendon finished third in MVP voting last year but departed to play for the Angels. He led the club in OPS last season (1.010) and with a .319 batting average. Rendon also led Washington with 126 RBI and tied with Juan Soto for the most home runs (34). The Nats will look to replace Rendon at third with a combination of Asdrubal Cabrera and Carter Kieboom, neither of whom are likely to come close to matching his production. Kieboom is a former first round pick, who played in 11 games last season. He struggled hitting just .128. Cabrera had a better season, but would best be utilized as a platoon player.
Washington's biggest bat this year is likely to be the aforementioned Soto. The 21-year-old enters his third season after putting together a terrific start to his career. Last season the outfielder drove in 110 runs while maintaining a .949 OPS. Look for him to improve upon his 34 homers as well.
Trea Turner and Victor Robles will see action in a majority of the Nats' games as well. The speedy Turner hit .298 last season and had a team high 35 stolen bases. Our Washington Nationals Preview 2020 concludes that he has been one of the better leadoff options in recent years. Robles is coming off of a solid first full MLB season. He hit .255 and drove in 65 runs. Washington will look for him to build upon last season and hopefully replace some the Rendon's production.
Washington – Rounding out the Order
Our Washington Nationals Preview notes that the team will have a couple of decent options at first base. While Ryan Zimmerman returns for his 16th season, over the winter, the club also added Eric Thames. Zimmerman has been solid throughout his 15-year career as a National. Last season he had a .257 batting average and a .736 OPS. Thames will bring some power to Washington's lineup. He had 25 homers with Milwaukee last season along with a .247 batting average. The two first basemen are likely to split time at the position in 2020.
Expect Adam Eaton to have another productive year as well. Eaton has batted over .279 in each of the past six seasons. Last year, he set a career high in home runs going yard 15 times. Eaton should have similar production in 2020 as he enters his age-31 season.
Washington Nationals Preview 2020 – Prediction
While the Nationals have maintained their strong pitching staff from last year's World Series run, they lost their best player in Anthony Rendon. Despite this, they still have a decent, strong, young core to build around. Overall, our Washington Nationals Preview 2020 finds that they should be a solid team once again. Although, with Rendon gone and no one to replace his output, don't be surprised to see them take a step backwards in terms of run production.
Washington Nationals – 3rd in the NL East (88-74)