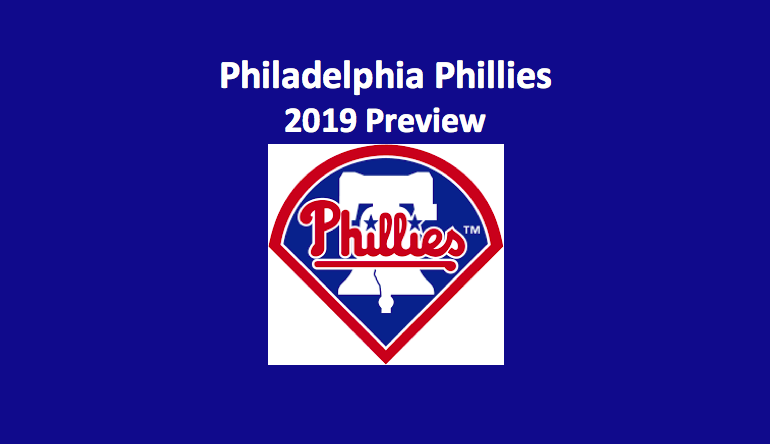 Under new, first-time manager Gabe Kapler, the 2018 Philadelphia Phillies (80-82) won 14 more games than they had the season prior. Plus, they finished two spots higher than they had in 2017. That was major movement for any team, as the last time the Phillies won 80 or more games was 2012. That year they went 81-81. Philadelphia had finished first in the NL East for the five straight years before that 2012 season. Our 2019 Philadelphia Phillies preview does not expect this team, which from 2013 through 2017 had ended up in either fourth or fifth place, to go to the top of the division. But like last season, we like their chances of finishing third and, this, time, breaking the .500 mark.
Pitching
Philly pitching last season was about average when compared to the rest of the majors. The staff ranked 18th in ERA with a 4.14 mark. They were 16th in opponent batting average, as teams hit .249 against them. Philly relievers saved 44 games (tied 10th), which was three above the NL average. The team's 80 wins tied them for 17th in the majors. The Philadelphia starters and relievers were fairly close in terms of stats.
Starters
The rotation is comprised entirely of righties and has Aaron Nola (17-6 W/L, 2.37 ERA, 0.97 WHIP) in the number one spot. Nola, who finished third in Cy Young balloting last year, is a young, creative hurler. He uses a variety of pitches and possesses a killer instinct. Lefties hit .187 against him and righties .207. Last season, he had a sub-2.00 ERA for three of six months. That included August when over five starts, his ERA came in at 1.06. Our Philadelphia Phillies preview notes that the second man in, Jake Arrieta (10-11 W/L, 3.96 ERA, 1.29 WHIP), is a veteran who brings leadership to a young staff. The 33-year-old has lost some of his stuff, but his two-seam sinker still works pretty well.
Nick Pivetta (7-14 W/L, 4.77 ERA, 1.30 WHIP), who's third in the rotation, led the team with 10.3 K/9. He placed fifth overall in the NL in that category. Pivetta can bring heat in the low to mid-90s and has a plus curve. Vince Velasquez (9-12 W/L, 4.85 ERA, 1.34 WHIP) often comes to the mound with no-hitter potential. He's the fourth man in, while Zach Eflin (11-8 W/L, 4.36 ERA, 1.30 WHIP) rounds out this group of starters. At the top of games, Eflin needs to settle in faster, keeping the ball around the strike zone but away from the hitters. His control tends to be much better once he gets a few innings in.
Relievers
The most likely guy to close this season, Seranthony Dominguez (2-5 W/L, 2.96 ERA, 0.93 WHIP), made a big impression when he came to the team in May and pitched a string of 15.2 scoreless innings. Opposing batters had a .501 OPS when facing him, which was the seventh-lowest amongst all MLB relief pitchers. He had 16 saves last season. David Robertson (8-3 W/L, 3.23 ERA, 1.03 WHIP) is both an able closer and setup man, while Tommy Hunter (5-4 W/L, 3.80 ERA, 1.25 WHIP) does well in back-to back appearances. Last season, when he was used in that manner 13 times, he recorded an ERA of 1.46.
Everyday Players
Our Philadelphia Phillies preview notes that the Philadelphia offense was weak. Their best category was dingers. The team finished 15th in the majors with 186. The Philly on-base percentage of .314 (18th) was their next strongest stat. It was pretty much downhill after that. Philadelphia hitters ranked 29th in team batting average with a mark of .234. They were 23rd in stolen bases (69) and slugging percentage (.393). Finally, this group finished 21st in RBI (653), tied for 21st in runs (677), ended up 22nd in OPS (.707), and 25th in total bases (2129). All of that means there's plenty of room for improvement.
Hitting
Second baseman Cesar Hernandez (.253 BA, 60 RBI, 15 HRs) leads off. He saw his numbers go down last season after he broke his foot on a foul ball. Shortstop Jean Segura (.304 BA, 63 RBI, 10 HRs), who's been a .330 hitter in each of the last three seasons, joins the team through a multiplayer trade between the Phillies and Mariners. He's an expert at driving balls into gaps. Another new addition and fine hitter, Andrew McCutchen (.255 BA, 65 RBI, 20 HRs), will bat third. At 32, he's still a solid performer and long ball hitter. First baseman Rys Hoskins (.246 BA, 96 RBI, 34 HRs) bats cleanup. He topped the NL by averaging 4.4 pitches per plate appearance and posted a .850 OPS.
Bryce Harper (.249 BA, 100 RBI, 34 HRs), who will play right, is a late addition to the team. He'll provide extra power as he hits fifth. Left fielder Nick Williams (.256 BA, 50 RBI, 17 HRs), who bats sixth, hit 40 points better against righties than he did lefties. Last season, Nick Williams reduced his strikeout rate to 13.3 percent, which is the lowest of his career. He'll hit seventh. That is, unless Roman Quinn (.260 BA, 12 RBI, 2 HRs) is available. Health issues have plagued him. Catcher Jorge Alfaro (.262 BA, 37 RBI, 10 HRs) needs to become disciplined at the plate.
Defense
This was not a good fielding team. Their .979 mark ranked them 29th in fielding percentage. The Phillies turned a total of 138 double plays, which tied them for 13th in MLB. With Segura at short and Hernandez at second, the Phillies have a strong middle field. Both are fine defenders. Who will play third is a question mark, but we expect that Franco will be given another shot. Hoskins, the leader of this team, is sound at first. Behind the plate, Alfaro offers decent defense, but he can sometimes get lazy. He does have a strong arm and fast popup time, which allows him to catch runners. He threw out 21 last season.
The outfield played abysmally last year. In left, McCutchen is a major upgrade. Quinn, who has speed, a good glove, and fine arm, is preferred in center over Williams. Harper is certainly a major talent as a fielder as well as a hitter. He'll be patrolling right. This outfield has been upgraded substantially.
Management and Front Office
GM Matt Klentak is not afraid to make moves, and he's willing to admit to mistakes when things don't work out. That was the case last season, when he brought in Carlos Santana for $60 million to hit and play first and put Hoskins in the outfield. Klentak has made some solid moves to upgrade the team for the 2019 season. At the same time, our Philadelphia Phillies preview finds that this team is transitioning and no longer using scouting as their primary method of gathering information. Philadelphia is now leaning heavily on analytics. During that transition, new manager Gabe Kapler arrived in town. He proved to be smart, upbeat, and unorthodox. If that works and they win, he'll stay. If it all blows up, Kapler will be gone.
2019 Philadelphia Phillies Preview: Final Word
Our Philadelphia Phillies preview notes that fans should watch out, as we expect this team to have their first winning season in seven years. With major upgrades on offense that include Harper, McCutchen, and Segura, and both the Marlins and Mets trying to find their footing, we do expect that this team will do much better than they did last season. Our 2019 Philadelphia Phillies preview finds that this team is on the right track.
Projected Finish: 2nd NL East, Record: 90-72
LINKS