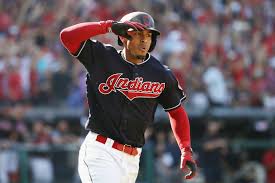 The Cleveland Indians (91-71) put in their third-straight 90-plus win season last year. This is a team that won the AL pennant in 2016 and made the playoffs in 2017 and 2018. Manager Terry Francona has taken his teams to winning seasons for 14 years running. But our 2019 Cleveland Indians preview finds that there has been some fall off in terms of talent and depth. The Tribe may have finished first in the AL Central for three seasons in a row, but a recent decision to become more fiscally conservative will provide the Indians with some challenges when it comes to taking down the division. They're still the best in the AL Central. But the gap has tightened between the Indians and some of the other ball clubs.
Pitching
Our Cleveland Indians preview notes that overall this team was better than average when it came to pitching, and their starters were some of the best in MLB. The pitching staff's 3.77 ERA placed them ninth in MLB, and their .242 BA against ranked them 12th. The ERA for Indians' starters was an impressive 3.39, which was a full run under the AL average. But when it came to relief, the Tribe struggled a bit, posting a 4.60 ERA, which was 0.51 higher than the league average.
Starters
The Cleveland rotation consists of five righties with Corey Kluber (20-7 W/L, 2.89 ERA, 0.99 WHIP) being the ace. Kluber is the first starter for Cleveland to post three-straight 18-plus win seasons since Gaylord Perry did so from 1972-74. He's lost something on his fastball, but Kluber has developed one of the best cutters in MLB. Number two in the rotation is Carlos Carrasco (17-10 W/L, 3.38 ERA, 1.13 WHIP). Carrasco compiled 10.83 K/9 by effectively using his slider and changeup.
We expect Trevor Bauer (12-6 W/L. 2.21 ERA, 1.09 WHIP) to get the nod at the middle spot. Amongst starters, Bauer was fourth in the majors in recording the lowest barrel percentage and second in ERA amongst AL starters. He's one of the Indians' rising stars. Finally, the emerging talents of Mike Clevinger (13-8 W/L, 3.02 ERA, 1.16 WHIP) and Shane Bieber (11-5 W/L, 4.55 ERA, 1.33 WHIP) should not be underestimated. Clevinger was one of just 13 MLB hurlers to toss 200-plus innings last season. He offers a collection of pitches that seem to mystify batters in terms of velocity and the manner in which they cut. As a rookie last season, Bieber won 11 games, averaging 9.26 K/9. He was second in strikeouts amongst AL rookies.
Relievers
Our 2019 Cleveland Indians preview notes that free agent closer Cody Allen is gone and has been replaced by lefty Brad Hand (2.75 ERA, 32 SVs, 1.11 WHIP). Hand should be able to do the job. He's one of five pitchers in the past decade to record 30-plus saves and 10-plus holds in the same season. Two righties, Adam Cimber and Dan Otero, look to be the primary relievers. Cimber is tough against right-handed hitters, but left-handed batters often batter him. Otero throws a lot of strikes, but he also gives up too many gopher balls. This group is not as solid as they were two seasons ago, and that could mean trouble for the Tribe.
Everyday Players
The Cleveland Indians stole a MLB-best 135 bases last season. They were also second in batting with a .259 team average. The team came in third in RBI (786) and runs (818). But they were a disappointing 25th in runners LOB (1,147). The Indians were sixth in homers (216), slugging percentage (.434), and on-base percentage (.332). This is a team that can get on base and has some MVP potential.
Hitting
Certainly, the Indians have some very fine hitters. Shortstop Francisco Lindor (.277 BA, 92 RBI, 38 HRs) leads off. He stole 25 bases last season. Jason Kipnis (.230 BA, 75 RBI, 18 HRs) bats second while Jose Ramirez (.270 BA, 105 RBI, 39 HRs) and Carlos Santana (.229 BA, 86 RBI, 24HRs) hit third and fourth. Ramirez stole 34 bases last year. Jake Bauers (.201 BA, 48 RBI, 11 HRs), who hit well for the Rays in the first half of last season, slumped in the second half. He needs to get back on track.
Our 2019 Cleveland Indians preview notes that in the bottom half of the batting order, Tyler Naquin (.264 BA, 23 RBI, 3 HRs) needs to improve, or he could find himself back in the minors, while catcher Robert Perez (.168 BA, 19 RBI, 2 HRs) brings little to the plate. Leonys Martin (.255 BA, 33 RBI, 11 HRs) and Greg Allen (.257 BA, 20 RBI, 2 HRs) round out the hitters.
Defense
The Indians were 10th in fielding percentage at .986 and finished 24th in double plays with 123. They have a sound infield that includes dependable third baseman Ramirez and rangy shortstop Lindor. Both Bauers and Santana offer decent first base chops while second is in flux. Kipnis will most likely start there. Catcher Perez may not be able to hit a lick, be he knows how to work games and frame pitches.
The Indiana outfield is questionable. Allen will likely play left as the team's regular left fielder, Bradley Zimmer, recovers from shoulder surgery. Center will be occupied by Martin. He's a solid but aging presence. Right will be secured by the dependable Naquin.
Management and Front Office
The Indians may not have enough depth in their bullpen, and that could be their undoing. It's true that manager Francona is known for making the right moves when it comes to the pen, but if he doesn't have the arms, that won't be easy. Still, GM Mike Chernoff knows how to work a deal and is solid at filling gaps. He'll attempt to make up for any deficiencies to secure another first-place finish. Along with requiring more quality relievers, the Indians also have to somehow get offensive output from the outfield corners as well as first base. That won't be easy. A trade at some point might be needed.
2019 Cleveland Indians Preview: Final Word
Our 2019 Cleveland Indians preview does project this team to once again take the AL Central. But that's not so much due to this team being a major force in the AL, but due to the fact that the division is relatively weak. Once they get into the postseason, the Indians will have a tough time competing with the other playoff teams. Interesting to note, that this Cleveland Indians preview is less optimistic than one might expect for a team that has consistently made the postseason. But there are real issues regarding this baseball team.
Projected Finish: 1st AL Central, Record: 90-72
LINKS