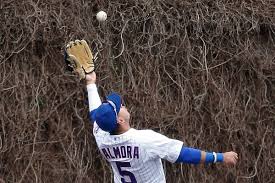 After winning 103 games in 2016 and taking down the World Series, a lot was expected from the Chicago Cubs (92-70) in 2017. Although they won the NL Central for a second time straight and made the playoffs for their third year in-a-row, Chicago had a tough time last season, as they lost more games than expected and often seemed to struggle. Plus, the defending champs never made it back to the World Series. What will this year bring? Our Chicago Cubs 2018 preview sees this team taking the division once again. Will do they anything after that? That's tough to say considering the hefty competition from other divisions.
Pitching
On stat that offers pause is that Chicago relievers were 16th in saves last season with 38. The other stats are pretty good, as the team's pitchers were seventh in both ERA (3.95) and wins (92). At .238, they were fourth in opponent batting average. Overall, the Cub pitching staff is solid when healthy. Will they be healthy in 2018? That is the major question for this team.
Starters
The Cub rotation features three lefties and two right-handed pitchers. Jon Lester (13-8 W/L, 4.33 ERA, 9.0 K/9) is the ace. Last season, Lester put in eight starts that went at least seven innings. As he pitches into his m-d30s, look for the Chicago starter to rely less on his fastball and more on his finesse pitches. Lefty Jose Quintana (11-11 W/L, 4.15 ERA, 9.9 K/9) led Chicago starters after the All-Star break in strikeouts (98), opposition batting average (.228), and WHIP (1.10).
Two righties follow with Kyle Hendricks (7-5 W/L, 3.03 ERA, 7.9 K/9) taking the third spot and Tyler Chatwood (8-5 W/L, 4.69 ERA, 7.3 K/9) the fourth. In eight of his final starts, Hendricks held teams to one or no runs, while Chatwood joins Chicago from the Rockies where last season he lost 15 games. Chatwood brings two effective pitches, a curve and fastball. Lefty Mike Montgomery (7-8 W/L, 3.38 ERA, 6.9 K/9) rounds out the rotation. In his three years in the majors, he's had a tough time getting through an entire season as a starter. He seems to be more of a reliever.
Relievers
Righty Brandon Morrow (6-0 W/L, 2.06 ERA, 2 SVs, 10.3 K/9) comes to Chicago from the Dodgers where over the course of 43.2 innings he did not give up a homerun. He'll be the closer. Carl Edwards Jr. (5-4 W/L, 2.98 ERA, 12.8 K/9), another right-handed pitcher, nailed down 25 holds in 2017. Last season, the righty held left-handed batters to an average of .119. Steve Cishek (3-2 W/L, 2.01 ERA, 8.3 K/9) joins the team after playing for the Rays and Seattle last season. He rarely gives up a run.
Everyday Players
The Cubs posted a .255 batting average, which was 16th in MLB. The accumulated 2,403 bases, which put them 10th in that category. They did have 785 RBI (5th) and posted an on-base percentage of .338 (5th). The team's 223 homers ranked them ninth in that area. When it came to speed on the bases, the Cubs were lacking. They stole a total of just 62 bases (24th). With a fielding percentage of .984 (15th) and a total of 139 DPs (tied 20th), the team was adequate in the field.
Hitting
Centerfielder Albert Almore Jr. (.298 BA, 46 RBI, 8 HRs) had some pop in his bat in the final 64 games of last season, as he hit .343 with 31 RBI. He bats first. Second is Kris Bryant (.295 BA, 73 RBI, 29 HRs). Last season the third baseman had an OB% of .409. First baseman Anthony Rizzo (.273 BA, 109 RBI, 32 HRs) has had three straight seasons where he's smacked 30 homers, hit 30 doubles, and knocked in 100 RBI. Catcher Willson Contreras (.276 BA, 74 RBI, 21 HRs) hits fourth, while left fielder Kyle Schwarber (.211 BA, 59 RBI, 30 HRs), a solid first-pitch hitter, is fifth in the batting order.
Shortstop Addison Russell (.239 BA, 43 RBI, 12 HRs) struggle at home, hitting just .149 over 49 games. Seventh in the order, right fielder Jason Heyward (.259 BA, 59 RBI, 11 HRs) was the guy to have up with two down and runners in scoring position. In those situations, he hit .328. Second baseman Javier Baez (.273 BA, 75 RBI, 23 HRs) rounds out the order in the eighth spot.
Defense
Contreras tied for the MLB lead in pickoffs with six last season. He threw out 20 players attempting to steal, which was fourth-best in the NL. Second baseman Baez also played shortstop, third, first, and right field last season. He's a solid fielder. Russell is an accomplished shortstop with fine range and a strong arm. Although Bryant is a big guy, he's a better-than-average third baseman, while Rizzo is sound at first.
In the outfield, Almora is young, but he exhibits a very good feel for centerfield. He's good at tracking down balls. In right, Heyward offers top-notch defense, while in left Schwarber really struggled. He's considered to be one of the worst outfielder in MLB and is better suited for first base.
Management and Front Office
With President of Baseball Operations Theo Epstein, GM Jed Hoyer, and other in the front office working towards a common goal, the Chicago organization is solid. They know how to evaluate talent and make deals better than just about anyone else in MLB. Although his bullpen management is not as savvy as it should be, manager Joe Maddon does a very fine job with this team. He is a solid leader and mentor.
Chicago Cubs 2018 Preview: Final Word
We conclude our Chicago Cubs 2018 preview by noting that this ball club should finish first in the NL Central. But they will have competition from the St. Louis Cardinals, which means that a first-place finish is in no way guaranteed. Still, this Cub teams does have enough assets and depth to push it to the top by the end of what is a very long season.
Projected Finish: 1st AL Central, Record: 94-68