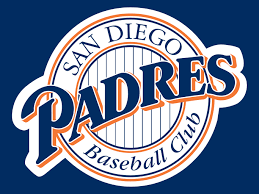 The San Diego Padres (68-94) are a team in search of a team or at least some sort of permanence. In two years, they've had six players catch, 11 play first, a dozen at second base, nine at short, 10 at third, 15 in left, nine in centerfield, and 18 in right. Since they fired coach Bud Black 65 games into the 2015 season, they've four coaches, including Dave Roberts, now successfully coaching the Dodgers, as a one-day interim. Perhaps they missed out on a good deal with Roberts? Andy Green is back for his second season as manager and GM A.J. Preller is back for his third. Our 2017 San Diego Padres preview sees a team that has a long way to go before it can have any success.
Starting Pitching
If you're expecting to see a familiar name from the Padres' 2016 rotation in this season's group, you'll be disappointed. They are all different. The number one man will be Jhoulys Chacin (R, 1-2 W/L, 5.40 ERA), a free agent from the Angels. Guys who worked into the rotation during the 2016 season who have come back include Clayton Richard (L, 3-3 W/L, 3.52 ERA) and Luis Perdomo (R, 9-10 W/L, 5.71 ERA). At 33 years old, Richard is the oldest player on the Padres. Perdomo, who made his way to the bigs via ball, is the team's most promising hurler. Christian Friedrich (L, 5-2 W/L, 4.80 ERA) and Paul Clemens (R, 3-5 W/L, 3.67 ERA) will get the number four and five spots.
Bullpen
With the Marlins, Carter Capps (R, 0-0 W/L, 0.00 ERA, 0 SV) looked golden in 2015, but then he lost all of the 2016 season due to Tommy John surgery. It's hoped that he can return to form in 2017 and that Brandon Maurer (R, 0-5 W/L, 4.52 ERA) can serve as the setup man. Capps earned a 1.16 ERA while notching 58 strikeouts in 31 innings with the Marlins. Maurer can close, as he was 13 of 15 in save opportunities last season. Both Brad Hand (L, 4-4 W/L, 2.92 ERA) and Ryan Butcher (L, 3-0 W/L, 2.86 ERA) are proven workhorses.
Hitting and Fielding
The Padres were 30th in batting average (.235), 28th in slugging percentage (.390) and 30th in on-base percentage (.299). Those numbers say a lot about the lack of offense generated by the Padres. Second base goes to Ryan Schimpf (.217 BA, 20 HR, 51 RBI), who made his major league debut last season at the age of 28. He replaced the injured Cory Spangenberg (.220 BA, 1 HR, 8 RBI). Spangenberg missed most of the season with a left quad injury. He'll be back at some point in 2017.
Luis Sardinas (.287 BA, 2 HR, 13 RBI) will play shortstop for this season. First baseman Wil Meyers (.259 BA, 28 HR, 94 RBI) is coming off an All-Star year. Yangervis Solarte (.286 BA, 15 HR, 71 RBI), who lost his wife to cancer during the season, is back to play third base. The Derek Norris trade to the Nationals makes Austin Hedges (.125 BA, 0 HR, 1 RBI) the team's primary catcher.
Travis Jankowski (.245 BA, 2 HR, 12 RBI) is a versatile fielder who is likely to find his place in leftfield. Rookie Manuel Margot (.243 BA, 0 HR, 3 RBI), a prospect who came over in a deal with the Red Sox, is a solid player. Hunter Renfroe (.371 BA, 4 HR, 14 RBI), the Padres top draft pick of 2013 and MVP in the Pacific Coast League, will be in right.
Coaching and Management
The Padres have had major shakeups, with the dismissal of the team president in October and new investors coming in as of late, making for a feeling of unease. Still, manager Green seems up for the job despite the fact that he has not been given much with which to work.
2017 San Diego Padres Preview Final Word
The Padres have not had a winning season in five years. Our 2017 San Diego Padres preview doesn't see that changing anytime soon. This team will struggle in a division that includes the Dodgers and Giants.
2017 San Diego Padres Preview Projected Finish: 5th NL West