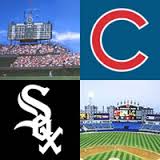 The Chicago White Sox (39-57 Overall, 20-34 Away) play the Chicago Cubs (51-47 Overall, 26-22 Home) at 2:20 p.m. today for one more game at Wrigley Field and then the two clubs venture across town for games Wednesday and Thursday at Guaranteed Rate Field, splitting their four-game series at two home games apiece. The Cubs lost the first of this interleague series and cross-town rivalry last night 3-1. The White Sox are last in the AL Central and sit 12.5 games out of first. The Cubs are one-half game behind the NL Central-leading Milwaukee Brewers. The Sox are 1-9 for their last 10 while the Cubbies are 8-2 over the same span. Our White Sox play Cubs 2017 MLB free pick offers the Cubs -208 at and Sox at +199.
Pitching
The White Sox will put lefty Carlos Rodon (1-3, 5.75 ERA) on the mound. Rondon, who has lost his last two games, last pitched will on July 19 against the Los Angeles Dodgers. He lasted 3 2/3 innings giving uo five runs on seven hits, which included four homers. Prior to that game he met the Colorado Rockies. In that contest he pitched 5 1/3 innings, allowing six runs on five hits. This is his fifth appearance since he returned to the rotation on June 28.
Rondon was on the DL prior to that, having to manage a bout with left biceps bursitis. He's looking for his second win of the season, while the White Sox will try to win their second straight. The last time they did that was July 2-3. The lefty makes his second career start versus the Cubs. The first time he faced them was July 10, 2015, at Wrigley Field. In that appearance he did not allow a run, giving up just two hits over six innings. In interleague play, he has eight career starts and is 3-4 with a 6.10 ERA.
John Lackey (6-9, 5.04 ERA) gets the nod for the Cubs. Last Tuesday against the Atlanta Braves, he posted fine numbers, retiring 12 of his last 15 batters in five innings. He gave up one run on five hits. Prior to last Tuesday's start, he had lost six of his previous seven decisions. Plus, he had to sit for sole time as he dealt with plantar fasciitis in his right foot. There was talk of him going to the bullpen, but the veteran starter said that probability has passed.
Against the White Sox, Lackey is 4-7 with a 3.61 ERA in 17 career starts. He has gone a minimum of six innings in 15 straight starts against the Sox. That's the longest active streak in MLB. In his one start against the cross-town rivals last year, Lackey allowed one run on four hits.
Hitting
As a team, the White Sox are hitting a respectable .258 with Avisail Garcia (.307 BA, 53 RBI, 13 HR) leading the team in batting average. Jose Abreu (.298 BA, 61 RBI, 16 HR) is tops in RBI, while Melky Cabrera (.293, 56 RBI, 13 HR) continues to be a major contributor. Matt Davidson (.247 BA, 44 RBI, 19 HR) leads the White Sox in homers.
The Cubs are batting just .245, but they have smacked a very respectable 136 round trippers. They also have 171 doubles. Anthony Rizzo (.252 BA, 62 RBI, 23 HR) leads the team in RBI and homeruns, while Kris Bryant (.280 BA, 42 RBI, 19 HR) is tied with Rizzo for the lead in doubles with 19. Jon Jay is hitting .304 and Willson Contreras (.267 BA, 52 RBI, 15 HR) is second in RBI.
White Sox Play Cubs 2017 MLB Free Pick
The Cubs have been on a roll and partly due to the fact that their starters have begun to step up. The White Sox have been struggling as of late and will be hard-pressed to generate a second win today. Our White Sox play Cubs 2017 MLB free pick is the Cubbies at -208.
White Sox Play Cubs 2017 MLB Free Pick: Chicago Cubs at -208