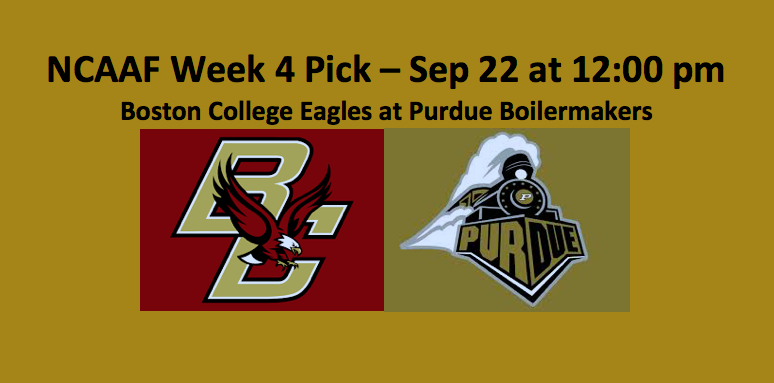 The Big Ten's Purdue Boilermakers (0-3)  host the #23 ACC Boston College Eagles (3-0) today at 12:00 noon today. Our Week Four Boston College plays Purdue NCAAF pick has the Eagles favored by 6.0 and the over/under at 65.0. The Eagles have beaten each of their first three opponents by an average of 29.7 points. The Boilermakers lost their first three contests by an average of just 2.7 points.
In their home opener, the Eagles took down UMASS 55-21 and in Week Two, they beat Holy Cross 62-14. Their last victory, which was over Wake Forest, was a lot close. BC won that game by seven points with the final being 41-34. Purdue has kept it close in all three of their losses, as their biggest margin of defeat has been just four points. That was in Week One versus Northwestern in a game that ended 41-37. The next week, the Boilermakers lost a heartbreaker to the Eastern Michigan Eagles 20-21. In Week Three, it was Missouri 40 and Purdue 37. Today marks the Boilermakers fourth straight home game this season.
Boston College Offense vs Boilermakers D
Thus far this season, the BC Eagles have averaged 577.3 yards of offense per game. About half of those yards are through the air (295.7) and the other half on the ground (281.7). They are scoring 52.7 PPG. QB Anthony Brown (68.8 COMP%, 9 TDs, 0 INTs) has been on target this season. Of the Eagles' 13 TD catches, nine different receivers have been involved. The go-to receiver for BC is senior WR Jeff Smith (8 REC, 21.0 YPC, 2 TDs). Sophomore wideout Kobay White leads the team in receiving TDs with three. Sophomore RB A.J. Dillon has been tough to stop. On 59 carries, he has 429 yards and four scores. Dillon is averaging 7.3 YPA.
Purdue is offering to opponent offenses 475.0 YPG with almost 320 of those yards through the air. That is not good considering the strength of BC's passing game. The Boilermakers are allowing 30.3 PPG. The Purdue D comes to this game with 12 passes defended, two forced fumbles, and two interceptions. They have eight sacks and 16 TFL. Watch LB Cornel Jones, who's this team's defensive anchor. He's got 7.5 TFL, 2.5 SCKs, and 22 tackles.
Purdue Offense vs Eagles D
The Boilermakers' offense is averaging 27.7 PPG. They've accumulated on average 520.7 YPG with 325.7 achieved through the air. Average ground yards gained per game come in at 195.0. It's unknown if starting QB Elijah Sindelar (59.1 COMP%, 2 TDs, 3 INTs) will play today. He was knocked out of the second game of the season, and will be a game time decision. If not, David Blough (70.4 COMP%, 2 TDs, 3 INTs), who has performed well in his stead, will get the nod. Freshman WR Rondale Moore (25 REC, 262 YDs, 10.5 YPC, 2 TDs) is the wideout of choice. The running game has three players who have gained 100-plus yards this season. The top-performer is senior RB D.J. Knox (35 ATT, 252 YDs, 7.2 YPA, 2 TDs).
Boston College is permitting opponents 23.0 PPG. Of the 340.7 YPG of offense allowed just 176.7 is connected to the passing attack. That means opponents are averaging 164.0 YPG when rushing. The Eagles have posted two defensive TDs, six picks, and 16 PD. They are tough versus the air attack. They also have 23 TFL and 11 sacks. Watch DE Wyatt Ray, a massive force. Ray has five sacks, six TFL, and 16 tackles. In the secondary, DB Hamp Cheevers, with two picks, a TD, three PD, and one FF, is exceptionally dangerous.
Week Four Boston College Plays Purdue NCAAF Pick
Our Week Four Boston College plays Purdue NCAAF pick like the Eagles in this one at -6.5. BC comes to this game with a whole lot of weapons on offense, and a very effective defense. Purdue has a tough time against the pass and will likely falter at times today. However, their offense should score at least 20 points. We expect the Eagles for be good for about 50.
Summary Eagles at Boilermakers Picks: BC at -6.5 and over 65.0