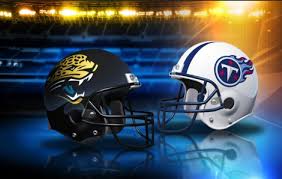 Our week eight NFL Thursday Night Football free pick features two teams from the AFC South with losing records, the fourth-place Jackson Jaguars (2-4) and third-place Tennessee Titans (3-4). The Titans are at -3.0 across the board in this one. These two teams are for the most part evenly matched with the Jags being a bit better on defense and the Titans showing a little more on offense.
Over their past three contests, Jacksonville is 2-1, winning October 2 and 16 and losing October 23. The Jags first beat 30-27. That was their initial victory of the 2016 season after suffering three losses. They then squeaked by Chicago 17-16. Last week, they were hung out to dry by the Oakland Raiders 33-16.
Over the course of their last three games, Tennessee has the same record. They beat the Dolphins 30-17 on October 9 and the Browns 28-26 on October 16. On the 23rd, they lost to Indianapolis 34-26. Their other win was in week two when they beat the Lions 16-15. They lost to Minnesota in the first week 25-16 and also lost to Oakland 17-10 and Houston 27-20 on September 25 and October 2 respectively.
Both teams have had some close calls, including one-point wins. Both clubs lost to the Raiders, while the Jags beat Indy and Tennessee lost to them. The down and dirty of this game is that it really can go either way. RB T.J. Yeldon is the club's top rusher with 60 carries, 200 yards and one score. He's averaging 3.3 YPA.
Jacksonville Offense vs. Titan Defense
QB Blake Bortles (59.7 COMP%, 9 REC, 9 INT, 15 Sacks) has, at times, shown some offensive flash. But his offensive line often leaves him vulnerable. Bortles has compiled some decent running stats, averaging 5.3 YPA and gaining 123 yards on 23 carries. He's rushed for one touchdown. Two of Bortles' top receivers, WR Allen Hurns and TE Julius Thomas, are questionable for tonight's game. Allen Robinson, who has three touchdown catches and is averaging 11.4 yards, will play. He's had 23 catches for 296 yards with three catches of 20+ yards.
On defense, the Titans feature Brian Orakpo, who has seven of the team's 20 sacks and CB Jason McCourty, who has made two interceptions and managed to defend nine passes. LB Avery Williamson leads the team in tackles with 54. One area where the defense is deficient is in forced fumbles. Tennessee has not yet forced one. Still, this defense should be able to put ample presser on Bortles.
Tennessee O vs. Jaguars D
Titan QB Marcus Mariota (61.5 COMP%, 12 TDs, 6 INTs, 12 Sacks) is having a decent season in the air while showing some solid running chops. RB DeMarco Murray is a dual threat, averaging 4.6 YPA while rushing for five TDs and catching 27 passes with two of those going for touchdowns. The team's top receiver, Delanie Walker, is suffering from a bruised chest and may not play. Walker has 24 catches for 330 yards and three scores. Wide out Rishard Matthews is averaging 13.9 YPC. He has two TDs.
The Jags put a weaker than average defense on the field. They are allowing an average of 26.7 PPG and 338 offensive yards. Top performers include DE Yannick Ngakoue with four sacks, three forced fumbles and one TFL, INT, and LB Paul Posluszny who leads the club in tackles with 54 and has 1.5 sacks, 3 TFL, 1 PD and one INT. LB Telvin Smith, who has nine TFL, three PD, and 45 tackles, is also a huge defensive force. They will need top get to Mariota and stop Murray for the Jaguars to have a chance in this game.
Week Eight NFL Thursday Night Football Free Pick
Our week eight NFL Thursday Night Football free pick sees the Titans enjoying an advantage on both offense and defense. We are taking Tennessee at -3.0.
Week Eight NFL Thursday Night Football Free Pick: Tennessee Titans at -3.0