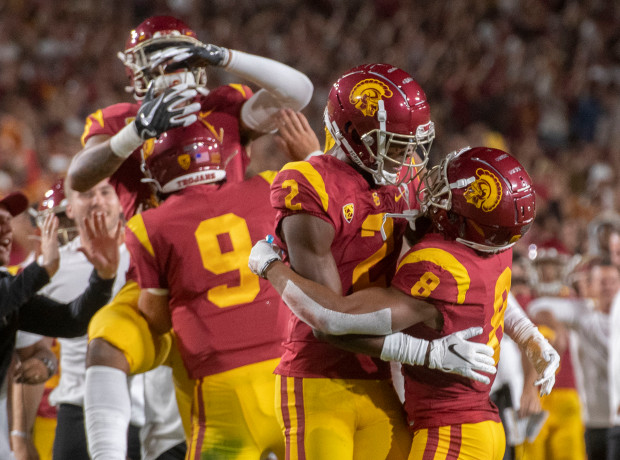 Is a win in the Week 3 USC at BYU free pick what it's going to take for the Trojans get some respect? For all the doom and gloom seemingly surrounding the program and with head coach Clay Helton likely perpetually on the hot seat it's easy to overlook that Southern Cal has started the year 2-0. Why is USC just a 4 point favorite on the road vs. Brigham Young Saturday?
Oddsmakers Worried About USC Looking Ahead?
The Trojans have a very tough matchup with #12 Utah next Friday night but this is not a team that seems to be in a position to fall for the 'look ahead' trap. #24 USC has just climbed into the top 25 and would like to stay there you'd think. Helton's squad has gotten off to a 2-0 record with wins over a solid Fresno State team and a beating of Stanford last week. Both of those games were at home though.
Can the Trojans cover the -4 in the week 3 USC at BYU free pick? Sure they are going on the road for the first time in 2019 in this game but the offense looked great in a 45-20 thumping of the Cardinal last week when Stanford was just a +3 point road 'dog. Freshman Kedon Slovis took over the reins for the out-for-the-year JT Daniels and may not give them back after going 28/33 for 377 and 3 TD. Slovis showed great repertoire with Tyler Vaughns (5 catches, 108 yards, 1 TD), Amon-Ra St. Brown (8-97, 2 TD), and Michael Pittman, Jr. (6-82). This is the offense USC fans have envisioned.
The USC defense stepped up last week, holding Stanford to just 98 yards rushing on 30 carries. This was a week after Fresno State ran the ball 40 times for 206 yards vs. the Trojan front 7. That shows improvement – but also that you really don't know what you have up front for SC.
Cougars Battle Tested Already
If USC thinks BYU is going to be intimidated by them then they may want to reconsider. This is a Cougars team that has already hosted Utah in the season opener (12-30 L) and went to Tennessee for a 29-26 win in Rocky Top a week ago.
The main reason why the line is closer than many expected in the week 3 USC at BYU free pick is because the man under center for the Cougars, sophomore Zach Wilson. This is a guy who went 18 for 18 for 317 and 4 TDs as BYU won the Idaho Potato Bowl a year ago. Wilson threw for just 208 and 2 INT in the opener vs. the Utes but had 232 and a TD in the win over Tennessee. Despite being 2-0, USC is allowing almost 400 yards of offense per game. The O/U is set at 56, up from a 52 open.
The BYU offense should be able to move the ball vs. USC but the big question is if the Cougars defense can stop what looked like a potent Trojans pass attack last week. Tyler Huntley was just 13/16 for 106 yards for Utah in week one while Tennessee's Jarrett Guarantano threw for only 176 last week. Utah did run for 262 and the Volunteers followed that up with 49 carries for 242 so it's not hard to see what the BYU weakness is on defense.
Week 3 USC at BYU Free Pick
USC's pass offense looked amazing last week vs. Stanford but at the same time Slovis is still just a freshman and the Trojans are going on the road for the first time in '19 this week. BYU's weakness is run defense, and USC would be wise to pound the ball and try to establish the rush in this one. Wilson is a solid QB for the Cougars, but he's been more effective running than passing so far in this young season. Either way, all of that info formulates to the clock moving and the score staying lower.
Pick: USC / BYU *Under* 56