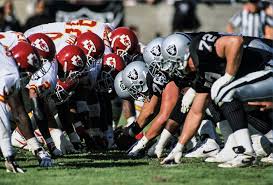 Our week 14 Thursday Night Football free pick features Oakland at Kansas City. This is a huge games, as the Oakland Raiders (10-2) sit in first place in the AFC West and the Kansas City Chiefs (9-3) occupy second. The matchup is intriguing, as you've got the Raiders, a club that is playing consist solid football, facing the Chiefs, a team that often wins because they have been playing every minute of every game. They are a never say die club.
The game is set for Thursday, December 8, 2016 at 8:25 p.m. ET. It will be played at Arrowhead Stadium. The Chiefs are listed at either -2.5 or -3.0. This is not an easy call.
Oakland Offense vs. Chiefs Defense
The Raiders have a healthy offense that is scoring an average of 28.8 PPG and gaining 395.8 YPG. Of those yards, 281.3 are associated with the team's air attack. The team comes into this game with a six-game winning streak. That streak started the week after Oakland lost to the Chiefs 26-10. During the streak, the Raiders have beaten the Buccaneers, Broncos, and Texans. Last week, they took down the Bills 38-24.
There's no doubt about it that QB Derek Carr (65.5 COMP%, 24 TDs, 5 INTs, 12 Sacks), now in his third year in the NFL, has come into his own. Carr has a fine group of receivers that includes WRS Amari Cooper (68 REC, 981 YDs, 14.4 AVG, 4 TDs) and Michael Crabtree (67 REC, 785 YDs, 11.7 AVG, 7 TDs). RB Latavius Murray (140 ATT, 553 YDs, 4.0 AVG, 11 TDs) is the primary rusher, offering solid ground gaining chops. One note of concern is the Oakland red zone offense, which over the past three games is ranked 21st at 53.85%. For the season, the Raiders are rated seventh at 64.29%. They'd like to get back to form in this game and seemed to do so in their last game when they came in at 75.00%.
The KC defense, which is allowing 20.2 PPG, is very tough. They have 14 INTs, 14 FF, and 11 recovered. The defense has score four TDs. In addition, they have 73 PD and 42 TFL. Sacks total 26. DBs Marcus Peters (5 INTs, 15 PD, 3 REC Fumb) and Eric Berry (3 INT, 8 PD, 2 TDs) are both quality players. LB Dee Ford, who is listed as questionable, has 10 sacks, three TFL, and 1 FF). In the redzone, the team is a strong sixth at 48.78%. In the past three games they are even better at 35.71.
Kansas City Offense vs. Raiders Defense
Kansas City went 2-2 at the start of the season. Their second win occurred during their fourth game. That was when they beat Oakland. After that the Chiefs were 7-1. Their one loss was to the greatly improved Bucs, 19-17. Last week, they beat the Falcons 29-28.
The Chiefs offense has been good for 23.4 PPG. The team's running and passing games are both performing better than expected. Although not ripping up the turf, RB Spencer Ware (163 ATT, 734 YDs, 4.5 Avg, 3 TDs) has been serviceable. He fumbled three times earlier in the season and lost them all. But over the past five weeks, he been much more reliable. QB Alex Smith (67.4 COMP%, 11 TDs, 4 INTs, 25 Sacks) has been playing fairly steady. TE Travis Kelce (65 REC, 815 YDs, 12.5 AVG, 3 TDs) and WR Tyreek Hill (50 REC, 481 YDs, 9.6 AVG, 5 TDS) are both reliable outlets.
Although the Raiders only have 21 sacks and 26 TFL, their secondary is one of the best in the league. They've notched 11 interceptions and 59 PD. Plus the D has 16 forced fumbles with 10 recoveries. CB David Amerson, who is questionable with a knee, has two picks and 15 PD, while safety Reggie Nelson has three INTs, nine PD, and two fumbles recovered. DE Kahlil Mack has made 10 sacks, notched five TFL and caused four fumbles, recovering three. He also has one INT and three PD. What a huge force! For the season, Oakland's red zone defense is ranked 17th at 55.10%, and for the past three games, it is 12th at 61.54%. The D is allowing 24.9 PPG.
Week 14 Thursday Night Football Free Pick
Our week 14 Thursday Night Football free pick is going with the Raiders at +3.0. Although we like Kansas City's defense in this game and think they will rattle Car and company, we also believe Oakland will keep it close. Still, KC's red zone protection, sack potential, and secondary are all aspects that are a step above Oakland. Chiefs may win but they won't beat the spread.
Week 14 Thursday Night Football Free Pick: Oakland at +3.0