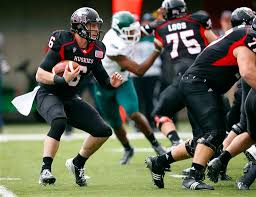 In this week 11 NCAA football free pick Northern Illinois plays Eastern Michigan in what looks to be a very even contest. The Northern Illinois Huskies, who are 3-7 overall and 3-3 in the Mid-American Conference, come in as the favorite by 2.5 points.. The Huskies are in fourth place in the West Division of the MAC. The Eastern Michigan Eagles are also 3-3 in the MAC, but they are 6-4 overall. The Eagles occupy third place in the West Division.
Northern Illinois (NIU) comes to the game having beaten conference opponents Ball State, Buffalo, and Bowling Green. Their MAC losses include Central Michigan, Western Michigan, and, last week, Toledo. NIU is 2-3 over their last five games. The Eagles beat Bowling Green, Ohio, and, just last week, Ball State. Losses include Toledo, Western Michigan, and Miami (Ohio). In their last five games, Eastern Michigan (EMU) has gone 1-4.
Northern Illinois Huskies
The Huskies are scoring on average 30.4 PPG, while they are giving up 31.9. They are generating 460.7 yards of offense per game with an astounding 233.8 on the ground. They've been good for an average of 226.9 yards in the air. In terms of defense, the Huskies allow about as much as they generate. NIU is allowing teams 455.2 YPG of offense with 262.1 in the air. Against NIU, opponents are averaging 193.1 YPG on the ground.
We expect NIU sophomore QB Ryan Graham (55.6 COMP%, 8 TDs, 6 INTs) to get the start. He's missed three games this season but looks healthy enough to take the field this one. So much of NIU's offense is based on the ground game. RB Joe Bouagnon (149 ATT, 728 YDs, 4.6 AVG, 6 TDs) will look to grind out as many yards as possible, as well as points and a win. WR Kenny Golladay (79 ATT, 1029 YDs, 13.0 AVG, 8 TDs) leads the club in receptions, pass-catching yards, and touchdowns by a receiver. The good news for the offense is that Graham has been sacked just once the entire season. Special note, PK Christian Hagan has not been as accurate as one would like.
Eastern Michigan Eagles
Much like their opponents, EMU is racking up about as many points and yards as they allow. Plus, their totals for these stats are very close to those for NIU. They are putting 31.5 PPG on the scoreboard, while opponents are posting 31.2. They've been racking up 443.3 YPG of total offense, with their strong point being their passing game. In the air, the team has averaged 301.0 YPG. That's close to 70 more yards than NIU. On the ground, the Eagles are putting up 142.4 YPG.
Like NIU, EMU struggles on defense. They have been giving up 151.1 YPG running and 284.2 YPG passing. In total, their defense is allowing 435.3 YPG. If anything, both of these defenses will be challenged by the other team's offense.
QB Brogan Roback (59.8 Com%, 13 TDs, 3 INTs) has been steering the offense since they beat Wyoming 27-24. He's a solid passer with good field vision. Roback has a triad of receivers to whom he can throw. They are Antoine Porter, Sergio Baily II, and Nigel Kilby. Each has fours TD catches and each is averaging from 11.9 to 14-plus yards per catch. Ian Eriksen anchors the ground attack. He comes to this game with 145 CAR, 570 YDs, 3.9 AVG, 7 TDs. He stands to be a major factor.
Week 11 NCAA Football Free Pick Northern Illinois
With NIU, it's all about the running game. However EMU prefers the pass attack. Neither will stop the other from scoring. The over/under is 62 points, while the spread has NIU at a 2.5-point advantage. We envision a lot of points being scored. We also like the Huskies at -2.5. In this week 11 NCAAfootball free pick Northern Illinois plays Eastern Michigan, and we see more than 62 points being scored.
Week 11 NCAA Football Free Pick Northern Illinois Plays Eastern Michigan: NIU at -2.5 and the over at 62 points