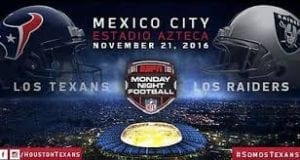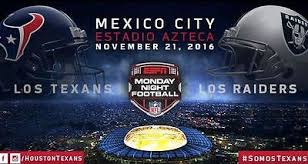 Our Week 11 Monday Night Football free pick features the Houston Texans (6-3) at the Oakland Raiders (7-2) in Mexico. The Texans are in first place in the AFC South and the Raiders are first in the AFC West. Both teams need a win on Monday night to underpin the precarious lead each holds in their division. Of the two teams, it's Oakland that has the most to worry about as two other teams, Kansas City and Denver, presently have 7-2 records.
The Texans come in this game having gone three and two. On October 9 they lost to Minnesota 31-13, and the next week they beat Indy in OT 26-23. Denver beat Houston 27-9 on October 24. The Texans then beat Detroit 20-13, and last week, after taking their bye, they came back and beat the Jags 24-21. If anything, when the Texans have been winning, they've do so by a thin margin, and when they've been losing, they've lost big.
Oakland has gone 4-1 in their past five. They took down the Chargers on October 9 by a score of 34-31. Their one loss was to division opponent Kansas City 26-10. Then they managed three wins straight beating Jacksonville 33-16, Tampa Bay 30-24 (OT), and Denver 30-20. Last week, they took their bye week.
Houston Offense vs. Raiders Defense(/h2>
It's hard to imagine Houston winning this contest with a massive offensive output. They are scoring on average just 17.9 PPG. The team is generating 323.4 yards of offense per game, with only 202.0 in the air. QB Brock Osweiler's (58.6 COMP%, 11 TDs, 9 INTs, 17 Sacks) first year as a starting signal caller has been underwhelming.
Although WR DeAndre Hopkins (45 REC, 482 YDs. 10.7 AVG, 3 TDs) is scheduled to play on Sunday, Will Fuller V (25 REC, 372 YDs, 14.9 AVG, 2 TDs) is not. That's bad news, but there is good news. RB Lamar Miller (168 ATT, 720 YDs, 4.3 AVG, 3 TDs), who is dealing with a shoulder injury, does expect to play on Sunday. Still, it's hard to figure from where the Texans will get their points.
Oakland is allowing opponents 406.2 yards of offense with almost 300 of those yards in the air. Opponents are scoring on average 24.8 PPG against them. On turnovers, Oakland is plus 16. They have eight interceptions and 14 forced fumbles. LB Bruce Evans has force four of those fumbles. Safety Reggie Nelson (3 INT, 8 PD) and corner David Amerson (2 INTs, 13 PD) are massive players in the secondary. CB Sean Smith (2 INT, 8 PD), an important part of their pass defense, may not play Monday due to injury.
Oakland Offense vs. Texans Defense
Oakland is generating almost exactly the same number of yards on offense as they are permitting on defense, 406.1. They've got a good proportion of rushing to air yards, 127.8 to 278.3. In his third season, QB Derek Carr (66.1 COMP%, 17 TDs, 3 INT, 11 Sacks) has found his game. WRs Michael Crabtree (49 REC, 596 YDs, 12.2 AVG, 6 TDs) and Seth Roberts (25 REC, 277 YDs, 11.1 AVG, 4 TDs) offer excellent pass catching chops. Good news for Oakland as wideout Amari Cooper (58 REC, 843 YDs, 14.5 YDs, 2 TDs), who is listed as questionable, will play.
The Texan defense is good but not as good the team and fans hoped it would be. LB Benardrick McKinney (83 TCKL, 3.0 Sacks, 3 TFL, 1 PD, 1 FF) is a complete player. He leads the team in tackles. A primary stopper, LB Jadeveon Clowney is the top man on the team in tackles for a loss and passes defended. But he may not play due to injury. The club has 41 PD and seven FF. Over all, the Houston D has played well allowing only 20.9 PPG.
Our Week 11 Monday Night Football Free Pick
Our Week 11 Monday Night Football free pick likes the Oakland Raiders at -5.5. We think that the Oakland offense will put some big points on the board, while their D will handle Osweiler and company. The game will be played in Mexico City with the kickoff scheduled for 8:30 ET.
Our Week 11 Monday Night Football Free Pick: Bet Oakland at -5.5