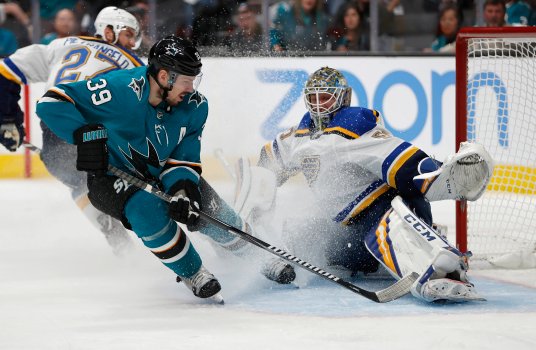 The St. Louis Blues looked overmatched and outgunned in Game 1 in San Jose, and the Sharks taking both on their home ice seemed like an inevitability. Even so, the Blues put Saturday night's game aside and rallied for a 4-2 win on Monday as +115 'dogs. Suddenly, Craig Berube's team enters the May 15th NHL playoffs free pick with newfound home ice advantage and are -140 favorites Wednesday. Do the Sharks return the favor of a home defeat – or do the Blues run things back at the Enterprise Center?
Sharks Somehow in a Good Spot Here?
Usually losing the coveted home ice advantage is not a good thing but the Sharks are 6-0 in their history after splitting the first two games of a playoff series at home. If San Jose is going to keep that perfect record in this spot, Logan Couture needs help on offense. He has 4 goals and 5 points total so far in this series. Brent Burns, Evander Kane, Joe Pavelski, and Tomas Hertl were all held off the scorer's sheet in Game 2 however. San Jose had the #2 scoring offense in the league during the regular season, but they were embarrassed by the Blues defense last time out.
The Sharks are just 2-4 on the road this postseason and even worse they've been outscored 21-12 over that span. Those two wins came in Vegas facing elimination and at Colorado when splitting the first two games of the series 1-1. The May 15th NHL playoffs free pick has San Jose in a very similar spot – it's not a must-win game but very close. If San Jose wants to score the win at +130, Martin Jones will need to be better as he's allowed 7 goals on 56 shots this round. Jones has 6 losses this postseason, but he's held opponents to 2 goals or less in 4 of 6 road starts in the playoffs. 
Blues Aim to Continue Improved Defense
St. Louis did not fare well in Game 1, falling down 5-2 entering the 3rd period. Goaltender Jordan Binnington gave up 5 goals on 24 shots in the opener but buckled down nicely on Monday surrendering only 2 scores on 26 shots. Binnington should get an edge being at home for the May 15th NHL playoffs free pick. He's been solid no matter where the game has been though, allowing 2 goals or less in 9 of 15 games these playoffs.
St. Louis has tied the series 1-1 and is showing signs of their offense having an absolute break out game. Vladimir Tarasenko had 6 SOG on Monday and had two helpers in San Jose. Ryan Reilly had a goal and an assist during the two games at the SAP Center and Jaden Schwartz continued his strong postseason with a goal in Game 2. The Blues hold a 56-51 edge in shots on goal, which is saying something in two road games and against the #6 SOG team in the league.
May 15th NHL Playoffs Free Pick Betting
Jones has actually been better in net on the road for San Jose these playoffs. The Sharks need to regroup after losing home ice, and even though they've struggled going away San Jose has pulled out some clutch road wins win needed. Binnington too was better on the road than at home and San Jose can find the offensive support to steal home ice back here.
NHL Playoffs Free PIck: San Jose Sharks +130