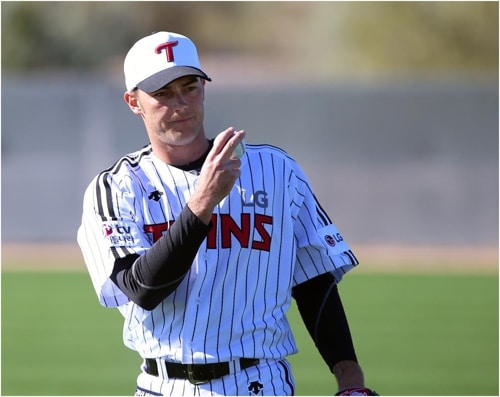 Newcomers (who love offense) to the Korean Baseball Organization have been pleasantly surprised by the first three weeks of the season because it's been runs scored aplenty so far this year. The contact rate has been insane, especially for foreign players, heading into May 20th KBO betting.
It's possible that the organization found some of the 'pre-juiced' balls in storage when they heard they were going to be the only game in town and Tuesday's run production showed it with 7 teams scoring at least 6 runs. The only contest to go 'under' yesterday was a matchup of the top two teams in the league with NC getting a 5-4 victory over Doosan.
Games start at 5:30 AM EST
LG Twins (-195) vs. Samsung Lions (+140) O9.5 ESPN
The number has jumped up a bit for LG, who were -145 favorites on Tuesday before beating Samsung 10-6. It's really hard NOT to like the Twins right now (7-3 L10) and it's really hard to back Samsung (allowed 39 R last 4 games). 6 of the Twins last 7 wins have come by at least 2 runs.
May 20th KBO betting would be the time to go against LG as starter Tyler Wilson has allowed 9 ER in 10-1/3 IP on the season. Samsung starter Choi Chae-heung also allowed 4 ER in 6 IP to Kiwoom his last start. Factoring in Samsung's taxed bullpen this should be another high scorer.
Pick: LG / Samsung OVER 9.5
Update:LG 1 Samsung 3
Hanwha Eagles (+125) vs. KT Wiz (-180) O10.5
Does either Hanwha or KT have anything left in the offensive tank after the Wiz took the season opener 13-11. More importantly, what remains for the bullpen as 9 total pitchers saw action on Tuesday? KT squeaked out the win mostly because they couldn't get out of the 7th where Hanwha scored 9 runs.
It's an indictment on Hanwha pitching that the Wiz plated 11 runs in the first four innings after scoring just 8 total in a three game series vs. Lotte last time out. Expect a little less offense in this one.
Pick: Hanwha / KT UNDER 10.5
Update: Hanwha 1 KT 8
Lotte Giants (-165) vs. Kia Tigers (+120) O9
The free fall continues for Lotte who are starting to prove that their 5-0 start to the season was indeed a fluke. Kia scored a season opening 9-2 win on Tuesday despite being Lotte listed as -140 favorites. Now that number jumps to -165? The Giants are 2-5 their last 7.
Does Lotte have that big of a pitching advantage heading into May 20th KBO betting? Two Americans square off as Dan Straily (1-1, 2.12) leads Lotte vs. Drew Gagnon (0-2, 6.10) and Kia. Gagnon has served up 7 ER in his first 10-1/3 in the KBO. Gotta fade that.
Pick: Lotte Giants -1 (-130)
Lotte 0 KT 8
NC Dinos (-105) vs. Doosan Bears (-135) O9
This series was supposed to be the Doosan Bears flexing their muscles and making up some ground on the 3 GB deficit on NC for 1st place in the KBO. The Dinos flexed right back in game one of the series though, taking a 4-0 lead in the top of the 2nd and holding on for a 5-4 win over the Bears as -115 underdogs. NC is now comfortably in 1st place at 10-1 while Doosan, while fighting sale rumors, is 7-4.
It's hard not to like NC at the price here with Koo Chang-mo taking the mound already looking to go 3-0 on the young season. That 0.00 ERA looks pretty nice for Chang-mo through the first 14 IP of the 2020 season for the 23-year-old. NC had a good game plan to hold Doosan's Jose Fernandez to 1-5 last night. Bears pitcher Chris Flexen is also off to a great start though, going 2-0 with 5 ER allowed in 12 IP in his first two KBO starts. Gotta go with the hot team at this price.
Pick: NC Dinos -105
Update: Doosan 2 NC 1
SK Wyverns (+135) vs. Kiwoom Heroes (-190) O10
Early returns on this series looks like a Kiwoom domination. The Heroes had a 1-4 record last week but started things off right with 11-6 domination on Tuesday as -200 favorites. Kiwoom was held to 3 runs or less in 3 of their 5 games last week, but could be breaking out of their offensive funk by plating 11 on Tuesday. SK has now dropped 10 straight and you just can't bet on them right now:
Pick: Kiwoom -1.5 (EVEN)
Update: SK 5 Kiwoom 1