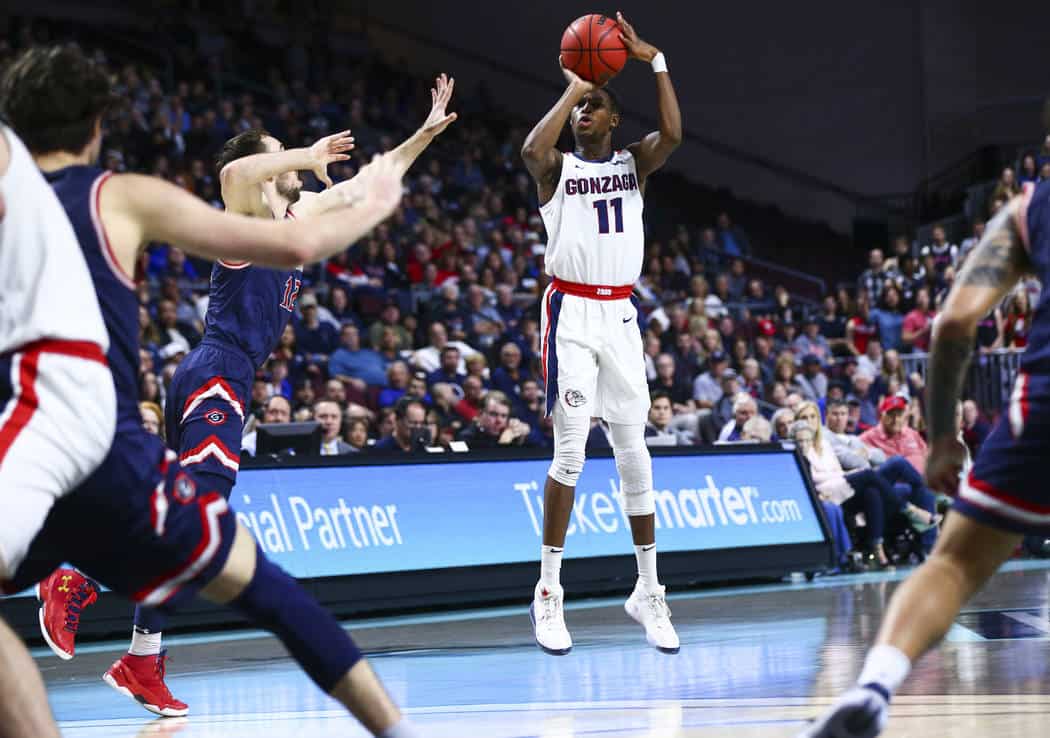 Few people doubt that the #1 team in the country will survive their conference tournament opener, but giving 18 points in the March 8th St. Mary's vs Gonzaga matchup may seem a bit high. Then again Mark Few's team has rolled to a 24-0 record on the year, including a 22-point win over the Gaels less than a month ago.
St. Mary's has confidence coming into Monday night's matchup however. Their 20+ point loss on February was in Spokane, with the WCC conference tournament being held at the neutral site Orleans Arena in Las Vegas. The Bulldogs haven't played away from their own court in over three weeks, does that make them vulnerable here?
Can Gaels Defense Keep This Close?
The March 8th St. Mary's vs Gonzaga matchup is the classic matchup of offense vs. defense. The Bulldogs put up 92.9 ppg, not only tops in the WCC, but best in the country. St. Mary's only gives up 61.6 ppg, tops in the conference and 20th in the nation.
Slowing the tempo is a great way for the Gaels to keep this contest within the 18 point spread. It's definitely been a down year for 14-8 St. Mary's though, after posting 20+ wins in 13 straight seasons prior. The Gaels were limping into the conference tourney as well, losers of 3 of their last 5. They did beat Loyola-Marymount 52-47 to kick off postseason play on
St. Mary's still has some talent though, with Logan Johnson putting up 25.0 points to lead the Gaels to the win over LMU. Johnson, Tommy Kuhse, and Matthias Tass all average over 11.0 ppg for a St. Mary's offense that is also last in the WCC scoring just 64.5 ppg.
Gonzaga Just Too Much?
It's a down year for St. Mary's, but they've kept things fairly close with Gonzaga in the past. In the last 10 head to head games between the two, St. Mary's has won twice and kept four other games below Monday's 18-point spread. Can this year's Gaels team find the same success as recent years?
The Bulldogs are absolutely stacked though. Corey Kispert leads the way with 19.5 ppg, Drew Timme adds 18.9, Jalen Suggs 13.9, and Joel Ayayi 11.3. St. Mary's did a decent job limiting those scorers in the two games this season though, with Kispert having a high of 20 in the February 18th game. They each scored 14+ in the January game at St. Mary's though.
The Gaels did hold Gonzaga to 73 points in that meeting in California, their lowest of the season and one of two times the Bulldogs were held below 80 on the season. Will Gonzaga do just enough to advance on Monday night in preparation for the championship game on Tuesday?
Free March 8th St. Mary's vs Gonzaga Pick
One thing to note is that Gonzaga hasn't played since an 86-69 win over Loyola Marymount on February 27th. That's a 9-day break, and the Bulldogs could easily come out flat – or comping at the bit. St. Mary's runs an excruciatingly slow pace, and if they can prevent turnovers that's going to frustrate a Gonzaga team that wants to get out and run after a long break.
St. Mary's 66 – Gonzaga 79
Free Pick: St. Mary's +18