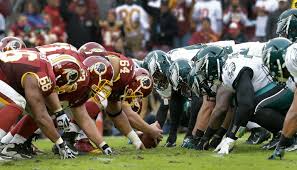 Our Washington Redskins play Philadelphia Eagles NFL free pick has a range of odds from which to pick, as some books still have the game even, while others are favoring the Skins by anywhere from 1.5 to 3.5 points. That's quite a range.
When these two teams met earlier in the season, Washington won 27-20. The Redskins are 6-5-1 in the NFC East and still have a shot at a shot at a wild card. The Eagles occupy last place in the division with a record of 5-7. They have a slim chance of making it into the postseason.
Washington comes to this game having lost their last two. On Nov. 24, Dallas beat them 31-26 and on Dec 4 Arizona took them down 31-23. Prior to those two losses, the Skins tied the Bengals 27 apiece in London on Oct 30. Then they were victories against Minnesota 26-20 and Green Bay 42-24.
The Eagles have lost three straight and four of their last five. Their sole win was against Atlanta 24-15 on Nov. 13. Prior to that win, the Giants beat Philly 28-23. The trio of losses suffered by Philly after the Atlanta win were 26-15 to Seattle, 27-13 to Green Bay, and 32-14 to Cincinnati.
Washington Offense vs. Eagles Defense
The Redskins bring an offense that is pass-oriented. Of their 429.7 average yards of offense, 320.2 of those yards are through passing. They are averaging 25.3 PPG. QB Kirk Cousins (67.5 COMP%, 21 TDs, 8 INTs, 16 Sacks) has played well as of late. In the last five games, he's thrown 11 TD passes and two interceptions. Cousins should have good protection. The Skins' line has allowed just 16 sacks.
Those receivers who are top TD threats are WR Jamison Crowder (58 REC, 767 YDs, 13.2 AVG, 7 TDs) and TE Jordan Reed. (59 REC, 630 YDs, 10.7 AVG, 5 TDs). Although questionable, Reed is expected to play. RB Robert Kelly (112 ATT, 524 YDs, 4.7 AVG, 4 TDs) will attempt to expand the ground attack in this game.
The Eagle D is holding opponents to 20.4 PPG. They've managed 44 TFL and 56 PD. In terms of turnovers, Philly has caused 12 fumbles and recovered nine, and they have garnered nine picks. They have collected 26 sacks. DE Brandon Graham (5 Sacks, 8 TFL, 2 FF) leads the Eagles in sacks, while safety Rodney McLeod (3 INTs, 6 PD) is tops in picks. Philadelphia has the fourth best red zone D in the NFL, as teams arte scoring 45.00% of the time.
Philadelphia Offense vs. Redskins Defense
Although not having an outstanding season, rookie QB Carson Wentz is having a respectable one. Under Wentz, the Eagles are averaging 22.3 PPG and 351.5 YPG in offense with 241.8 in passing. WR Jordan Matthews (57 REC, 686 YDs, 12.0 AVG, 3 TDs) ), his leading pass catcher, will play injured, while TE Zach Ertz (47 REC, 452 YDs, 9.6 AVG, 2 TDs) takes the field in sound health. Also hurting is Philly's top RB Ryan Matthews (102 ATT, 427 YDs, 4.2 AVG, 7 TDs), who will also play through his injury.
To this game, the Washington Redskins bring a tough pass rush and a penchant for creating turnovers. They've made 30 sacks and caused 16 fumbles. They have also defended 57 passes while making seven picks. The Washington D has notched 38 TFL. LB Ryan Kerrigan (10 Sacks, 3 TFL, 2 PD, 1 FF) leads the team in sacks, while DE Trent Murphy (8 Sacks, 5 TFL, 1 PD, 3 FF) is second in QB takedowns and first in forced fumbles. Corner Josh Norman has defended 12 passes, while making one interception and forcing two fumbles. This is a solid group. They are allowing 24.5 PPG and their red zone defense, which is 67.50%, is 30th in the league.
Washington Redskins Play Philadelphia Eagles NFL Free Pick
We see the Redskins' rush as putting some decent heat on Wentz, causing him to make some miscues. We expect him to throw two INTs. At the same time, although both teams are battered, the Eagles will field a few more walking wounded than their opponents. In our Washington Redskins play Philadelphia Eagles NFL free pick, we are taking the Redskins at even odds. Washington rebounds from two straight losses today.
Kickoff is 1 p.m. ET at Lincoln Financial Field in Philadelphia.
Washington Redskins Play Philadelphia Eagles NFL Free Pick: Redskins at even odds