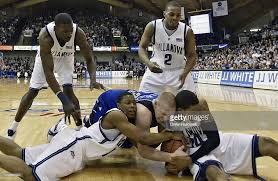 Our Villanova plays Seton Hall college basketball free pick has one team that seems destined to win its fourth straight Big East title. Still, Seton Hall has something at stake and that's a berth in NCAA Tournament. The tipoff for this game is 12:30 p.m. ET. The Wildcats are at either -7.0 or -7.5 and the totals run from 137.0 to 138.0.
The Villanova Wildcats (25-2 Overall, 12-2 Big East) have won six straight with their last win being 75-62 against DePaul. In their string of half-dozen wins, Nova beat #12 Virginia 61-59 and #24 Xavier 73-57.
For the Seton Hall Pirates (16-9 Overall, 6-7 Big East) this has been a mixed season. Coming into this game, they are 3-3 for their last six games. Their last game, which was played on Feb. 15, was a big win 87-81 against #20 Creighton. In their last half-dozen games, the Pirates lost to #11 Butler 61-54 and Xavier 72-70. The team is fifth in the Big East and 5.5 games behind Nova.
Villanova Wildcats
The Wildcats are on a roll and one reason for that is senior guard Josh Hart (18.7 PPG, 6.6 RPG, 3.3 APG). Hart is shooting 51% from the field and 40% from downtown. With guard Mikal Bridges (10.7 PPG, 4.6 RPG, 2.2 APG), he's part of a top defensive duo. Bridges is putting in 56% of his shots from the field and 40% of his threes. Guard Jalen Brunson (14.3 PPG, 2.6 RPG, 4.3 APG) is the team's other top shooter. Brunson is connecting on 53% of his shots and 39% of his threes. Forward Kris Jenkins (13.0 PPG, 4.3 RPG, 2.0 APG) is good on 39% of his three and field goals.
Seton Hall Pirates
The Pirates will try to control the boards and manufacture second and third shots against the Cats. One of their primary weapons is junior forward Angel Delgado (15.2 PPG, 13.2 RPG, 53 FG%). Along with Delgado, Seton Hall features junior forward Desi Rodriguez (15.3 PPG, 5.3 RPG, 44 FG%) who brings a 38% three-point mark. Guard Khadeen Carrington (17.6 PPG, 3.1 RPG, 3.0 APG), a 44% field goal and 38% three-point shooter, leads the team in scoring. Carrington and fellow guard Madison Jones (5.4 PPG, 3.5 APG, 39 FG%) both have fine defensive skills. Look for freshman guard Myles Powell (10.8 PPG, 39 FG%, 34 3PT%) to contribute in this games.
Villanova Plays Seton Hall College Basketball Free Pick
When these two teams first met on Jan. 16 Nova was ranked number one. The final score was 76-46 in favor of the Wildcats. We don't expect the difference to be that big this time, but we do think that the Wildcats will win. In fact, they're focused on making a strong statement with each of their remaining games. Our Villanova plays Seton Hall college basketball free pick is Nova at -7.0. We're taking over 137 in this one.
Villanova Plays Seton Hall College Basketball Free Pick: Villanova at -7.0 and over 137