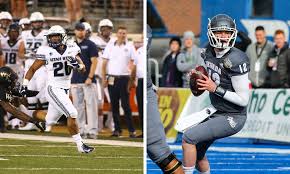 Our Utah State vs Nevada pick has the 2-0 Wolf Pack favored. Nevada is at -17.5 (-105). The Aggies, who are 0-2, are at +18.0 (-115). After playing two games this season, Utah State has lost by an average of 30 points. In contrast, in their initial contest of the 2020 season, Nevada eked out a 37-34 OT-win over Wyoming. In their second game, the Wolf Pack beat UNLV 37-19.
These two Mountain West Conference teams will meet tonight, November 5, 2020, at 7:00 pm ET. The game will be played at Mackay Stadium in Reno, NV. At this time, the weather at game is expected to be clear with a 7mph wind and the temperature 74 degrees. After reading our spread pick, make sure you take a look at our over/under prediction for this matchup. Plus, we've got NFL action covered tonight with our Packers vs Niners free betting pick.
Utah State vs Nevada Pick – Stats
The Aggies are having a tough time scoring. They're averaging just 10.0 PPG. Their passing game is anemic, as USU is averaging just 102 YPG in the air. The Utah State defense is giving up 40 PPG and 510.0 YPG including 289 rushing yards per contest. On the other hand, the Wolf Pack have been good for 37.0 PPG, while their D has been giving up 26.5 PPG. Their offense is manufacturing 496.5 YPG including 385.0 in the air. On defense, the Pack is allowing opponents 227.5 passing yards per game and 127.0 rushing yards.
Aggies vs Wolf Pack Spread Pick – Key Players
Our Utah State vs Nevada pick observes that if the Aggies are to have any chance in this game, they must find their offense. At this point, QB Jason Shelley has be ineffective. Shelley has tossed one TD pass and two picks. He's completed 56.3% of his passes. WR Deven Thompkins leads the team with 11 catches for 92 yards. He is the receiver who caught Shelley's one touchdown pass. RB Jaylen Warren is the team's top rusher with 89 yards on 23 carries. He's scored two times. On defense, safety Shaq Bond comes to this game with two passes defended and 12 solo tackles while LB Cash Gilliam leads the team with 19 total tackles.
In contrast, QB Carson Strong is having a fine season for Nevada. Thus far this season, Strong has thrown six TD passes while completing 75.9% of his passes. Plus, he has yet to throw an interception. WR Romeo Doubs and TE Cole Turner each have grabbed two scoring passes. Doubs has 19 receptions and Turner 11. Also of note, the Wolf Pack has three able runners. Devonte Lee leads that unit. Thus far, Lee has 110 yards on 22 carries and one of Nevada's three rushing TDs. On the other hand, this team's defense is not as strong as one would like. However, the Wolf Pack does have five defenders who have been involved in 10 or more tackles. LB Tyson Williams leads the team with 11 solo tackles and 13 total bring downs. In addition, he has one of Nevada's five sacks.
Utah State vs Nevada Pick – Final Word
Although our Utah State vs Nevada pick finds the point spread a bit high, we do think that the Wolf Pack will win by more than 20. To sum it up, their offense is solid and deep, and the Aggies are weak on both sides of the ball. Thus, take Nevada at -17.5 (-105).
Utah State Aggies vs Nevada Wolf Pack Summary
Nevada Wolf Pack at -17.5 (-105)