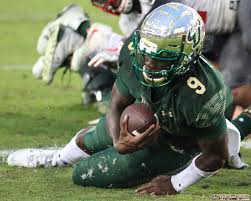 Our USF vs Houston totals pick includes two teams that are noted for giving up points. At the same time, neither football team features an explosive offense. The over/under on this Bulls versus Cougars matchup ranges from 57.5 to 58.8. The best under is 58.0 (-112), while the best over is 57.5 (-105). One factor in our choice will be USF's recent performance. That may hold an important clue in determining which way your bet should go.
This AAC matchup between the South Florida Bulls and Houston Cougars will take place at TDECU Stadium in Houston, Texas. Game time is slated for 3:30 pm ET. There will be some wind today, as it will be blowing at 14mph from the south. Temperature at kickoff will be 82 degrees and there will be a 19% chance of precipitation.
By the way, we also have a totals pick for the Hoosiers and Spartans. Please see our #10 Indiana Hoosier vs Michigan State Spartans over/under prediction here.
USF vs Houston Totals Pick – Offense and Defense
Looking at these two team's defenses makes us lean towards the over. After all, the Bulls are permitting opponents 35.0 PPG. At the same time, the Cougars are giving up 35.4 PPG. It is true that the Bulls, especially, are not a scoring machine. They're averaging just 20.1 PPG. However, last week versus Memphis QB Noah Johnson got the start over this season's starter Jordan McCloud. In that game, Johnson tossed two TD passes and the Bulls scored 33 points. Another factor in that game was the USF defense, which had a pick six. In terms of scoring, the Cougar offense, which is pass-based, is averaging 28.6 PPG.
Bulls vs Cougars Pick – Trends
We find that the trends for both of these teams pushes us towards the over. The strongest consideration for the Bulls is that the team has gone over in four of their last six games. It is true that the under has dominated when they play an AAC team (six of nine times) and when playing in November (seven of seven times).
However, Houston has gone over in a majority of situations. They hit the over in four of their last six games and also in six of nine when they're the favorite. Finally, the Cougars have seen the total go over in six of eight home games played on a Saturday. Consequently, in terms of our USF vs Houston totals pick, these trends indicate that the over is a good bet.
USF vs Houston Totals Pick – Final Word
In devising our USF vs Houston totals pick, we think that this game will end up going over 57.5 points. As noted, both teams are allowing 35 PPG. We expect that Houston will score about 32 points. We see the Bulls hitting the 30 mark. That means that over 57.5 is the bet to make.
USF Bulls vs Houston Cougars Totals Summary
Totals Pick – Over 57.5