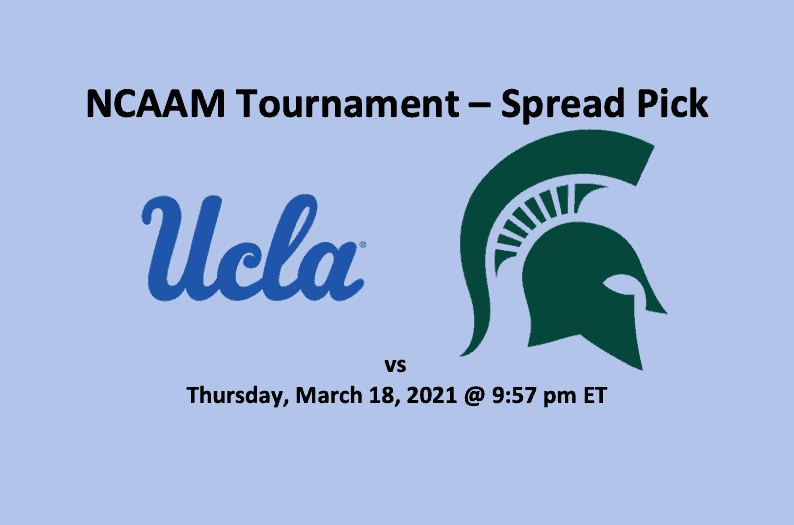 Our UCLA vs Michigan State pick has the Bruins as underdogs at +1.5 (+105), while the favored Spartans come in at -1.5 (-125). UCLA finished fourth in the Pac-12. This is a team that lost four in a row and went 4-6 for their last 10 games. The Spartans ended the regular season ninth in the Big Ten. MSU went 5-5 over their last 10 contests.
The game, which is the last of the First Four being played on Thursday, March 18, will tip off at 9:57 pm ET. The two teams will battle at Mackey Arena in West Lafayette, IN. Whoever wins this game will meet #6 BYU in the East Region on Saturday, March 20 at 9:40 pm ET.
UCLA vs Michigan State Pick – Stats
It may be telling that UCLA has accumulated a bunch of stats that can be considered average. They've recorded 72.8 PPG, 35.0 RPG, and 13.6 APG. The Bruins are good on 46.2% of their field goals, 36.7% of their three-pointers, and 72.1% of their free throws. Turnovers come in at 11.2 PG, while steals average 5.1 and blocks 2.7 per game.
Although Michigan State is averaging only 69.0 PPG, they are dishing off a healthy 15.9 APG while grabbing 37.6 RPG. Steals come in at 4.6 and blocks at 4.7 per game. Turnovers average 13.0 PG. Shooting stats are weak, 42.4 FG%, 32.0 3PT%, and 72.1 FT%. Thus, although UCLA is not impressive statistically, the Spartans are even less so.
Key Players
The Bruins put five players on the floor who are averaging 10.2 points-per-game or better. Guard Johnny Juzang tops the team, averaging 14.0 PPG. Also, in the backcourt, JJaime Jaquez Jr. is good for 11.7 PPG and 6.0 RPG. He's a solid 48.9% field-goal shooter. Together, forward Jalen Hill and guard Cody Riley are averaging 16.3 PPG and 10.7 RPG. This team has a lot of scorers who can get the job done.
Spartan forward Aaron Henry is averaging 15.3 PPG, 5.7 RPG, and 3.5 APG. He's hitting 44.7% of his field goals. He's also making 1.3 steals and 1.3 blocks per contest. In addition, forward Joey Hauser is hitting for 9.7 PPG and 5.7 RPG. He's a 47.4% shooter from the field and hitting 33.7% from downtown. Guard Joshua Langford is good for 9.4 PPG and 3.4 RPG. Point man Tyger Campbell tops the team in assists with 5.6 per contest. He's also good for 1.1 SPG and 10.5 PPG.
UCLA vs Michigan State Pick – Final Thoughts
Of the two teams in this final Thursday night contest, our UCLA vs Michigan State pick likes the Bruins at +1.5 (+105). There's depth and a lot of scoring potential. And despite the fact that they look fairly average when it comes to basic stats, UCLA does look a lot better than Michigan State. Check out our other First Four predictions – Drake vs Wichita State, Appalachian State vs Norfolk State, and Texas Southern vs Mount St Mary's.
#11 UCLA Bruins vs #11 Michigan State Spartans
UCLA Bruins at +1.5 (+105)