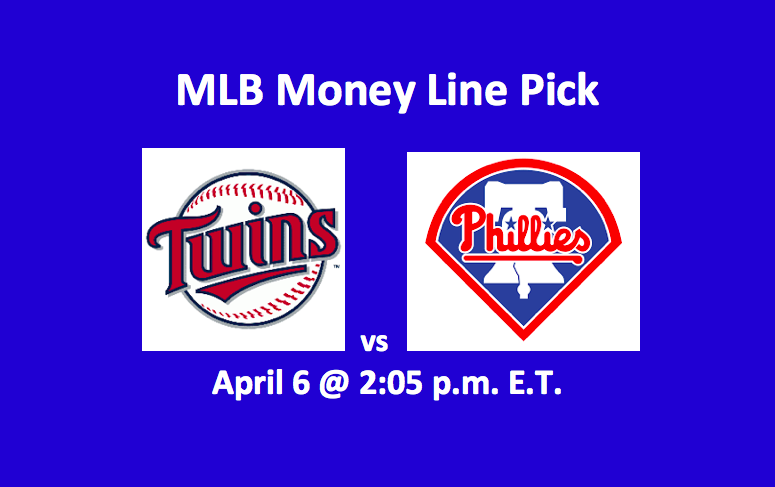 Our MLB Twins vs Phillies preview and pick offers money line odds that have Philadelphia at -142 and Minnesota at +135. This Twins vs Phillies preview notes that the team from the City of Brotherly love has yet to lose a home game. The Philadelphia Phillies (5-1 Overall, 4-0 Home) have one loss and that was 9-8 at the Washington Nationals' home stadium.
Today's visitors, the Minnesota Twins (4-2 Overall, 2-1 Away) had won four of their first five games and came to last night's contest with a three-game winning streak. That streak ended last night in Philadelphia, as the Phillies beat the Twins 10-4, handing them their second loss of a young season. Here's our Twins vs Phillies preview and pick. By the way, be sure to see our totals pick for tonight's 7:05 pm ET Yankees and Orioles game.
Pitching Matchup
The Twins will send righty Michael Pineda (0-0 W/L, 0.00 ERA, 0.50 WHIP) to the mound today. Pineda offers a low-velocity, 91 mph, four-seam fastball as well as an 82 mph slider. At times, he'll mix in his 86 mph change. Pineda's four-seamer, when working, is defined by sinking action. It's a solid pitch that batters often miss, as is his slider, while results in numerous swings and misses as well as a large number of fly balls. Pineda's change, which he uses least of his three pitches, is firmer than most. In his first start this season, a game in which Minnesota beat Cleveland 9-3, he went just four innings. Pineda allowed one hit, one walk, and struck out five. The last four seasons, Pineda has been with the Yankees. Last year, he had 17 starts and posted an 8-4 record with a 4.39 ERA. The righty is coming off of Tommy John surgery, and the Twins are working him into the rotation slowly. Thus, he may go another four or possibly five innings in this game.
The Phillies will counter with righty Jake Arrieta (1-0 W/L, 1.50 ERA, 1.50 WHIP). Arrieta, who relies heavily on his tricky 93 mph sinker, is a smart and seasoned vet. Along with his sinker, which tails off and results in a high number of swinging strikes and fly balls, he brings a change, curve, and slider. He also offers a four-seam fastball, which he rarely uses. In Arrieta's first game of the 2019 MLB season, he pitched six innings allowing one run on three hits and striking out six. Our Twins vs Phillies preview and pick likes what it saw in Arrieta's first appearance this season. Can he carry that forward?
Twins vs Phillies – Players
This Twins vs Phillies preview and pick notes that Minnesota comes to this game with some fine offensive weapons. DH Nelson Cruz (.333 BA, 6 RBI, 1 HR) is off to a good start, as is shortstop Jorge Polanco (.423 BA, 1 RBI, 1 HR).
Of special note so far this season, Polanco has hit three doubles and two triples, as well as a homer. That means six of his 11 hits have been for extra bases. Also swinging the bat nicely is third baseman Jonathan Schoop. He's batting .294 and has five hits and one RBI.
Philadelphia acquired some top-notch hitters during the offseason and in spring training, including right fielder Bryce Harper (.440 BA, 5 RBI, 3 HRs). Harper has been pounding the baseball. Third baseman Maikel Franco (.389 BA, 10 RBI, 3 HRs) is also swinging the bat exceptionally well. As usual, left fielder Rhys Hoskins (.300 BA, 10 RBI, 1 HR) has generated some fine output, as has center fielder Andrew McCutchen (.261 BA, 5 RBI, 2 HRs).
MLB Twins vs Phillies Preview – Our Pick
Our Twins vs Phillies preview notes that Minnesota has a team batting average of .270, while the Phillies are hitting .280. Although the Phils top Minnesota in that category, Twins pitchers are a good 40 percentage points better when it comes to opposing team batting average. Minnesota is holding opponents to a .214 BA, while Philadelphia comes in considerably higher with a .254 BA. However, in developing our Twins vs Phillies pick, we can't help but notice how many players are contributing offensively for the Phillies. We do like the home team in this game. Our Twins vs Phillies preview and pick is going with Philadelphia at -142. Today's game has a 2:05 pm ET start and will be played at Citizens Bank Park in Philadelphia, PA.
Summary Twins vs Phillies Preview and Pick: Philadelphia Phillies at -142