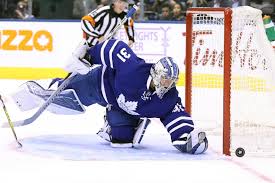 Today, Saturday, April 21 at 8:00 p.m. E.T., the Toronto Maple Leafs visit the Boston Bruins for Game 5 of their series. The Bruins lead the best of seven series three games to one, as the Leafs face elimination tonight. The Bruins may be without one of their best players and team-leader Patrice Bergeron. He was injured early in game four, which Boston won 3-1. Toronto welcomes back Nazem Kadri tonight. He'll be on the ice for the first time since he was suspended for three games due to a hit in the first game. Our Toronto plays Boston Game 5 Stanley Cup pick has the Bruins at +160 (-1.5) and the Leafs at -170 (+1.5) with the puckline. The moneyline offers Boston at -190 and Toronto at +165, while the over/under comes in at 5.5.
Toronto and Boston Matchup
The Leafs have had a tough time scoring goals in this series, but overall this season they were ranked third in GPA with 3.3. They need to catch fire in that area tonight to stay alive. They have the second-best power play (24.9) in the NHL and are 11th in penalty kill (81.4). They're 12th in GAA with 2.8.
Toronto need LW James van Riemsdyk, who led the club with 36 goals this season, to contribute. Thus far in the series, he has two goals and no assists. Center Mitch Marner, who led the team this season with 69 points and 47 assists, has two goals and four assists in the postseason. The team has scored nine goals thus far with four of those coming in Boston. They're averaging 2.25 GPA in this first series.
In the regular season, Boston had solid stats across the board, coming in sixth in goals scored (3.3), fourth in power play conversion (23.6), fourth goals allowed (2.6), and third in penalty kills (83.7). In the postseason, they're averaging a hefty 4.25 goals per game.
Although Bergeron has had five assists and his line is responsible for 20 points, the Boston star has yet to score a goal. It's still unknown as of this writing if he will be on the ice tonight. He did skate in practice today. LW David Pastrnak has been on fire with four goals, seven assists, and 11 points. He leads Boston in each category for the postseason and is +5. Other major contributors include LW Brad Marchand (2 G, 5 A, +4 +/-) and D Torey Krug (1 G, 5 A, -1 +/-). On defense, Zdeno Chara is also +5 with two points.
Goaltending
Frederick Anderson had a rough go of it in game two of this series, which the Leafs lost 7-3. He was pulled after giving up three goals on five shots. Curtis McElhinney came in to relieve and allowed four more goals. Overall in this postseason, Anderson has .880 SV% and has allowed 4.12 GAA. The team needs a stealer effort tonight from their netminder.
Boston's Tuukaa Rask has been stellar, posting a .926 save percentage and 2.27 GAA. He's looked solid for most of the series. His one loss was in Game 3 in Toronto, as the Bruins went down 4-2. In two of his wins in this series, he's allowed just one goal.
Toronto Plays Boston Game 5 Stanley Cup Pick
The Bruins have outscored the Maple Leafs 12-4 at the TD Boston Garden this series. It is true that they will be without Bergeron, but the B's still have plenty of firepower and their netminding has been first-rate. The crowd will be into this game from start to finish, and although we don't expect Toronto to just lay down and give up, we do think that Boston will outplay them. Our Toronto plays Boston Game 5 Stanley Cup pick is the Bruins with the -1.5 puckline at -170. We are going with under 5.5 in this game.
Summary Maple Leafs and Bruins Game 5: Boston at -1.5 (-170) and under 5.5