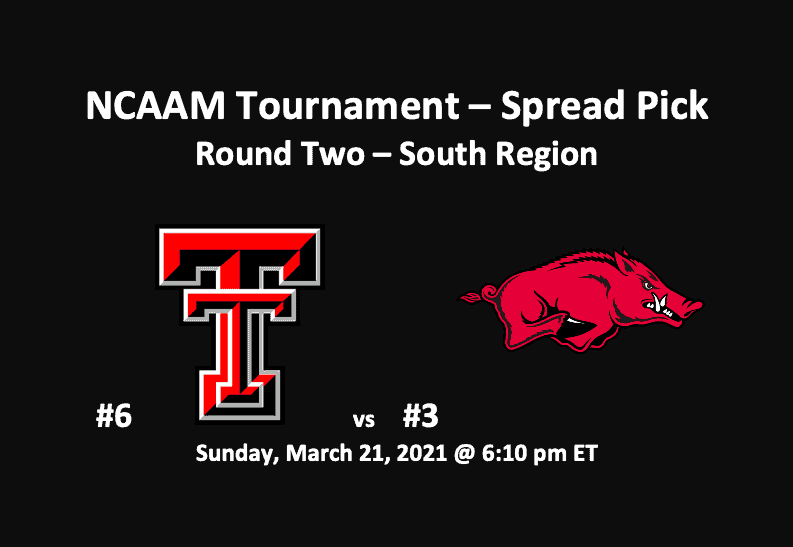 This Texas Tech vs Arkansas pick has the Red Raiders as the favorite. This 2021 NCAA Tournament South Region Round One contest has the Texas Tech Red Raiders at -1.5 (-115). You can find the underdog Arkansas Razorbacks is +2.0 (-110). Texas Tech made it to this round by beating the Utah State Aggies 65-53. Over their last five games, the Red Raiders gone 3-2. The Arkansas Razorbacks, who've gone 4-1 over their last five contests, took down the Colgate Raiders 85-68 in Round One. In the ACC Tournament Finals, the Razorbacks beat Syracuse 72-69.
The Red Raiders and Razorbacks will meet on Sunday, March 21 at 6:10 pm ET. The game will take place at Hinkle Fieldhouse in Indianapolis, IN. Make sure you check out all of our March Madness picks. We're picking every game including Syracuse vs West Virginia.
Texas Tech vs Arkansas Pick – Stats
Statistically, the Razorbacks look better than the Red Raiders. Arkansas is averaging 82.4 PPG. Texas Tech is scoring 73.0 PPG. On rebounds, Arkansas is better by five (40.0 to 35.1) and on assist by two (15.0 to 13.0). When it comes to shooting percentage, in all areas, these two teams are fairly equal. There's no real edge.
Key Players
Texas Tech brings some solid shooters to this game. The backcourt is this team's strength. Four backcourt players are scoring in double-digits. Guard Mac McClung is averaging 15.8 PPG, while Terrence Shannon Jr.is hitting for 12.6 PPG. Forward Marcus Santos-Silva is recording 8.4 PPG and grabbing 6.5 RPG. He's hitting field goals at the rate of 54.1%.
For the Razorbacks, guard Moses Moody and forward Justin Smith run the show. Moody is averaging 17.2 PPG and 5.8 RPG. Guards JD Notae and Jalen Tate are averaging 13.3 and 10.5 PPG. Tate's posting 3.9 APG. In the paint, Smith is handling 7.1 RPG and 13.6 PPG. He's a 54.1 field goal shooter.
Texas Tech vs Arkansas Pick – Final Thoughts
Our Texas Tech vs Arkansas pick is leaning towards the Razorbacks. They've got a fine roster that can score and control the paint. Texas Tech is also solid. They can certainly stay in this game. However, we find that Arkansas is the better team. We're taking the Arkansas Razorbacks at +2.0 (-110).
#6 Texas Tech Red Raiders vs #3 Arkansas Razorbacks
Arkansas Razorbacks is +2.0 (-110)