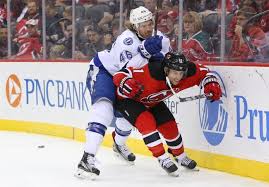 After a late season battle with the Boston Bruins for the first overall seed in the Eastern Conference, the Tampa Bay Lightning have managed to secure just that. Their first-place finish has earned them a matchup with the New Jersey Devils in the first round of the Stanley Cup Playoffs. With that, our Tampa Bay plays New Jersey 2018 Stanley Cup series pick has the Lightning as the favorite.
The Devils have been a big surprise this season. One year after finishing with the worst record in the Eastern Conference and getting the first overall pick in the Entry Draft, New Jersey jumped back into the playoffs. They made it as a wild card team. The Devils will look to pull off an upset in the first round of the Stanley Cup Playoffs. That's after having won all three games that they've played against Tampa Bay this season. Including one win which was in a shootout.
Tampa Bay Offense
In developing our Tampa Bay plays New Jersey 2018 Stanley Cup series pick, we have to note that the Lightning have been the owners of the best goal differential in the NHL this season. That's in much part due to having scored the most goals in the league. Led by Nikita Kucherov (39-61-100) and Steven Stamkos (27-59-86), the Lightning's offensive prowess runs deep in its lineup. Although Stamkos' status for game 1 is up in the air and The Lightning have had trouble when he's been out with injuries in the past, they still have many other players capable of stepping up while he is out.
Forwards Brayden Point and Yanni Gourde both finished the season with over 60 points, while JT Miller has scored 18 points in 19 games since being traded to Tampa. Any team that plays the Lightning will have their hands full trying to contain their plethora of scoring threats.
New Jersey Offense
The Devils offense has been led by Taylor Hall all season. He finished sixth in the league scoring with 93 points. Containing Hall will be essential if Tampa wants to squash any chance of an upset. The next highest scorer on the Devil's roster was rookie Nico Hischier. He finished the year with 52 points. Although the Devils added forward depth with the additions of Michael Grabner and Patrick Maroon at the trade deadline, the team still relies more one Hall to generate their offence than a team that can make a Stanley Cup Playoff run should.
Defense
Tampa Bay also looks stacked on the blueline. The trade deadline deal to acquire Ryan McDonagh did nothing short of adding an elite D-man to a backend that was already led by Norris Trophy candidate Victor Hedman, and the NHL's second highest scoring rookie-defenseman, Mikhail Sergachev. Coupled with shutdown defensemen Anton Stralman and Dan Girardi, Tampa looks to have a Stanley Cup Caliber group of defensemen.
In contrast, New Jersey's group of defensemen looks severely less impressive on paper. Both members of the Devil's top pair, Andy Greene and Sami Vatanen, finished the season with plus-minus ratings of -7 and -9 respectively. Their biggest asset on the blueline is rookie Will Butcher who topped scoring among rookie D-men this year with 44 points, and will looking at his first playoff action.
Goaltending
Lightning netminder Andrei Vasilevskiy has had a great year leading the league in wins, posting a .920 save percentage and 2.62 GAA while doing so. Vasilevskiy looked good during the Stanley Cup Playoffs last year, when he stopped .925 percent of the shots he faced and averaged 2.76 goals past him per game and after having a career year during the 2017-2018 season, he looks to be in good shape to keep Tampa in their games.
Starting in net at the other end of the ice will likely be Keith Kinkaid who has had an amazing late season run. After taking over for the struggling Cory Schneider, Kinkaid has posted a .928 save percentage and 2.41 GAA since March 1. His save percentage over this span was sixth best among goaltenders who played at least 10 games since March first. Kinkaid has yet to see playoff action in his career and will have a tough draw in his first ever series.
Tampa Bay Plays New Jersey 2018 Stanley Cup Series Pick
Despite their success in the regular season against the Lightning, New Jersey will have trouble keeping up with the high scoring Tampa squad in a 7-game series. If the Devils are going to have any shot of an upset, Hall will need to carry the team on his back and Kinkaid will need to play like an elite goaltender in his first playoff action, which does not seem probable. Here's our Tampa Bay plays New Jersey 2018 Stanley Cup series pick.
Prediction:
Tampa Bay Lightning (-350) Over The New Jersey Devils (+275) in 5 games